Assam women take protest path to implement the Wage
Protesters asked Centre and state govt to provide minimum wage of Rs 21,000 per month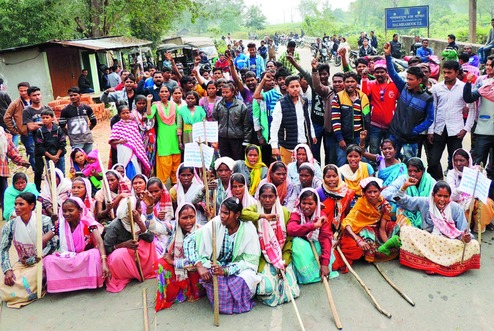 ---
|
Guwahati
|
Published 06.03.20, 07:41 PM
---
Thousands of working women of the state hit the streets on Friday, protesting the alleged anti-people policies of the BJP-led NDA government.
Around 30,000 women, working in various tea gardens, factories, households and Anganwadi, midday meal and ASHA centres workers staged a jail bharo (courting arrest) protest called by the Centre of Indian Trade Union (Citu)-led working women's co-ordination committee.
The protesters asked the Centre and state government to provide minimum wage of Rs 21,000 per month for their respective jobs.
Hundreds of women protesters, led by the committee's leaders, Indira Newar, Tutumoni Lahan, Manika Kalita and Kusum Deka, broke the police barricade at Guwahati Club rotary here and blocked GNB Road. However, the police confined the agitators to the southern corner of the spot and released them later.
The agitators also asked the government to construct women-friendly public toilets in every town of the state to ensure safety and convenience.
The women workers staged demonstrations on the highways at Dibrugarh, Jorhat, Sivasagar, Golaghat, Majuli, Goalpara, Barpeta, Nalbari and Bongaigaon and shouted slogans, like "equal wage for equal work". "ensure safety of the women in public places", besides demanding repeal of the Citizenship Amendment Act (CAA).
Citu's Assam general secretary Tapan Sarma said, "The BJP-led NDA government was doing everything for votes, but not for bhaat (food) for the people in general."
Asserting that the working women are the worst sufferers, Sarma said: "In the private sector they are forced to render duties in inhuman conditions. They are the worst victim of malnutrition and anaemia only due to low pay."
Sarma said in Assam, the BJP government has been failing to implement the Minimum Wage Act properly.
"For an eight-hour job, a tea garden worker gets only Rs 167+30=Rs 190. A midday meal worker gets only Rs 1,000 a month, for 10 months a year. A lady working in a big commercial establishment gets only Rs 304 a day. But when these questions are raised by the conscious citizens, the BJP-led government brands them anti-nationals. So where is the essence of democracy if we cannot raise our concern?" Sarma asked.