Turmoil slur on Centre
The comment came a day after Modi attended a programme in Kokrajhar to celebrate the signing of the Bodo Accord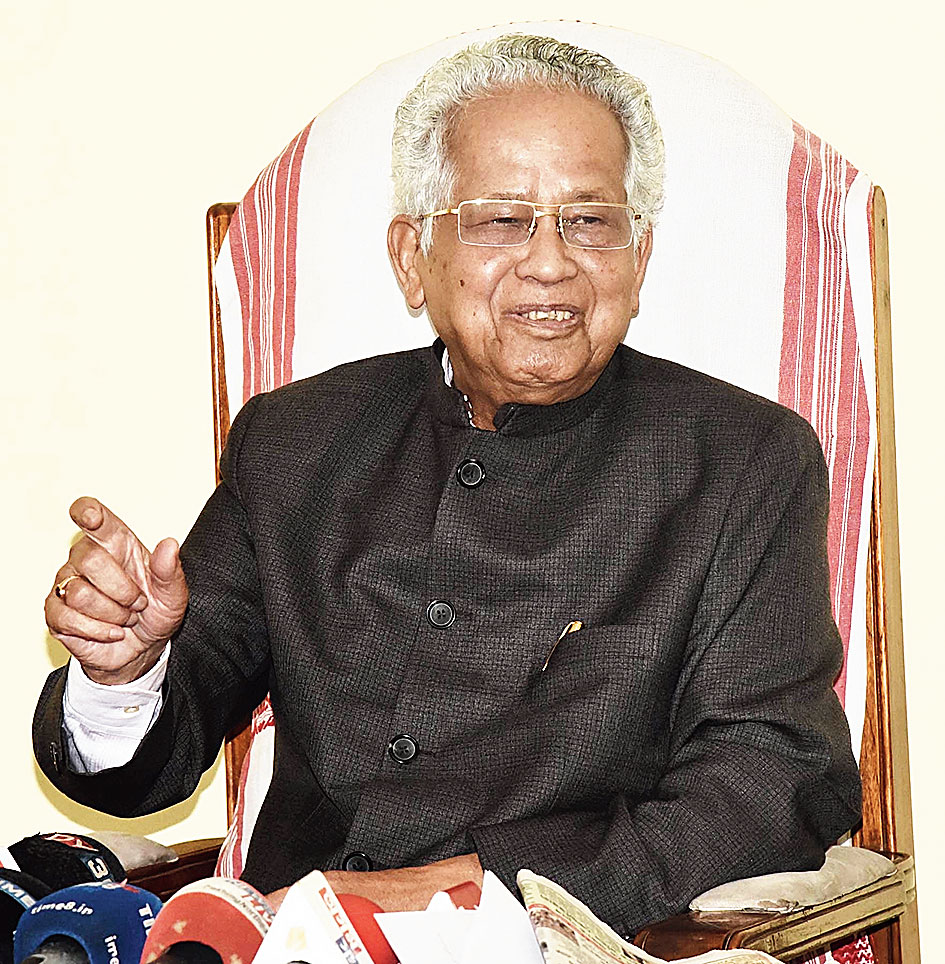 Tarun Gogoi speaks at the news meet
(UB Photos)
---
Guwahati
|
Published 08.02.20, 07:30 PM
|
---
Former Assam chief minister Tarun Gogoi on Saturday said Prime Minister Narendra Modi's claim of bringing peace to Assam was a lie and that the Centre had instead brought turmoil to the state through the Citizenship (Amendment) Act.
The comment came a day after Modi attended a programme in Kokrajhar to celebrate the signing of the Bodo Accord (January 27), where he talked about the Centre's initiatives to bring peace to Assam.
"Peace will return to Assam only when CAA is scrapped but Modi did not talk about repealing the Act. People from all walks of life have hit the streets. The BJP tries to brand the protesters anti-national and accuses them of spreading rumours. Instead of respecting the sentiments of the people, Modi seemed to have ignored them," he said.
Protests continued in the state on Friday against CAA, which will provide citizenship to non-Muslims from three neighbouring countries who fled to India before December 31, 2014, fearing religious persecution, even without valid documents.
On Modi's promise that the Centre will implement Clause 6 of the Assam Accord as soon as it receives the report from the Biplab Kumar Sarma-led high-powered committee, Gogoi said, "Why did Modi not talk about Clause 5, the soul of the Assam Accord, which sets March 24, 1971, as the cut-off date for detection and deportation of illegal migrants?
"Modi says no one will enter the country because of CAA. But we will not accept anyone who has entered the state illegally after March 24, 1971," he added.
Gogoi said it was the Congress, and not the BJP, as claimed by Modi, which brought peace to Assam. "When the BJP was in power at the Centre or the AGP was in power in Assam, militancy was at its peak, people were afraid of going out and participating in festivals, even in Guwahati. Now the BJP has triggered unrest in Assam through CAA but when the Congress was in power, peace and development came to Assam," he claimed.
Gogoi said insurgency in Assam, including Bodo militancy, neared an end during the Congress rule.
He said a majority of inhabitants of Bodoland Territorial Area Districts (BTAD), who are non-Bodos, are not happy with the Bodo Accord. "Naba Sarania (Kokrajhar MP) yesterday submitted a memorandum to Modi intimating him about this unhappiness. Real peace will come to BTAD if the rights of all its people are protected," he said.
The memorandum that Sarania submitted to Modi on Friday on behalf of the non-Bodo people in BTAD mentioned that the 2003 Bodo Accord, signed when Gogoi was the chief minister, violated the political rights of the majority of the people.