Assam government steps up measures to battle Covid-19
300-bed hospital in Barak: Himanta Biswa Sarma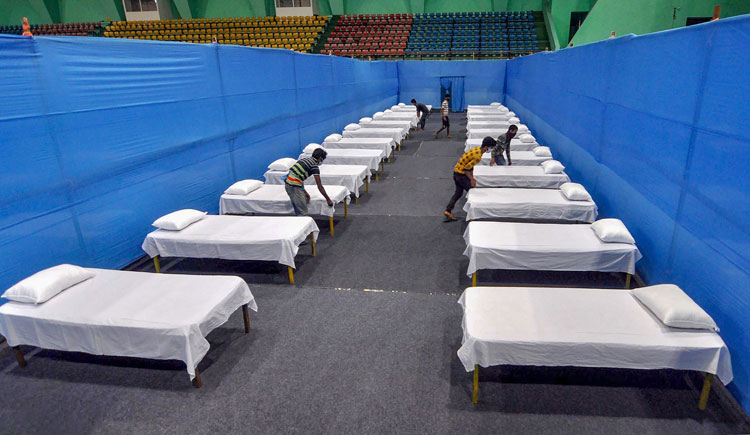 Workers prepare beds inside a quarantine facility for COVID-19 patients, during a nationwide lockdown in the wake of coronavirus pandemic in Guwahati on Sunday
(PTI)
---
Guwahati
|
Published 29.03.20, 08:04 PM
|
---
Assam health and family welfare minister Himanta Biswa Sarma on Sunday announced that Barak Valley will have a new 300-bed coronavirus hospital within two to three months.
He said a 300-bed intensive care unit (ICU) will be also set up in the new hospital.
Talking to reporters in Silchar, Sarma said the state government had already given out the tender notice and provided 48 hours to submit the proposal. He said they have already started searching for land. He said he will inspect a plot at Udharbond in Cachar district en route to Kumbhirgram airport.
Sarma, after signing a memorandum of understanding (MoU) with the owners of 22 nursing homes in Cachar district, announced the Silchar Medical College and Hospital (SMCH) will now act as an exclusive coronavirus hospital.
He said the maternity and burn wards will continue to function in SMCH as the former was separately located and burn treatment was not available anywhere else in Barak Valley. Sarma said the treatment of patients will be according to the government-approved rate. He reiterated that SMCH will start working as a Covid-19 hospital from Monday morning.
Sarma said Assam has not entered stage one of the spread of coronavirus officials as no positive case has been reported so far. He said the people should be very careful or the situation may turn worse. He said an infected person might not develop symptoms immediately but they might spread the virus to another vulnerable person with compromised immune system. He termed Covid-19 as a "silent human bomb" and said it will target anybody who comes in contact with an infected person.
He said, "Nobody can say which stage we are in the Northeast but I say we are not even in stage one." Check on workers
The alleged entry of some construction workers and labourers from neighbouring Mizoram into Hailakandi and other districts of Barak Valley has created hurdles for the health department to track them and carry out medical check-ups, sources said.
Some videos have been spread on social media showing some youths who purportedly entered Assam, after trekking for four days through jungles and hills, spread over 65km along the inter-state border, speaking about their plight following the lockdown.
The Mizoram government wants to push back all workers and labourers, who belong to the Barak Valley, to control the spread of coronavirus. The inter-state border in Hailakandi district has been sealed.
Hailakandi deputy commissioner Keerthi Jalli has taken up the matter with chief secretary Kumar Sanjay Krishna, who has reportedly started discussion with his Mizoram counterpart.
Hailakandi superintendent of police Pabindra Kumar Nath said all roads connecting with Mizoram have been sealed and they are tracking some persons who sneaked into Assam.
Forest minister Parimal Suklabaidya said on Friday that those who came to Lailapur in Cachar from Mizoram have been put under home quarantine and he had instructed the Hailakandi administration to take similar steps.
Sarma said some persons of Mizoram have already been put in quarantine.
Sources said the district administrations of Hailakandi, Cachar and Karimganj are preparing to put labourers and workers in quarantine if they enter from Mizoram.
Home quarantine: The number of people under home quarantine in Hailakandi district has gone up to 1,339, with 29 more quarantined on Sunday.
Health workers are visiting the quarantined homes to check whether the inmates are following guidelines.
Announcements over mike and fixed loudspeakers are asking people to remain indoors.
Sanitation workers and fire and emergency services personnel are disinfecting all market places, including Herbertganj, Katlicherra and Panchgram. Fire tenders filled with low-concentration bleach and DDT solution are being used to clean the streets.
Instructions have been given to grocery shops and vendors to maintain hygiene and social distancing and provide hand-washing facility to customers and workers. The administration has also asked grocery shops to engage minimum staff and to display prominently the stock position as well as prices of essential commodities.
Public announcement systems have been installed at Herbertganj market, in front of Sadar police station and Lakshmisahar in Hailakandi town to disseminate instructions from the government and administration. The system would be extended to other places as well.