Assam children prepare manifesto for parties
40 organisations from Upper Assam, lower Assam and Barak Valley were sensitised on child rights, participation, climate change and sustainable development goals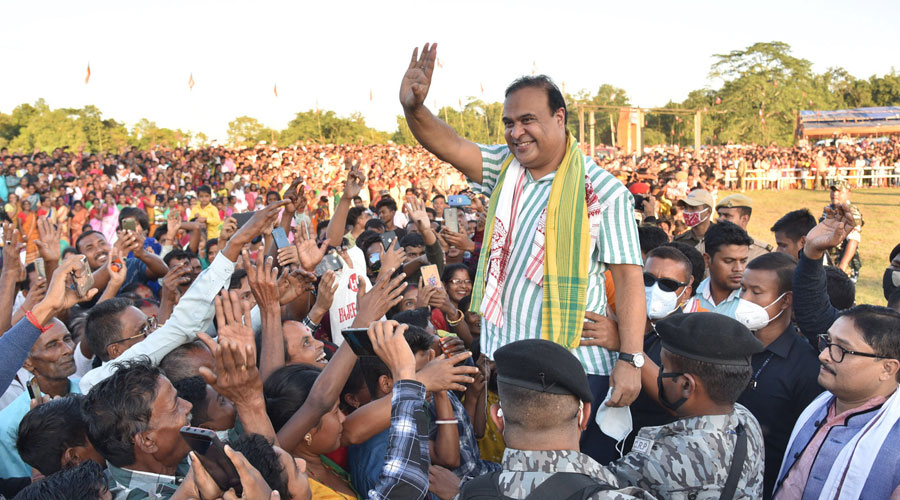 ---
|
Guwahati
|
Published 21.11.20, 12:35 AM
---
Over 4,000 children from 17 districts of Assam have recommended political parties to include promises like affordable and accessible education, protection from violence and gender equality in their manifestos for the 2021 Assembly elections.
The Children's Manifesto, raising a clarion call to invest in an Assam that is better for children, was released at Guwahati Press Club on World Children's Day on Friday.
Kuldeep Narayan Borah, 16, from Majuli district said, "Through this manifesto we present our recommendations to political parties who are preparing their respective manifestos for the upcoming elections."
The manifesto initiative is led by PratYek, a national NGO that convenes the NINEISMINE campaign under the Wada Na Todo Abhiyan. Unicef provided technical support to PratYek.
As part of the process, 40 organisations from Upper Assam, lower Assam and Barak Valley were sensitised on child rights, participation, climate change and sustainable development goals, among others, through a series of online workshops between June and September.
On Friday, 18-year-old Vandana Urang, hailing from Namroop tea estate in Dibrugarh, took over the chief minister's office Twitter account between 9am and 11am and shared her opinion using the hashtag "Reimagine Education".
Unicef has globally initiated the "Reimagine" campaign, calling on partners, governments and all of its supporters to build a better post-pandemic world. The Twitter campaign is part of this Unicef initiative.
The Reimagine campaign also calls on children and young people to contribute to the efforts to make it a better post-pandemic world. "And that is where the Children's Manifesto comes in this World Children's Day," the Unicef said.
In one of her tweets, Urang said, "On #WorldChildrensDay, I am taking over the CM Office twitter account to talk about my journey & share my opinions on how we can reimagine education in a post-pandemic world."
She studies at Namroop College but she feels "many children are not as lucky as me to get the chance to continue their education".
In another tweet, she said, "I feel that the environment in schools plays an important role — a good environment and innovative teaching methods, along with awareness on things like the ill-effects of use of addictive substances — will encourage children to continue and complete their education."
Now that schools and colleges have reopened in Assam, I hope that we focus on these issues so that no child gets left behind, Urang said.
The Children's Manifesto will be presented to the political leadership, including the chief minister, the Assembly Speaker, leader of the Opposition as well as all major political parties of Assam to include them in their manifestos.
"Unicef hopes that not only political leadership, but also bodies like State Innovation and Transformation Aayog (Sita) and commissions such as Assam State Commission for Protection of Child Rights (ASCPCR), take cognisance of the children's recommendation and use the survey data as a baseline for working upwards and differently," said Dr Madhulika Jonathan, chief of Unicef Assam.
For preparation of the manifesto, a survey was conducted using both online and offline scorecards, wherein field coordinators from different organisations reached out to children and young people using digital platforms, and in some cases where digital engagement was not possible, via face-to-face interactions, while adhering to safety protocols.
The outcomes of the survey, among others, showed 70 per cent of the children articulate the need for vocational training and career counselling, another 70 per cent wanted mental health to be included in their syllabus, while 92 per cent pushed for inclusion of gender sensitivity and awareness about sexual and reproductive health in the syllabus.
The children also felt that most people in rural areas don't have access to affordable healthcare and access to nutritious food, while 64 per cent identified violence as the most pressing concern for themselves and their peers.
The issues of substance abuse, child trafficking, protection and promotion of human and child rights also figured in the survey which found that 85 per cent children believe that leaders should speak to children and take their experiences and ideas into account when making decisions on the environment.
The Children's Manifesto recommendations:
Protection from violence in all forms.
Access to affordable healthcare and nutritious food.
No discrimination based on class, caste, gender, religion or any other ground.
Quality and affordable education for all children, especially those in vulnerable circumstances.
Adequate resources for improving infrastructure and human resources of educational institutions, with the aim of making these more inclusive and accessible.
Safe drinking water and proper sanitation for all families across Assam.
Safe spaces for children, to play, prosper and grow.
Respect for rights of differently abled and active measures to ensure they are provided with adequate rehabilitative and social support in order to live a dignified life.
Policies and programmes that aid the development of the state but are sustainable and preserve the environment.
Active participation and engagement of youth in matters relating to their lives.