Assam police have launched a statewide crackdown against child marriage and had arrested 2,044 people by Friday afternoon, with the state government insisting that the drive was not directed at any specific community.
Chief minister and BJP leader Himanta Biswa Sarma had on Thursday evening asserted that his government would "unleash a complete war" against child marriage from Friday and sought popular support.
The legal age for marriage in India is 18 for women and 21 for men.
Assam director-general of police G.P. Singh told reporters that 4,074 FIRs relating to child marriage had been registered in the past two days and 2,044 people arrested till 3pm on Friday. Among those arrested were 52 priests or qazis who had solemnised the marriages of underage girls.
"We started taking action from last night," Singh, who took over as state police chief on Tuesday, said. "Most of the arrests have been made in Biswanath, Baksa, Barpeta, Dhubri, Hojai and Kokrajhar districts."
Dhubri, Hojai and Barpeta have majority Muslim populations while Baksa is a tribal district with a significant minority population. Biswanath has significant Muslim and Adivasi populations.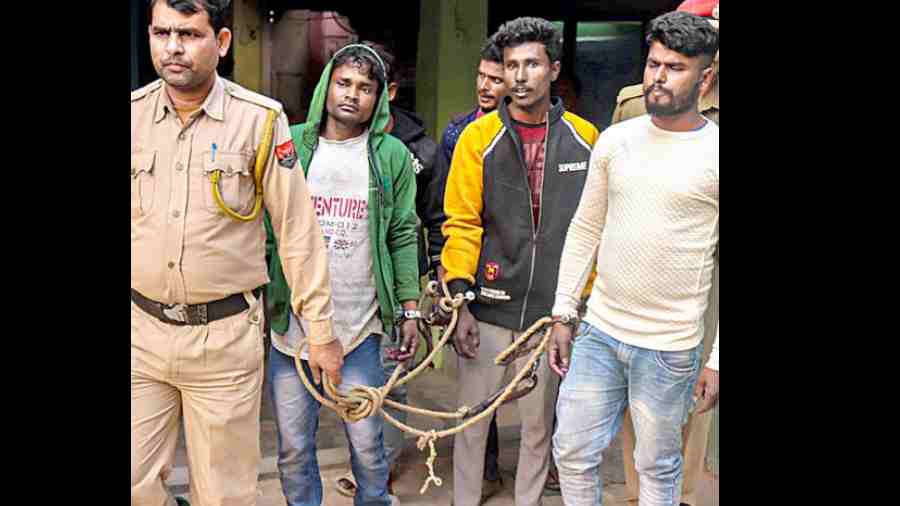 Some of the men arrested in Guwahati on Friday for their alleged involvement in child marriages. PTI picture
Muslims account for about 34 per cent of the 3.2 crore people in Assam, which has a BJPled coalition government.
Sarma had on Thursday evening emphasised that the police drive was not aimed at any community and said the campaign was drawing public support, including that from minority communities.
"We have been able to foil at least 9 or 10 child marriages in Barpeta district. People from the minority community are helping us," Sarma said.
Singh said on Friday that chief minister Sarma had two months ago directed the police to look into allegations of rampant child marriage in the state.
The police then began collecting data from gaon burahs (traditional village headmen) and village defence groups, among others. Data was collected for the years 2020, 2021 and 2022 and FIRs were registered where cases of cognisable offence were made out.
Most of the cases were registered suo motu, based on information provided by local people. Arrests have been made in all the 36 police districts in the state.
"They (accused) have been arrested under various provisions of the Pocso (Protection of Children from Sexual Offences) Act and relevant sections of the IPC (Indian Penal Code)," Singh said.
Singh said: "Going by the FIRs, there are around 8,000 accused but most moved out after the crackdown started. It will take some time to arrest all the accused."
Sarma had at a media interaction on January 23 directed the police to launch a crackdown within 15 days against those who marry underage girls as part of his government's efforts to end child marriage within five years.
The crackdown comes after a thorough discussion within the state government on the National Family Health Survey 5.
The survey, conducted between 2019 and 2020 by the Centre, revealed that the proportion of underage mothers and pregnant girls in Assam was an "alarming" 11.7 per cent. This was far higher than the national average of 6.8 per cent and reflected "rampant" child marriage, one of the causes of the high maternal and infant mortality rates in the state.
Sarma had said that men who married girls under 14 would be booked under the Pocso Act and those marrying girls between 14 and 18 would be booked under the Prohibition of Child Marriage Act, 2006. Conviction entails varying jail terms under either act.
According to the list of arrests furnished by the police, Biswanath is at the top with 137 arrests, followed by Dhubri (126), Baksa (120), Barpeta (114), Nagaon (97), Hojai (96) and Kokrajhar (94).
Districts with single-digit arrests include Dibrugarh (6), Jorhat (8) and Hamren (9). Dhubri accounts for the most FIRs (374), followed by Hojai (255), Morigaon (224), Udalguri (213) and Kokrajhar (204). Udalguri and Kokrajhar have majority tribal populations.
Opposition parties said they were against child marriage but argued that mass arrests could lead to a societal problem by breaking up families and affecting young children.
All India United Democratic Front MLA Rafiqul Islam told The Telegraph that his party was against child marriage. He, however, blamed both the arrested people and the government for the situation reaching such a pass.
"The Child Marriage Act was enacted in 1929 and amended several times, including once in 2006. Had the government discharged its duty, the need to arrest thousands would not have arisen," he said.
"We are all for lawful action to check child marriage but we also foresee a social problem when husbands and family members (of married underage girls) land up in jail. The government should look into this aspect of the matter."
Congress media department chairman M. Mahanta told this newspaper that his party was against child marriage. He too warned of a social problem if married couples were separated after several years of living together.
"Who will take care of the affected families and their children? The Child Marriage Act has been there since 2006 — what was the government doing all these years? Is the BJP-led government trying to divert attention from the serious and fundamental issues facing the state and the country?" Mahanta said.
Assam had a Congress government from 2001 till 2016 before the BJP came to power. Sarma became chief minister in 2021.
Sarma had on Thursday evening said: "I think Assam will become one of the first states to launch a complete war against child marriage, from tomorrow…. We want to try and break the modus operandi.… Our target will be the qazis and pujaris who solemnise and encourage such marriages."
He had added that the district administrations had been directed to help women whom the police action may cause economic and mental distress. The next step would include education, rehabilitation, counselling and the engagement of NGOs, he had said.