Arunachal butterfly named after Narada
A new species discovered by National Centre for Biological Sciences' faculty member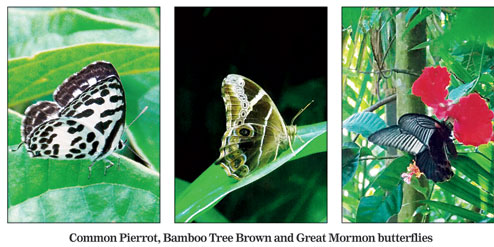 ---
---
Guwahati, July 12: A butterfly species new to the world of science has been named after a sage who played a prominent role in a number of Hindu texts and is known for mischief.
The new species, Hypolycaena Narada, was discovered by Krushnamegh Kunte, a faculty member at the National Centre for Biological Sciences, Bangalore, along with the help of his colleagues from Changlang district in eastern Arunachal Pradesh recently.
The discovery has been reported in the latest edition of The Journal of Research on the Lepidoptera.
"The specific name is based on Narada, a learned Vedic sage from Indian mythology, who was known for his mischief. The name is applied here to the species as a remark on a 'mischievous and at the same time wise' prank by a friend, who shall remain unnamed, that led to this species's description," Kunte said in the paper on A new species of Hypolycaena from Arunachal Pradesh, northeastern India.
Narada is depicted in mythological texts as carrying a veena, and is generally regarded as one of the great masters of the ancient musical instrument. He is described as both wise and mischievous, creating some of Vedic literature's more humorous tales.
The origin of scientific names varies enormously. Some species are named after Greek gods, some get their names from the places they were discovered or are named in honour of some eminent entomologists.
Some of the Indian butterflies that have been named after gods and goddesses are Appias Indra, Calinaga Brahma, Papilio Krishna, Aulocera Saraswati and Satarupa Gopala.
This is the second new butterfly species discovered in a decade after Bright-eyed Argus ( Callerebia dibangensis) was discovered in Arunachal Pradesh a few years ago. "It has been a personally satisfying achievement for me, as I am a butterfly lover," Kunte told The Telegraph. Kunte had earlier discovered two species new to the world of science - a species of damselfly, Protosticta ponmudiensis from Ponmudi hills in Western Ghats a few months back and wrinkled frog ( Nyctibatrachus petraeus) from northern Karnataka a few years back.
"This species did not match descriptions and illustrations of any known species of Hypolycaena," Kunte said.
"A comprehensive examination of the species in the British Museum of Natural History (now the Natural History Museum) and in the Museum of Comparative Zoology at Harvard University, revealed that this species was distinct and new to science," Kunte added.
The species has been recorded from at least four localities in Changlang: near the village of Bodhisatta, Lunkai Nullah (stream), near Bodhisatta and Deban tourist complex, Deban and 19th Mile, on road to Vijaynagar. All the four localities are between 300 and 450 metres above sea level.
He said the species quite likely occurs in Assam and other neighbouring states in the Northeast, where suitable habitat is present. The type (Hypolycaena) locality is also very close to northern Myanmar and southeastern Tibet.
The species appears to be common locally, along cool streams flowing through mixed evergreen forests. Males are frequently seen puddling on wet soil and on bird droppings from early morning to late afternoon. They are bold while mud-puddling, which makes it easy to approach and photograph them.
"It flies only in the first three weeks of March and its flight is fluttering and not very fast, similar to other Hypolycaena," Kunte said.
"Some more information on the biological functions of the butterfly needs to be known," principal chief conservator of forests (wildlife and biodiversity) Yogesh told The Telegraph.