App-cab drivers demand Internet resumption
Nearly 1000 cab drivers under app-based aggregators like Ola and Uber, joined the protest of mobile Internet ban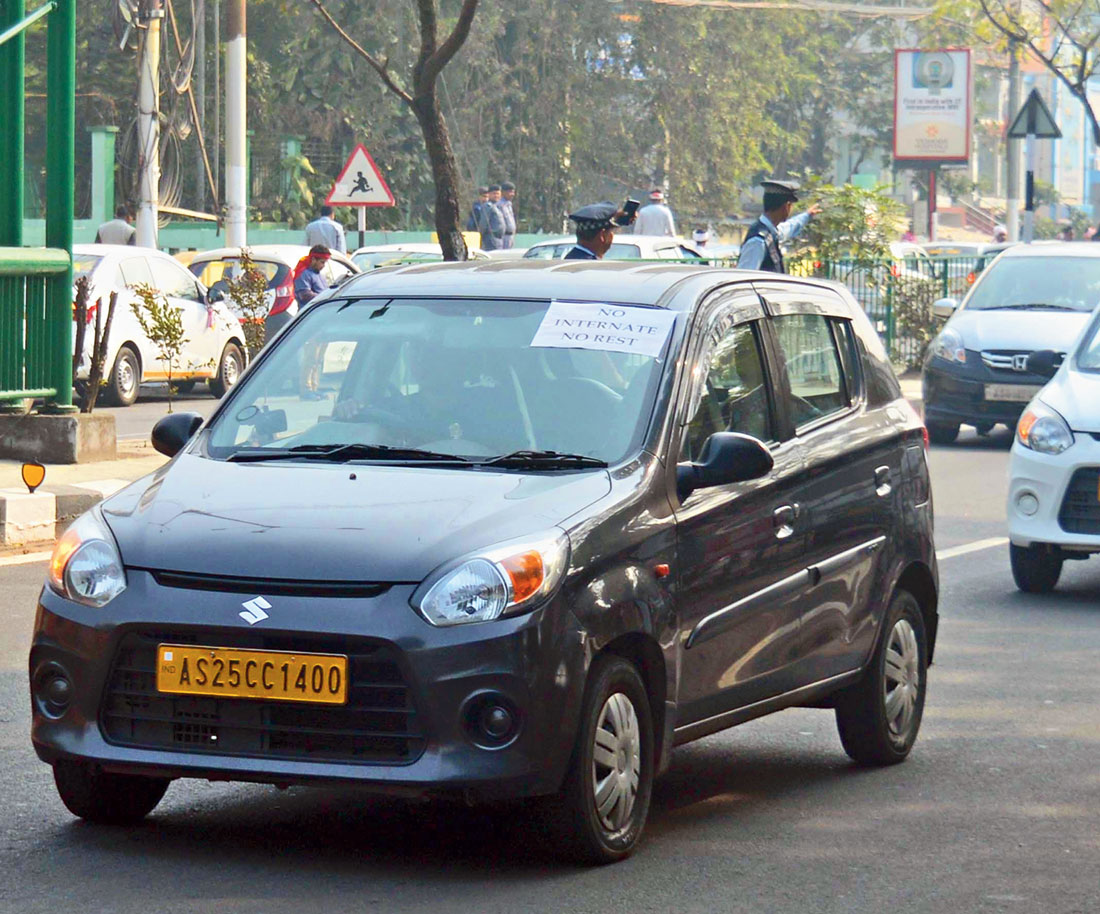 ---
|
Guwahati
|
Published 17.12.19, 08:52 PM
---
App-based taxi operators took to the streets in their vehicles on Tuesday demanding restoration of mobile Internet so they can earn their livelihood.
Nearly 1,000 drivers of cabs under app-based aggregators like Ola and Uber, joined the protest as the mobile Internet ban, in force since December 11, has not been restored despite several appeals.
All Assam Cab Operators' Union president Ismail Ali said, "It has become tough for our drivers to earn a living with the Internet services being suspended for nearly a week."
Bidyut Deka, who drives a car under Uber, said, "This is the only source of income for our families and the suspension of mobile Internet services has affected them."
"With the Internet down for so long, how will we feed our families? This government, before coming to power, had promised us employment but now it seems we are being left jobless. The government needs to look at us too. If they are concerned about social media misuse, they should use technology to block it but at least give Internet access for our apps," another driver, Pradip Deuri, said.
Simanta Goswami drives a car under Ola and has given employment to two other drivers.
"We can take passengers without the app but on what basis will we charge them? If we charge them whatever we want, then the customers will feel cheated. We use the app so that customers know what exactly they are paying for," he said.
He said people are being cheated by some auto and share-taxi drivers as they are picking passengers and then charging exorbitant fares. "Autos don't run with fare meters and demand whatever they feel like for even the minimum distance. On the other hand, our cabs charge only what is shown on the apps. We request the government to restore mobile Internet," he added.
"There are around 12,000 cab drivers in the city. On an average, a driver earns Rs 1,000 to Rs 1,500 daily. Most of the drivers have purchased their vehicles on EMIs and with the suspension of mobile Internet, they are struggling to make ends meet," another cab owner, Anupam Laskar, said.