Ahead of Diwali, Dhubri diyas on brink of oblivion
The artisans expressed grave concern for the government's failure to implement the ban on plastic products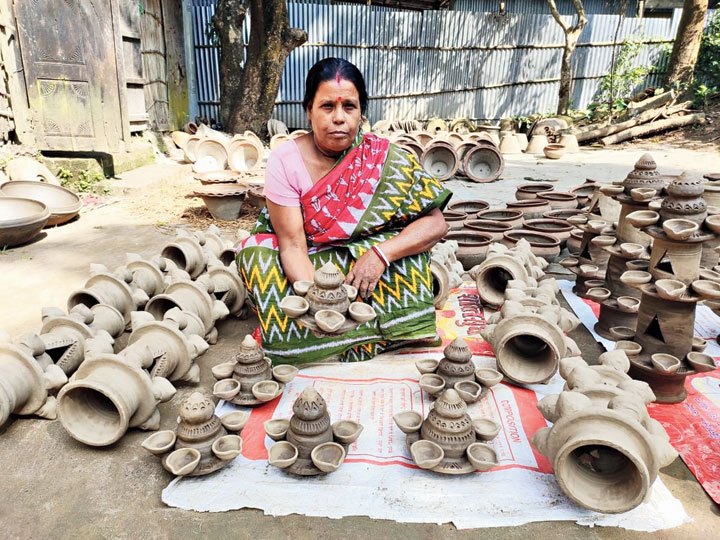 ---
|
Dhubri
|
Published 20.10.19, 07:25 PM
---
Diwali, the festival of lights, is a festival of diyas (earthen lamps) too. However, with ready availability of cheap and fancy plastic and Chinese lights, the artisans of Asharikandi village, known as a "potters' village" in Dhubri district, are in dire straits.
Badal Paul, a villager, said: "The locality is known for earthen lamps of exquisite designs, but now with increasing sale of plastic and Chinese lamps, the artisans find it hard to make ends meet. Earlier, they used to get work orders throughout the year and their income went up during Diwali. They used to make beautiful diyas and sell those in the markets."
However, things have changed drastically now due to easy availability of plastic lamps at cheaper rates which pose threat to the pottery industry. "We had extra income during Diwali. Now plastic products have affected our livelihood. Whatever we earn from selling lamps and other earthen materials now fails to meet living expenses," rued Sadhana Paul, who makes earthen lamps.
"If my family members work for a whole day, they can make around 250 lamps, but these days most of our products remain unsold due to invasion of Chinese and other fancy lamps which are sold at comparatively low price. Though our income has dipped, we are keen to carry forward our family business and will not give up. But we need the government's support," she added.
Mahadev Paul, another villager, said: "Businessmen across the state came to our village to buy lamps before Diwali, but what we get is far less than what we expect."
The villagers who make diyas expressed grave concern for the government's failure to implement the ban on plastic products. They alleged every year during Diwali, the government announces ban on plastic products, but in vain.
"The campaigns to curb use of Chinese and plastic products have been largely ineffective. Season after season, we have seen increasing the number of customers opting for fancy Chinese lights without touching locally made diyas which find no takers. Chinese lights have taken over and the entire pottery industry has taken a back seat," Paul rued.
An elderly villager, however, said: "Diyas and earthenware of Asharikandi have buyers even now, but our products need value addition. In other states, traditional artisans get training to add value to their products, but here the government is doing nothing for us to keep the tradition alive."
The villagers complained that there was no source of encouragement from the government and the traditional art no longer fetches enough money to run a family which has forced the young generation to switch over to other trades or work as bonded labourers.
Abu Bakkar Siddique, the panchayat president of Asharikandi village, rued that pottery industry is on the brink of oblivion due to apathy of the state government.