AGP firm on bill opposition
The AGP's stand on the bill contradicts that of its ally, the BJP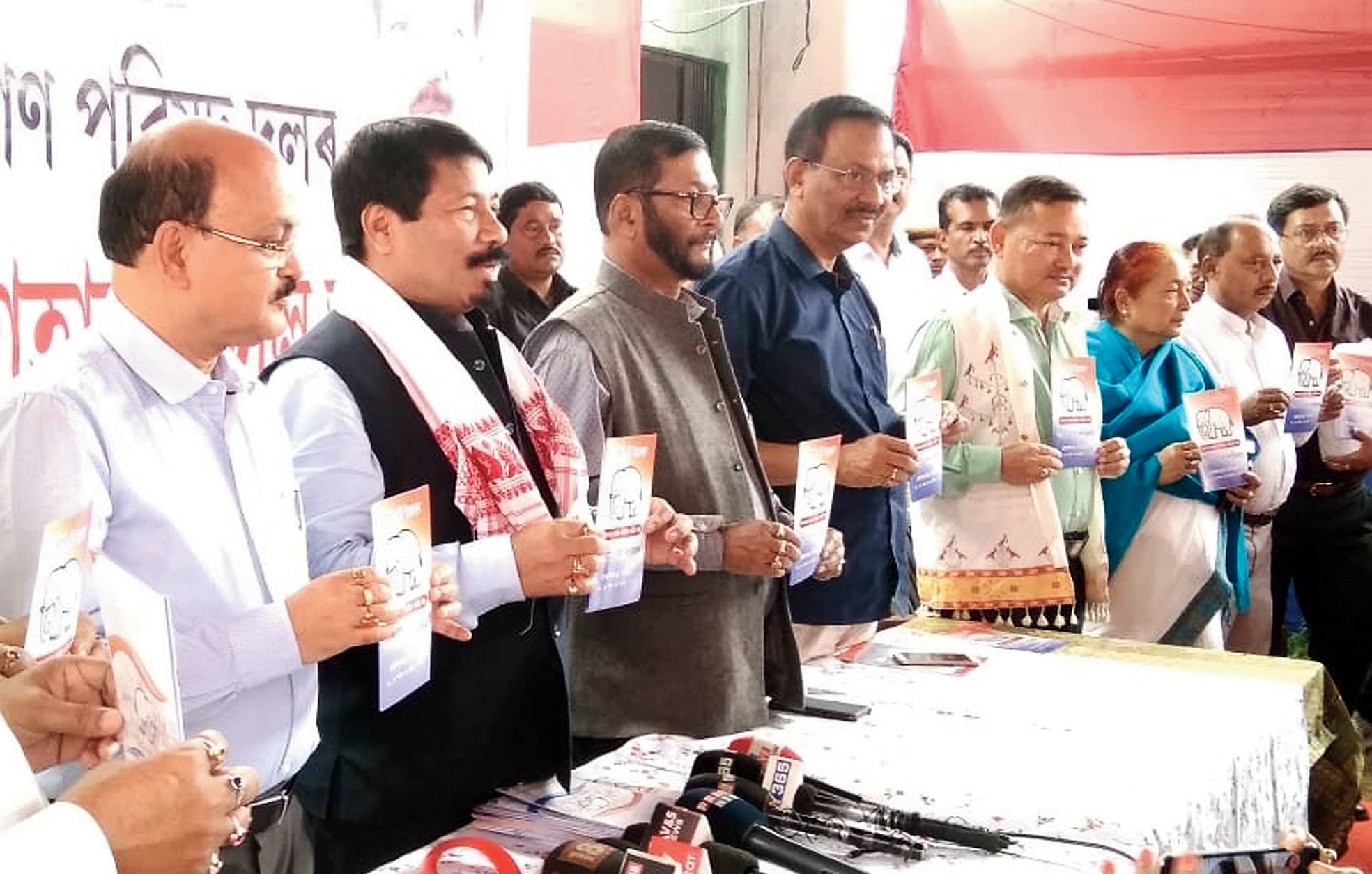 AGP leaders release the election manifesto in Golaghat on Tuesday.
UB Photos
---
Guwahati
|
Published 09.04.19, 06:34 PM
|
---
The Asom Gana Parishad (AGP) on Tuesday released its manifesto for the Lok Sabha polls, asserting it would remain firm on its earlier stand of opposing the Citizenship (Amendment) Bill, 2019.
The AGP's stand on the bill contradicts that of its ally, the BJP, which has promised in its poll manifesto that the legislation would be enacted if it returns to power.
The manifesto, which was unveiled by AGP president Atul Bora in the presence of other senior leaders at the party office in Golaghat, said its stand on the bill remains unchanged.
The AGP had walked out of the alliance with the BJP in January this year protesting against the Centre's decision to introduce the bill in the Lok Sabha. The regional party, however, rejoined the alliance last month and decided to contest the parliamentary polls together with the BJP after the Centre refrained from introducing the bill in the Rajya Sabha.
There has been discontentment within the AGP ranks over its tie-up with the BJP despite the latter's support for the bill.
The AGP manifesto said the party will demand the creation of two regiments of defence forces named after legendary Ahom general Lachit Borphukan and Koch general Mahabir Chilarai and preference to be given to youths from Assam for recruitment in the two regiments.
In its six-page manifesto, the party also reiterated its commitment to implement every clause of the Assam Accord, to demand for restoration of the special category status of Assam, to seek Scheduled Tribe status for six communities of the state and protect the political, economic, cultural, social and linguistic rights of the Assamese people as mentioned in Clause 6 of the Accord. "If elected, our MPs will strongly raise the issues of flood and erosion and unemployment in the state in Parliament," Bora said.