A bamboo bridge named Zubeen in Assam's Tinsukia
The 'Zubeen Garg bridge' connects Thepabari with Tengapani and several other villages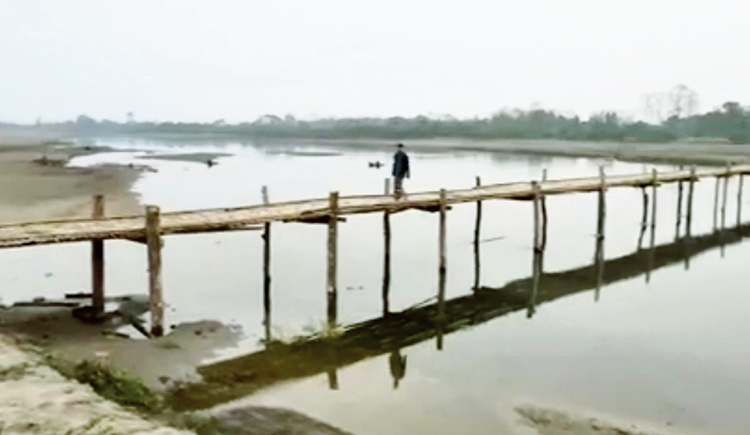 The Zubeen Garg bridge
(Telegraph picture)
---
Doomdooma
|
Published 19.02.20, 06:52 PM
|
---
His song bridges the urban-rural divide and his mellifluous voice tugs at the heartstrings.
Residents of Thepabari village under Kakopathar block in Tinsukia district have expressed their love for singer Zubeen Garg by constructing a bamboo bridge on the Nadihing river and naming it after him.
The "Zubeen Garg bridge" connects Thepabari with Tengapani and several other villages. "The bridge will be of great help for hundreds of people living in this village," said Purabi Kakoti, a student of Thepabari.
Zubeen is also a great leveller. To express their love for him, the villagers, irrespective of caste and creed, worked together.
Pramila Moran, a social activist of Kakopathar block, said: "Everyday around 400 to 500 people have to cross the river and there is a single boat. The schoolchildren, traders and patients face a harrowing time. The bridge will help us at least temporarily."
The structure also highlights the misery of villagers who have to depend on makeshift bamboo bridges that get washed away every monsoon.
Kakopathar block under Doomdooma subdivision is affected by floods and erosions caused by the Brahmaputra and its tributaries that render thousands of farmers homeless and landless.
Devastating floods in 1992 swept away a bridge on the Nadihing. Since then, there was no replacement.
According to reports, the "Zubeen bridge" is 490 metres long and will be used mainly for commuting.
On his official Facebook account, the singer extended his gratitude to the people of Kakopathar. He wrote: "My respect and salute to the people of Kakopathar for this overwhelming love and affection for me. Planning to come on 29th Feb to inaugurate it."
Zubeen will be joining the people of Kakopathar and inaugurate the bridge on February 29.
The residents of Kakopathar block have raised issues such as poor roads, lack of bridges and healthcare facilities in their villages during an anti-Citizenship Amendment Act rally in Kakopathar recently.