It is a beautiful Sunday afternoon and Mimi Chakraborty is rushing through a packed schedule. "If  you are working on a Sunday, then it is a good sign! That means you are doing something fruitful. Working Sundays are the best. And I am not a person who likes to sit at home, relax or chill. I can't do that. I always feel like I have to do something," smiles Mimi, whose film Mini (directed by Mainak Bhaumik) releases on May 6. Mini is the story of the culmination of friendship between a modern-day teenager and a grown-up aunt. The Telegraph chats with Mimi... .
Talking about Sundays, is it also the time to have a cheat meal?
(Laughs out loud) I'll be having a piece of strawberry and chocolate cake today. And a cheat day depends on my shooting schedule. If I am working out every day in a month, then I can have a cheat day every Sunday... maybe three Sundays.
This year is turning out to be very different for you in films. Two of the films are women-centric and the stories revolve around you....
I would like to thank my directors, writers and producers who have created and written such great scripts for me. At the same time, one is under a lot of pressure since the film has to do well at the box office. Women have to prove themselves at every point of time. If a film has a hero and a heroine, then you cannot do without each other. Both are equally essential for the story of the film. But there's pay disparity everywhere, from Hollywood to Bollywood to here. And when you pay the heroine less than the hero, then you are sending out a message that she is not important in the film. And I am constantly fighting for equality.
Did you make a conscious decision to select such women-centric films?
Not really, I have always respected the work I have done. Of course, one has to do something different as well. As actors we are constantly slotted and divided, and seen through the prism of mainstream and non-mainstream. I had started with Gaaner Oparey, and it is best to select content-heavy films with strong roles for women when the offers come your way. I can do a woman-centric film as well as a song-and-dance film now. I have always been production-friendly and very fast. I have done like 19 scenes in one day for many films, including montages.
You recently shot for a Bollywood film. How many scenes did you shoot for in a day?
Three-four scenes in a day. Now you can understand our pressure.
How important is the big opening at the box office?
It has always been very important. Now the onus is on me.
Does it give you sleepless nights?
No, I work on the ideas for the promotions. I have set up an entire team. I am not thinking too much about the commercial side of things. I am just waiting for the opening. We have all worked really hard on this film, and it is now up to the people.
What made you say 'yes' to Mini?
I had seen Mainak's Bibaho Diaries. It was such a sweet film. Our first interaction was when I was doing Crisscross and he had written the script of the film. Later he called me during lockdown and gave me a brief on this story. And he wrote the screenplay keeping me in mind. I really liked how the character belongs to today's generation. She's independent but at the same time her family is a big part of her life.
Is the character a lot like you?
I would ask him how is Titli and he would say that she is just like me. Titli's outlook towards life is like mine. Titli is sensitive, honest, emotional.
How was Day One of the shoot?
I have done so many films, but even today I don't get a good night's sleep before the start of a new film. I read the script over and over again, pace the room. Mainak is super fun and chilled out and we hit it off really well on the sets. There were so many changes, maybe 15 changes for 19 scenes in one day. And we shot the film really fast. It was great teamwork.
How would you define Mainak's directorial style?
He just lets you flow. He has faith in his actors. Mainak has a great sense of editing and he knows exactly what to shoot, what will be the master shots, close-ups and mid-shots and how much to keep.
How was it like acting with little Ayanna Chatterjee?
She is a gifted actress, so bright. She is such a sweet kid and we bonded instantly. And she doesn't like having pizza!
And we know that pizza is your favourite!
When pizza is there on set, I just cannot control myself. We started shooting at a pizza shop around 10am, they had just opened. And they made me my fave Cheeseburst Pizza with extra cheese and mozzarella. I told them that I would eat it during my shot... but once I started I could not stop. I polished off three slices. Then we had scenes in a Chinese restaurant and there I had spring rolls, chilli chicken, dim sums.
You had scenes of having pizza in the film Golpo Holeo Shotti....
I would finish them off as well. Birsa (Dasgupta, director) was like, 'You are having the pizzas that were kept for continuity.' So they would get two-three pizzas so that they could shoot properly. The pizzas would get cold but I didn't care.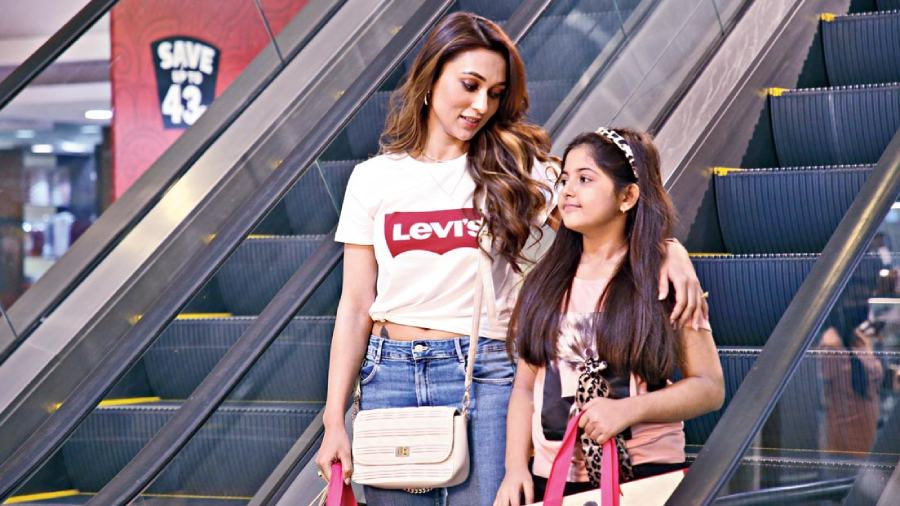 Mimi and Ayanna in 'Mini', which releases in theatres on May 6
Tell us about Titli....
Titli is an independent girl, who aspires to become a fashion designer. For that she faces a lot of struggle in life. One day she gets to know that she has to deal with a mountain of responsibilities... she has to mange her home, relationship, work.
Did it ever remind you of your days in the beginning when you had come down from Jalpaiguri and were living alone in Kolkata?
My journey was very different... I knew very well what I was doing... when I bought a flat here, my parents and friends were always beside me. I was always working towards my goals. Titli is very messy whereas I am not.
How did you connect with your character?
There was an emotional connect. My takeaway was my relationship with Ayanna and we will always stay in touch. She wants to become like me when she grows up. I wish her all the best for her future. Also, I have a new friend in Mainak now.
Do you set goals for yourself?
I do, and I feel I am my only competition. I always try to better myself.
What are your Bollywood plans now?
I cannot reveal anything right now. I had got a lot of offers in the past. I am  connected to Bengal, the people here and my regional film industry. If I am away for some time, it makes me homesick.
Also I have a huge responsibility here (as an MP). I feel grateful that people outside are offering me work. That means I am doing good work. If I really like a script, then, of course, I'll do it.
 
Picture: Rashbehari Das
Location: HHI Kolkata
Make-up: Sourab Mitra
Hair: Sima Ghosh
Styling: Sumit Sinha
Outfits: Teal-shaded jumpsuit with sheer jacket by Richa Khemka; Green pantsuit from The Atrium Kolkata