Stylish and cool, with denim as the USP, Aaina Mahajan's MellowDrama can take you from day to night effortlessly. She chats with t2 on her latest line Phoenix by MellowDrama.
Phoenix looks really cool! What's the inspiration behind the name?
Phoenix is an immortal bird that rises from the ashes and regenerates or is born again. The whole process of putting this collection out was going forward and moving ahead irrespective of any limitations and external circumstances. Creative ideas emerged through play — assembling/disassembling in terms of prints, embellishments, patchwork. We used fabric manipulation to create visual imagery and create one-of-a-kind pieces. We refined the brand and the concept of rebirth was what made me come up with this name.
How old is the label? How did it start?
The label is five years old. We launched with a capsule collection in 2016. I have always been interested in fashion and wanted to work in this field. I studied at the London College of Fashion, after which I worked in garment exports with brands like Topshop and Zara. Having gained industry knowledge and having a flair for fashion, I decided to start my own contemporary label which was timeless and affordable, offering great quality and design, which the Indian market lacked.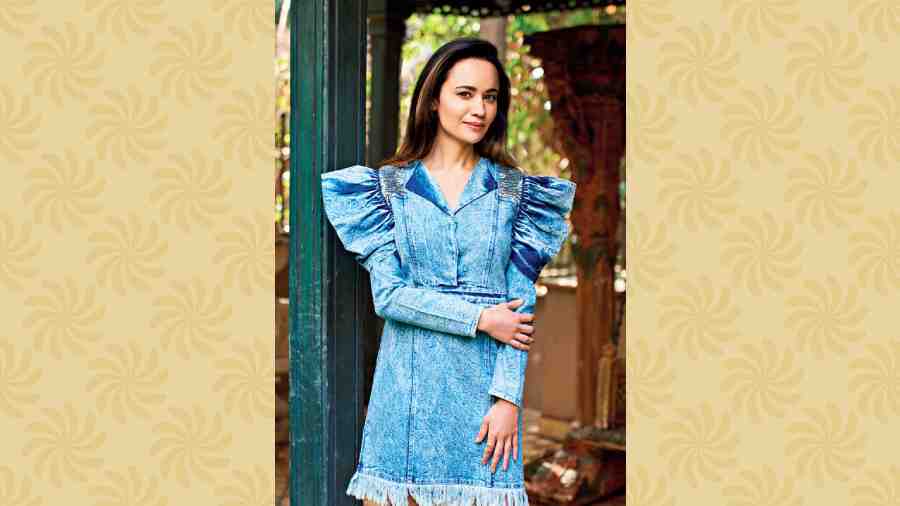 Aaina Mahajan
The label has a love for denims. Are you personally a denim lover?
Over the years denim has become our USP. I feel one can never go wrong with denim. It is cool, timeless and classic. It can be dressed up or down depending on the occasion. It is something that can also literally be worn all season round, which makes it a wardrobe staple. It can never go out of fashion, and I have experimented a lot with denims over time, creating unique one-of-a-kind pieces, with different washes, embellishments and techniques over the time.
We love how Phoenix can take you from day to night...
The whole idea of the brand is to make pieces that can take you from day to night and that is our greatest USP. When we started ideating Phoenix, the concept was incorporating mixed moods, fragments and deconstruction to create disrupted classics. The collection has a playful grunge and we used a lot of fabric manipulations, embellishments, prints and patchwork to create pieces that can take you from day to night, that you can dress up or down and they can be worn over years to come irrespective of trends. 
The name MellowDrama is interesting as well. It's all about making bold statements, subtly, right?
MellowDrama is an oxymoron, and the brand represents exactly that. It's a twist on the classics. Timeless pieces in pure fabrics and neutral colours that have an element of drama in terms of treatment — be it washes, studs, prints or embellishments and embroideries.
The label is a mix of many things. What would you say is the DNA? 
Over the years we have expanded the product line in terms of product categories, but our core DNA and handwriting remain the same — a twist on the classics. MellowDrama is a one-stop solution for pret wear! We believe in using pure fabrics with easy fits and contemporary cuts highlighted by fine embroideries and quirky embellishments. The brand curates for the woman who is unabashedly herself and expresses her take on the world through fashion that is bold yet comfortable. We use stunning embellishments, embroideries, statement sleeves, ruffles, denim details, pearls, beads and crystals for our innovative and unique designs. We strive to make high fashion that is comfortable and affordable.
MellowDrama is perfect for someone who wants to experiment and is on the lookout for pieces that add a certain character to the closet. Our range is a take on boutique-style fashion which offers one-of-a kind, high-quality apparel, perfect for all occasions, while lending a charm of exclusivity.
How would you describe 'conscious pret'?
Conscious pret wear is very important given today's time and age. We must be conscious in our choices by trying to use organic fabrics as much as possible. Use minimum wastage in dyes while printing, and reuse leftover fabric and put it to use. Slow fashion is the way forward.
Who are your biggest muses?
I really took on to how Sarah Jessica Parker redefined fashion in Sex and The City. Anna Wintour is a timeless style icon.
Can you name personalities who define "mellow" and "dram" or "mellowdrama"?
Putting together a look which is classic yet has a hint of drama with an additional element would define MellowDrama. I think Deepika Padukone and Victoria Beckham would define this style.
What is your personal style like — mellow or drama?
Like the brand my style is a combination of the two wherein you wear timeless one-of-a-kind pieces with a twist of drama to it to add that extra edge to the garment.