The start-up boom has taken the world by storm for quite some time now. To encourage the principles of start-up, self-employability, networking, connections and most importantly curating trans-national resources, the US Consulate General Kolkata in partnership with KIIT Technology Business Incubator (Kalinga Institute of Industrial Technology – TBI) inaugurated a three-day Regional Startup Network advanced workshop on March 30 at the American Center. From the over 300 registrations among India, Bangladesh, Nepal and Bhutan, 20 selected start-ups have been called for the special workshop which will enhance their knowledge and skills in their field.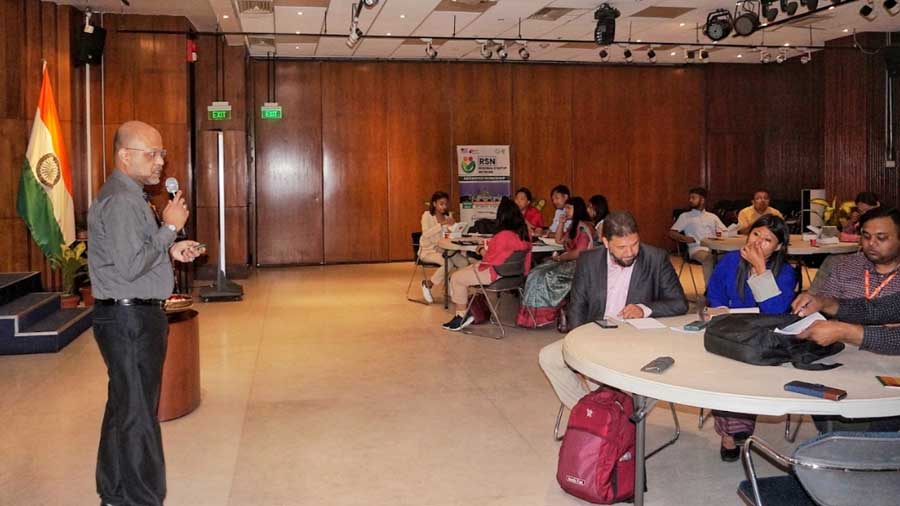 Expert mentor Shome Mukherjee conducting the session on GOAL setting
Consul-General Melinda Pavek during the inauguration said, "It's such an honour to be here and have an opportunity to address you. The consulate is very engaged in making sure that the entrepreneurship ecosystem of this region is vibrant and is connecting the right people with the right purposes.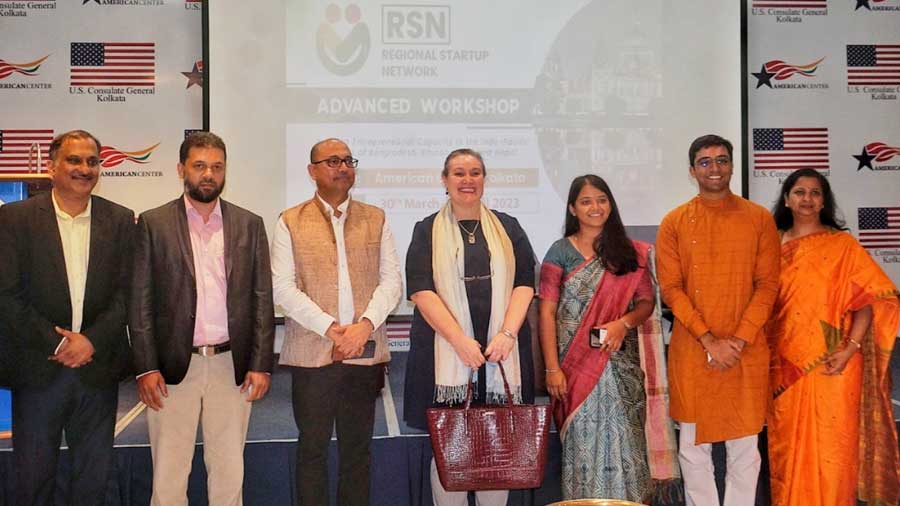 US consul-general with Indian startup participants
There's an amazing entrepreneurship ecosystem in different parts of India and I will say there is an increasingly amazing ecosystem here in the east and north-east and the eastern region. I have a very difficult time focusing on one specific thing in my life. But the reality is that everything I have done has been built on the things I have done before. All of you as entrepreneurs are going to do exactly the same thing. You are going to use all of the skills you have used and learnt in every aspect of your life which will play into how you build your businesses."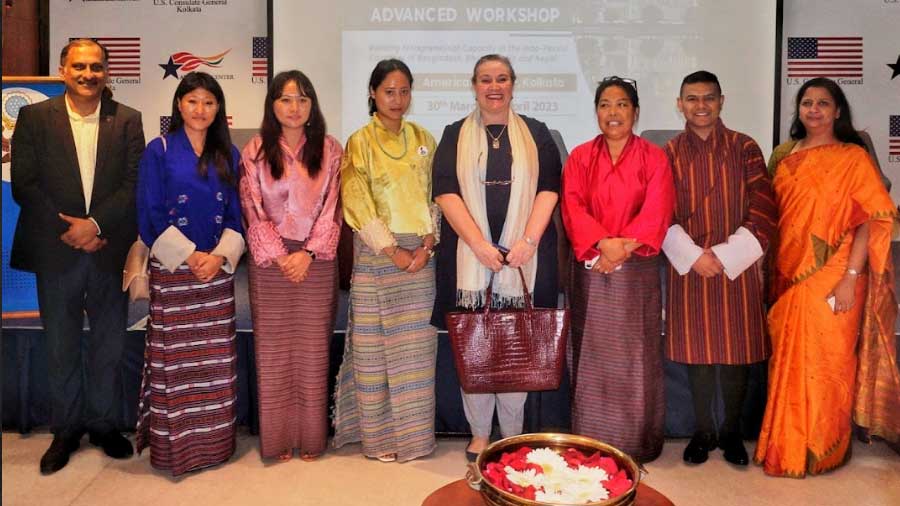 US consul-general with Bhutanese startup participants
The inaugural session was attended by Surekha Routray, head-social incubation , KIIT – TBI; Vishnu S Baldwa, managing director, Indorama; Ashok Dhar, former president, petroleum business; Mrutyunjay Suar, chief executive officer, KIIT- TBI apart from the consul-general. The speakers addressed the audience briefly on topics like vision, market segmentation, building a SMART business, manpower management, networking, and more.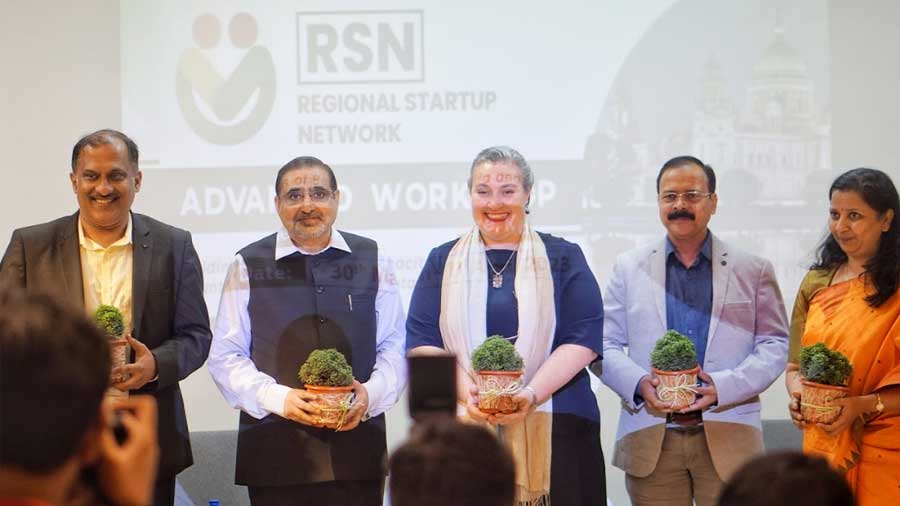 (L-R) Mrutyunjay Suar, chief executive officer, KIIT- TBI; Ashok Dhar, former president, petroleum business; Melinda Pavek, US consul-general; Vishnu S Baldwa, managing director, Indorama and Surekha Routray, head- social incubation, KIIT – TBI
Bini Bajracharya, founder of Abir Designs Hub from Nepal, said, "We are basically a natural and upcycled clothing brand and into sustainable clothing. The company has been operational since pre-COVID. We are looking to learn a lot of things from the workshop. One of the major things could be the fund-raising part for me at least."
Spread over three-days, the workshop aims to arm the participants with concepts and principles like goal setting, segmentation and targeting, market, cash flow management, cap table, valuation, term sheets, fundraising, product packaging and branding, human resource and of course pitching. Sessions will be conducted by expert facilitators.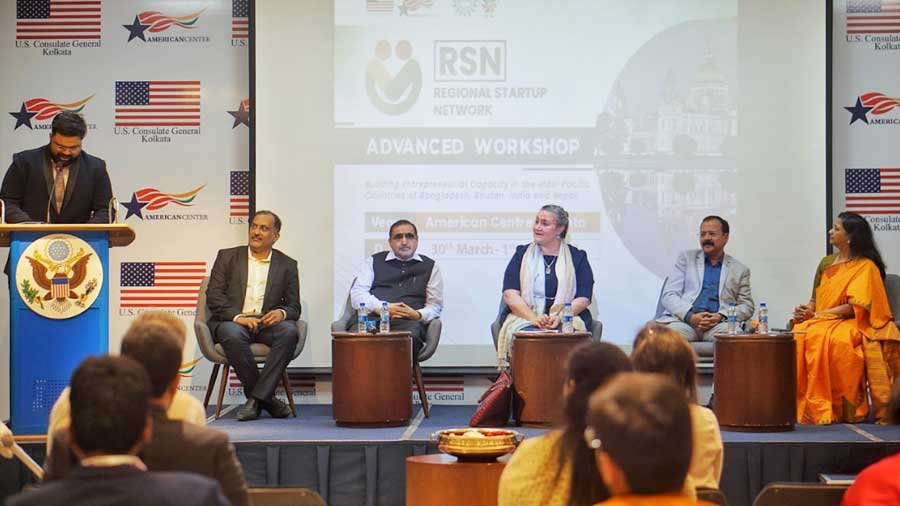 (L-R) Mrutyunjay Suar, chief executive officer, KIIT- TBI; Ashok Dhar, former president, petroleum business; Melinda Pavek, US consul-general; Vishnu S Baldwa, managing director, Indorama and Surekha Routray, head- social incubation, KIIT – TBI
Jeewan Baral from Bhutan is the founder of The Mugwort Solution. "We are into the production of green therapy products. We produce Moxa Sticks and Mugwort Foot Soaking Bags etc. These are most commonly used in South East Asian countries like Japan, Thailand, Singapore, Malaysia; and are also becoming popular in India. We have come here for the networking session; learn from each other and also find the opportunity to explore ourselves in a wider market," Baral said.
The Regional Startup Network programme aims to nurture the entrepreneurship ecosystem and help startups gain valuable inputs from experts. It promotes market opportunities and networking possibilities beyond borders. One of its core objectives is to strengthen the Indo-Pacific regional economy through inter-exchange of ideas between startups, markets and audience.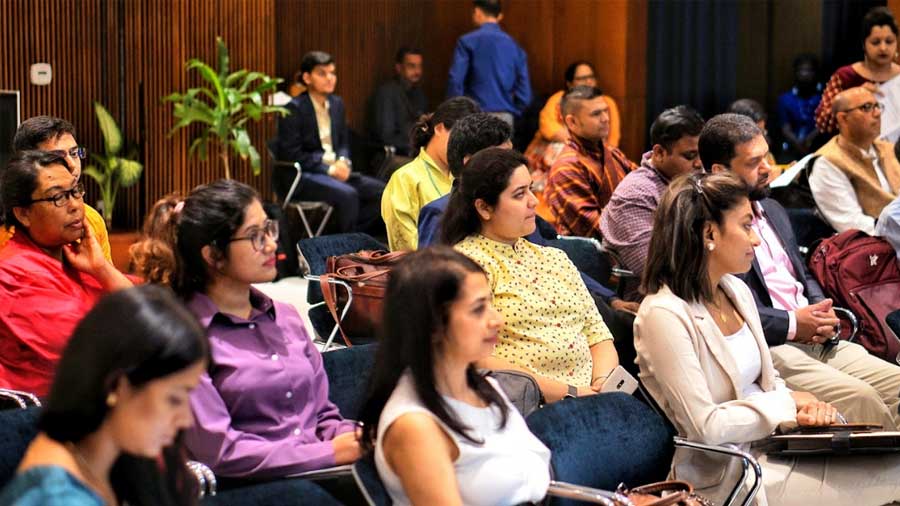 General participants
Rajiv Mondal, chief executive officer of Arogyam Medisoft, one of the shortlisted startups from India mentioned, "We work in the agriculture sector, food traceability. We have developed our own patented IoT devices which are connected to our platform by which the beneficiary can have the traceability of their food, soil parameters tested, water parameters tested and get remote advisory. We are six years old and based in Kolkata. We are in India, Africa, Nepal and Uzbekistan today. We look forward to connecting to more countries through such programmes."
A total of 20 startups, five from each country have been selected for the three-day workshop. Some of the startups include Nana Holiday Homes , a jungle resort from Nepal; Chyau Biotechnologies from Nepal which manufacture machines to combat pollutants; Yumm Yumm Sausages from Bhutan which produce high quality non-veg and veg sausages; Leki Textiles, an organic weaving centre from Bhutan; Bitsy Technologies from Bangladesh offers toys and learning for children through digital platform; WeGro from Bangladesh is a digital financing company for the farmers; Nexus Power from India makes biodegradable and rechargeable batteries and more.
Nazmul Islam from Bangladesh is the founder of Fabric Lagbe Limited. He states, "It's a marketplace for textile and handicrafts of Bangladesh for around the globe. We supply and deliver through our bidding system and we have apps and websites for the last 16 months. We have 35,000 users from 102 countries. This program is helping us to grow our business and network through connections with suppliers and buyers."
After the three-day intensive workshops, five startups will be finally selected who will pitch for the Nexus Program in New Delhi.