The universal appeal of folk songs, no matter their disparate origins, is the instant bond it forges, the singer and the listener becoming one as if sailing in this one boat of lyric, melody, harmony and rhythm. No wonder then Fiddler's Green, an unplugged ensemble that chooses to celebrate life on its own terms through musical traditions of the world, has you at hello.
They've been regaling audiences around the country, and abroad, for over a decade now. It's been so much fun, admits founder member Diptanshu Roy, that it's only now that the collective found the mindspace to put out a slice of their oeuvre in the form of an album — seven neatly curated tracks that chronicle the past and celebrate, at times even mourn, the myriad ways it shows up on us in the present.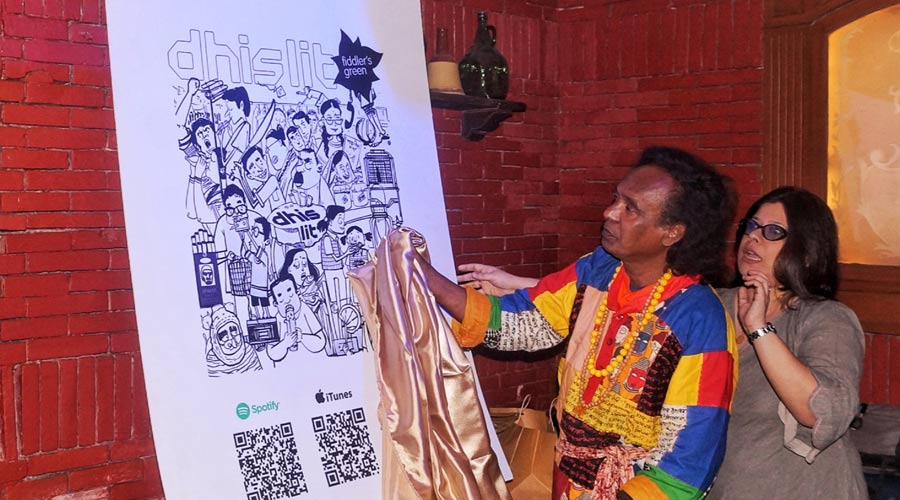 Basudeb Das Baul unveils the album artwork by Priyankar Gupta
At a live gig over the weekend at Someplace Else to announce the launch of the album, titled Dhislit in fond remembrance of "para cricket", the band unspooled its prowess as a live act with full-on vocal histrionics, aided by a tight band of drums, bass and mandolin, creating an infectious array of emotions throughout. Matilda, made famous by Harry Belafonte, mixes immaculately with a Rajasthani folk tune rendered with all nuances intact by the effervescent Dipannita Acharya. 
There is a song about coal mine workers, one about fishing and its many complex contradictions (Chyang Byang) delivered with just the right dose of philosophizing by Basudeb Das Baul, something he does quite effortlessly again while singing a song about the body. What if we realise that we are nothing but a guest in the shell of a body that actually belongs to someone else? The soul, they say, is eternal. The body we know isn't. It was as though Basudeb's khamak — he guests on the band's maiden album — asked all these questions. By the end of the gig, many in the audience could swear they had all the answers!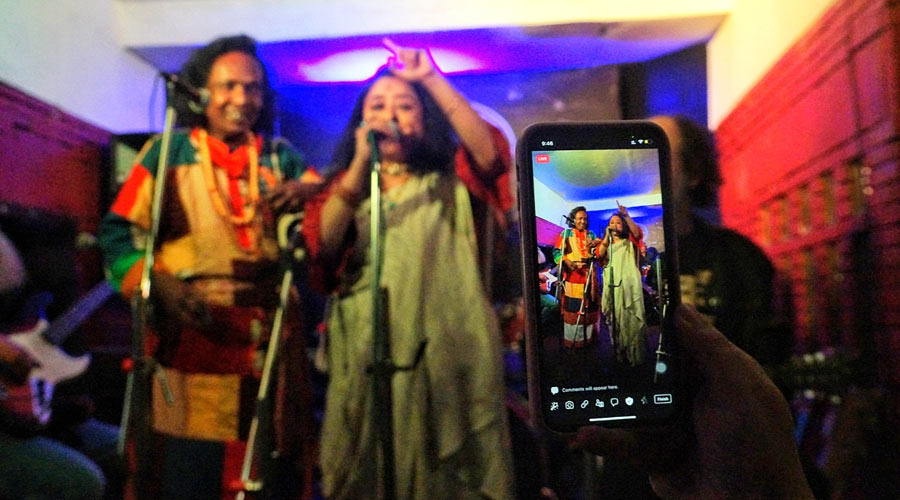 In focus: Basudeb Baul and Dipannita Acharya
Fiddler's Green, the happy members admit, is a no-frills band without electronic additives. Helming the backing section is Shamik Chatterjee and his tightly crystalised bass riffs that draw from various rhythmic styles. Together with Ritoban Das's percussive insistence behind a drum kit that's replete with an imaginative collection of cymbals and a cowbell, the cushion is comfortably placed, soft enough for the vocalist to rest on. They do eminently well not to drown out Diptanshu's mandolin, clearly the unique mainstay of the band's sonic charm which relies a lot on his playing — quite a task given that he's not just doing duty with the main tune, but is also filling in and harmonising in sync with the singer's vocal flourishes.
The singularly distinctive sound of the meandering mandolin and the robust, funk-infused bass riffs are a study in contrast that blend joyously to give Fiddler's Green their individualistic calling card most apparent in Manush Ekta Koler Gaari, the age-old baul song written by Shivananda. This traditional standard has been performed by many, but Fiddler's is able to put a seal on their re-imagination, thanks to Dipannita's powerhouse delivery — nuanced and authoritative.
Dhislit, available on Spotify, Apple Music and YouTube, sports a delightful piece of artwork. Priyankar Gupta's black & white figurines of everyday folk — a la Mario Miranda — depict a Kolkata of yore, a wistful longing of cricket, radio and rolls, a reassurance that for those that live here our city is what it always was. Home.
The bonus for those present at Friday night's launch was a tiny cloth bag of Fiddler's Green merch — notebook, sticky notepad and a matchbox affectionately put together by Grinning Tree and PR firm Penchant for Pinnacle (Parama Dasgupta, Pritha Sarkar).
Listeners owe it to the evening's sound mix (Angshuman Ukil), surprisingly good for the venue in question, given that marrying acoustic string instruments with vocals, drums and electric bass is tricky. The same goes for the album recording and mix (Tirthankar Ray, Nitin Joshi) which also includes quaint trumpet interludes by Anioushi in Noya Bari.
Here's a question though, one I kept asking myself after the concert: Going forward, would Fiddler's Green be open to the addition of a set of keyboards, say, a piano accordion or harmonium?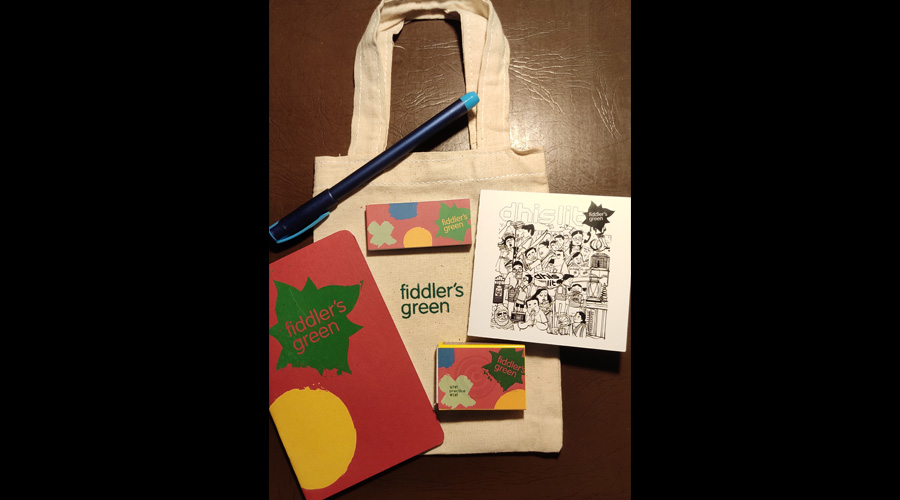 Band merchandise designed by Penchant for Pinnacle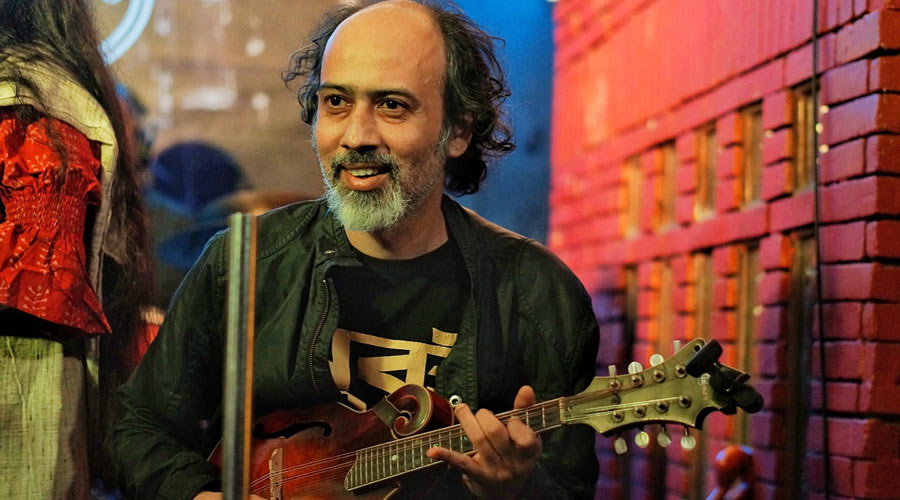 Diptanshu Roy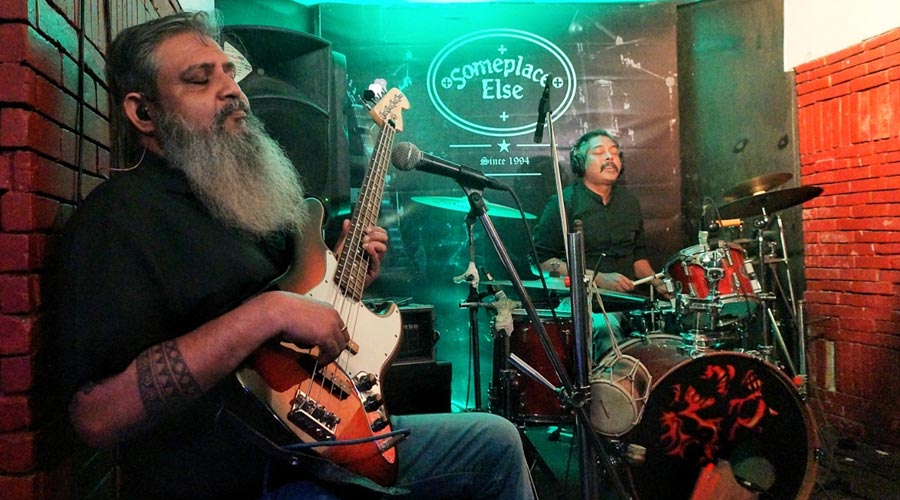 Shamik Chatterjee and Ritoban Das