Hundreds of Mumbaikars sat in front of laptop or phone screens on Wednesday morning.
They had flowers in their palms and lit diyas in front of the screen. They took part in 'virtual pushpanjali', part of one of the oldest Durga pujas in Mumbai.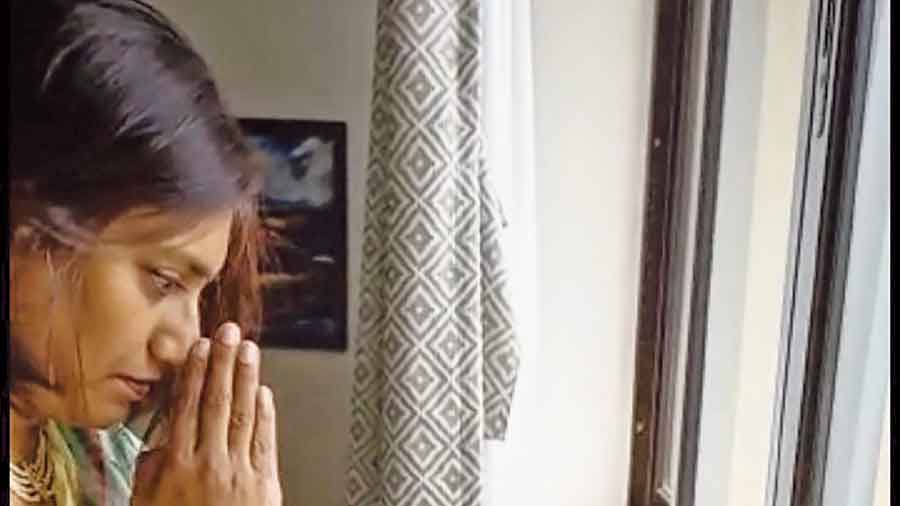 Avantika Mallik, one of the organisers of Bombay Durgabari Samiti puja, offers anjali virtually
Telegraph picture
The Bombay Durgabari Samiti's puja turned 92 this year.
A sumptuous bhog of khichuri and fritters followed the offering of flowers to the goddess.
The food was delivered at the doorsteps of the members of the Samiti.
The puja went virtual last year because of the pandemic. The puja is virtual this year as well but on a bigger scale, said organisers.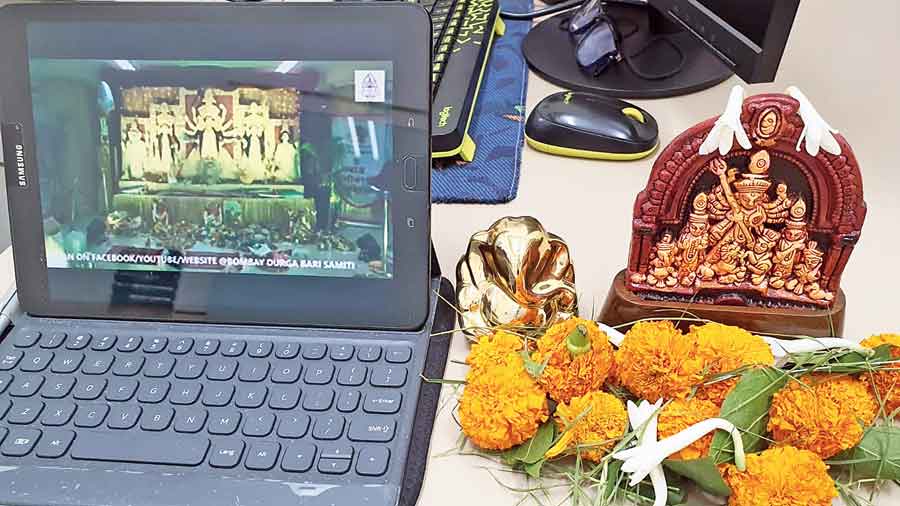 Preparations for virtual anjali from a home
Telegraph picture
"This year has seen a world limping back to a new life. Almost all our members are fully vaccinated. Puja planning started earlier than usual with a determination to blast past the challenges of a digital puja and do more for our community and society," said Susmita Mitra, president of Bombay Durgabari Samiti.
"We introduced dalas this year for anyone who wanted to give a special puja for their loved ones. The dala consists of fruits, sweets, sari, sindoor and a conch shell. The core committee also went out of their way to ensure members of the Samiti got bhog delivered to them at their doorstep. We miss serving bhog to the community and to the less fortunate and look forward to doing this again next year onwards," she said.
The idols of the goddess and her children are decked out in white, in the traditional "sholar saaj", everything made by artisans from Bengal.
From a sprawling auditorium at August Kranti Maidan, the puja shifted to a smaller venue near Haji Ali last year.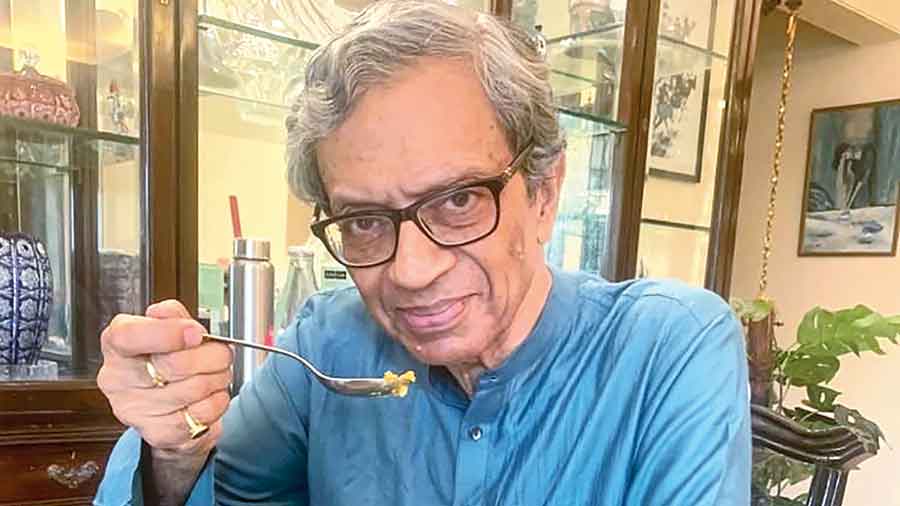 Jayanta Kumar Basu, a senior member of Bombay Durgabari Samiti, eats bhog at his home
Telegraph picture
There was no idol last year, neither was bhog served. The organisers stuck to the basic rituals with a "ghot puja".
A painting of the goddess served as the backdrop of the ghot.
"Being a non-sectarian, cultural and charitable organisation, the Samiti welcomes everyone to worship Maa Durga and be a part of its cultural activities throughout the year," said Partho Sen, vice-president of the Samiti.
"As has been the case for many years now, bhog is distributed to a large number of underprivileged and less fortunate persons, irrespective of caste, creed or religion," he said.