The ballroom of a Dubai hotel has been turned into a Bengal hamlet ushering in autumn.
Blue sky, white clouds and kashphul — the harbinger of autumn and the goddess — complete the setting.
A Durga idol shipped all the way from Kumartuli is the centrepiece of the ballroom.
A Durga Puja organised by Utsav, an association of Bengalis in Dubai, entered its third year in 2021.
On Wednesday, scores of devotees turned up at the hotel, many on their way to work, to offer pushpanjali to the goddess.
Many other pujas abroad celebrate the festival on weekends. But Utsav's puja is held according to the Bengali calendar and adheres to all the rituals, said organisers.
"The theme this year is sharat (autumn). Our children are not familiar with what autumn means for Bengalis. This is an effort to celebrate the advent of the festive season," said Ruman Saha, one of the organisers of the puja.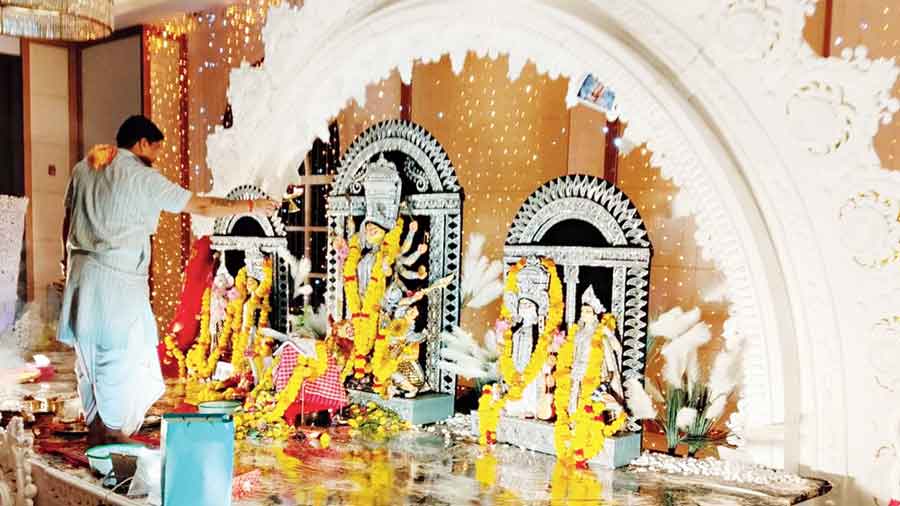 A priest conducts rituals at the Dubai puja
Telegraph picture
Food is an inseparable part of the celebrations, said organisers. Bengali delicacies of hilsa and prawn are prepared on the four days of festivities.
The Ashtami lunch was a vegetarian affair, with khichuri, fries and a mishmash of seasonal vegetables.
Lights from Chandernagore are one of the highlights of the puja.
"Weekend here means Thursday and Friday. We are expecting a lot of guests tomorrow," said Saha.
"A key essence of Utsav is inclusiveness. We have many non-Bengali members and guests who are an integral part of the celebrations. This is a festival for everybody, just like Durga Puja back in Bengal," he said.
Last year, the pandemic had forced the organisers to shift to a low-key puja.
Only a handful of organisers had access to the venue and the proceedings were live-streamed.
This year, the physical celebrations are back but with all Covid norms in place, said organisers.
"The moment we step inside the hotel, it feels like we are in Bengal," said Raka Roy, another key organiser.
"Many people drop in to pray before the goddess before going to work. Many drop in for lunch and dinner on all four days," she said.
Cultural performances are also a top draw, said Roy. This year, singer Iman Chakraborty and musician Shankha Shubra Ghosh are scheduled to perform at the Utsav puja on Dashami, said organisers.