The right dose
Read more below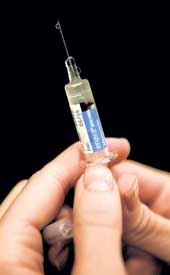 ---
Published 23.07.07, 12:00 AM
|
---
Last month, two incidents at separate hospitals in India sent ripples of alarm across the country's medical fraternity and the public at large. In a bizarre incident, a 15-year-old teenager was allegedly egged on to carry out a Caesarean operation on a patient by his Tiruchirapalli-based doctor parents. Then, barely 10 days later, doctors at a hospital in Meerut refused to help an HIV-positive woman deliver her baby for fear of contracting the virus.
The doctors involved in the second case were subsequently suspended, and the teenage prodigy finally surrendered to the local police. Yet the incidents threw up a grim issue for public scrutiny, if not for future consideration. How exactly can errant doctors in India be brought to book?
The law, of course, has provisions to counter cases of negligence or non-assistance by doctors and hospitals, and ensures patients their rights while availing of medical services. The preferred legislation in this regard is the Consumer Protection Act (CPA), which classifies paid medical assistance provided by Indian medical institutions as a "service", on a par with any other service availed of by citizens in the consumer market.
"Under the CPA, patients can claim compensation by proving gross negligence in the provision of paid medical services," says Dr Abhay Shukla, coordinator of the Centre for Enquiry into Health and Allied Themes (CEHAT), Pune. "By placing the issue under the CPA, the law ensures that patients who have complaints regarding services received at hospitals have a forum they can approach with their grievances, instead of trudging through the lengthy procedures of the civil court system," he adds.
The CPA, however, isn't the only legislation patients can use to seek redress. "Litigants always have the choice of taking their cases to civil courts, and serious offences can be tried under the Code of Criminal Procedure (CrPC)," says advocate Prabir Basu. "However, people prefer going through the consumer court simply because judgments are handed out within 90 days, while the procedure in civil courts can take much longer."
Historically, medical services were not specifically placed under the CPA, when the law was passed in 1986. While the definition of "services" could be theoretically stretched to include medical cases, consumer rights experts say that consumer courts — in the early years — didn't always entertain complaints related to medical services, and doctors were often exempted from the Act. For all practical purposes, patients were left with the option of either approaching the civil court, or pleading to the Medical Council of India (MCI), which has its own code of ethics for doctors.
But in 1995, a landmark judgment — delivered by the Supreme Court of India in the V.P. Shanta vs Indian Medical Association (IMA) case in 1995 — set a legal precedent for all cases of paid medical services being covered by the CPA. "The apex court ruled that in future, healthcare services, akin to other services, were admissible in consumer courts," says Basu. Similar to other consumer-related cases, healthcare cases can now be dealt with by the consumer court which functions at the district, state and national levels. And litigants are entitled to compensation if they can successfully substantiate their case.
But then the inclusion hasn't quite pleased a large number of doctors. The Indian Medical Association, a pan-Indian association of doctors, has been crying foul for a while now. And Narender Saini, honorary secretary, IMA, explains why.
It is wrong, he reasons, to put medical services under the CPA since they are different in nature from services provided by retailers in the open market. "Medical services are riddled with probability. The human body is a dynamic entity, and things can — and often do — go wrong. After all, the same medicine doesn't affect two people in the same way," he says.
Holding doctors accountable under the CPA, argues Saini, can often make doctors go on the defensive. "Then, it wouldn't be surprising if a doctor asks a patient to go in for magnetic resonance imaging (MRI) for as minor a symptom as a headache. After all, no doctor would then want to take a chance with his diagnosis, even if that means undue expenses on the patient's part," he says. His argument, however, doesn't cut any ice with consumer rights campaigners.
Bejon Misra, chief executive officer of Voluntary Organisation in Interest of Consumer Education (VOICE), a Delhi-based non-governmental organisation, points out other loopholes in the law. "Only those medical services which have been paid for come under the jurisdiction of the CPA," says Misra. "That, in effect, leaves out healthcare centres providing free services. So if a patient faces negligence at a free healthcare centre, there's no way he or she can take the case to a consumer court," he points out.
VOICE, says Misra, is now pressing for all healthcare centres in India to accept user charges, if only a token amount, to have those services legally deemed as paid services. "Besides, there is a problem with definitions," says Misra. "How does one define 'gross medical negligence,'" he asks. "After all, there is no yardstick that spells out exactly how much negligence would qualify as 'gross'," he says.
Shukla sees yet another problem. "In most cases, gathering witnesses can prove to be a nightmare for patients," he says. "Generally, in-house doctors make the best witnesses, but few practitioners would want to testify against their colleagues," he says.
The MCI, on its part, assures that it is doing its best to reign in errant doctors. "The MCI code of ethics was modified in 2002 to give it more teeth," says A.R.N. Setalvad, secretary, MCI. "We are authorised to take drastic steps, including permanently erasing names of the doctors from the list of licenced practitioners," he says.
Nonetheless, activists still feel the need for an independent statutory board that devotes itself to registering complaints, besides enforcing a standard protocol for all healthcare centres and doctors to follow. "There are none, as of now," says Shukla. "And until we have one, things can hardly get any better."