Scarred for life
Read more below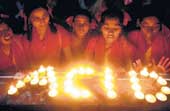 ---
Published 20.09.06, 12:00 AM
|
---
Unending trauma: Acid attack victims stage a demonstration to seek rehabilitation
When Hasina Husain learnt that the man who poured acid on her would spend a life term behind bars, it came as small solace to her. "It's not going to take away the misery from my life," says the 26-year-old Bangalore girl.
In 1999, Husain's employer, Joseph Rodrigues, poured 1.5 litres of sulphuric acid on her because she quit her job as a computer operator in his failing firm. The acid burnt a hole in her head, dissolved her facial features, welded her neck and shoulders, fused her fingers and left her blind.
Seven years, 18 surgeries and three corneal implants later — all costing over Rs 6 lakh — Husain's face is still disfigured and her eyesight not recovered. "I can't work or fend for myself. I'm house bound as my skin is very prone to infection," says Husain. Further surgeries have been indefinitely postponed owing to a lack of funds.
A fortnight ago, the Karnataka High Court awarded life imprisonment to Rodrigues and ordered him to pay Rs 5 lakh as compensation to the victim. It raised the punishment of five years imprisonment that was awarded by the sessions court. But after a seven-year wait for justice, Husain is neutral on the verdict. "I'm thinking of my life ahead," she says.
But the Bangalore-based non governmental organisation (NGO) Campaign and Struggle Against Acid Attacks on Women (CSAAAW) which helped Husain appeal in the high court considers the life imprisonment a landmark judgement. Sanjana C.B., a CSAAAW activist, calls the judgement progressive. "It is a powerfully worded judgement that comes out strongly against people who throw acid on unsuspecting victims. It should set a precedent for other similar cases," says Sanjana.
The high court judgement — delivered by Justices Bannurmath and Adi — says that Rodrigues deserves the harshest punishment because he has imprisoned the victim for life by disfiguring and blinding her. "The judges noted that Hasina could never work, earn or become a mother. It took into consideration the mental trauma of the victim and her family," says Sheela Ramanathan, an advocate with the Bangalore-based legal NGO Human Rights Law Network (HRLN), who fought Husain's case in court. "The judges concluded that since an eye-for-an-eye punishment is not permissible, they would award life imprisonment to Rodrigues," adds Ramanathan.
As a post script, the judgement added that it was important that it reflects society's abhorrence for such crime and act as a deterrent to others. "It said that judges have to be responsible towards society and that the state government should participate in rehabilitating acid attack victims," says Sanjana. "It was a feminist judgement," she concludes.
The CSAAAW now plans to take the fight forward. This week, the NGO will file public interest litigation (PIL) in the Supreme Court, asking for more sensitivity towards acid attack victims and regulation on the easy availability of acid in the open market.
The PIL will put forward a five-pronged demand. One, it will ask the government to regulate the production and distribution of high-concentration acid in the market. "We want the government to crack down on acid sellers and pass stringent laws about making it available to lay buyers," says Sanjana.
Second, the PIL is demanding that the state take responsibility for providing medical help to acid attack victims. "So far, the state has kept itself away from the crime. We want the state to help rehabilitate the victims," says Sanjana. The third is the issue of monetary compensation to the victims.
Four, the PIL urges that all cases of acid attack be registered under Section 326 of the Indian Penal Code (IPC), that is, causing permanent and grievous injury to a person. "Chances of conviction are higher in cases filed under Section 326," says Sanjana. "A case filed under Section 307 — attempt to murder — is very difficult to prove in court," she adds.
Last, the PIL asks both the police and the judiciary to show sensitivity towards acid attack victims. A fact-finding survey by the CSAAAW in 2002 found that the police deal with acid attack cases with apathy. "First Information Reports (FIR) are not filed, the cases are neglected and in most cases, the accused is out on bail. We want the police to be more responsive," says Sanjana.
Hasina Husain experienced first hand the anguish of fighting a legal battle. The sessions court — where her case first landed — took five years to deliver a judgement. At every hearing, the case would get postponed because Hasina — who was then undergoing plastic surgeries — could not appear in court. "I finally appeared in court with open wounds just to get the case moving," says Husain.
When the sessions court awarded a punishment of five years' imprisonment to Rodrigues, Husain's family was shattered. "The way the judgement was worded was shocking," says Sanjana. "It said the attack would not have happened had Hasina agreed to work for Rodrigues," she adds. Sanjana recalls, there was an air of celebration among Rodrigues friends who had come packed in two cars. With Husain's consent, the CSAAAW decided to file an appeal in the high court.
While Hasina Husain decided to fight till the end, many women opt not to go to court. "Many women don't have the money or the means to fight a legal battle. Some consider a court case a social stigma. Very few women fight for justice," says Sanjana.