Mix and match
Read more below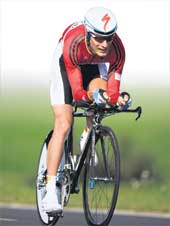 ---
Published 29.01.07, 12:00 AM
|
---
When 24-year-old Sreshtha Seth, a content developer, got bored of going to the gymnasium, her trainer suggested that she opt for cross training. Two weeks down the line, Sreshtha is one happy girl, mixing and matching exercises, biking and jogging.
So what exactly is cross training? "Cross training is a combination of two or more exercises," says Preetom Mukherjee Roy, fitness consultant with Solace Spa, in Calcutta. And there are no rules as to which exercise you can combine with which.
"If you want, you could combine Pilates with yoga or table tennis," says Mukherjee Roy. "Or if you're the more adventurous sort, you could combine cross-country skiing with jogging. The advantages are numerous. For one, you end up burning more calories than on a treadmill. Also, if you feel you're burning out, cross training brings back the fun in working out."
What you must keep in mind is that a general fitness programme has three components: aerobic exercises, strength training and flexibility exercises. With cross training, you can easily incorporate all three components in your fitness routine. But, first, talk to your physician and make sure that it's safe for you to begin such a programme. Some activities are not appropriate for people with certain physical conditions.
VARIETY RULES: In cross training you can combine different kinds of activities to stay in shape
Then consider what kinds of activities are readily available to you. Select activities that are convenient and enjoyable. You should be doing at least 30 minutes of moderate activity on most days. You can break your exercise routine into short bursts as long as it adds up over the course of the day. Remember that physical activity isn't limited to jogging or weight lifting. Dancing, gardening, and housework count too.
In fact, Leena Mogre, director of L.M. Fitness, Mumbai, feels that one must always opt for cross training. "The body recuperates faster, and you are more likely to get back to your fitness regimen with renewed zeal and vigour." Admits 18-year-old Abhishek Kumar, an avid biker, "I haven't been on the bike for a couple of weeks. I just got bored. So, I've tried mixing things up. This includes working with resistance bands, jogging, and various isometric exercises and even traditional push-ups and single leg squats. The resistance bands are really convenient and very versatile. And since most of us cyclists are a bit weak in the upper body, we don't need a lot of weight to get a decent workout."
Ideally, you should opt for a balanced workout. "Start the day with a round of yoga. At the end of the day, after work, you can wrap up with a swimming session. If you are on a nine-to-five job, you can carry a meal of roti sabzee with you, which you can have around six, and then proceed with your workouts. That way, your body gets the nourishment it requires before a workout and it also replenishes the system after a hard day's work. Once you go home, relax with some soup and salad. Try not to have anything heavy after 10 p.m. because that only adds to your weight," says Mukherjee Roy. He also feels that one ought to combine high-impact exercises with low-impact ones. For instance, try swimming and stretching or floor exercises for three days a week, followed by three days of squash or tennis and again three days of weight training, followed by yoga. Pilates and yoga help in strengthening, toning and building the core muscles.
A balanced weekly cross training programme would be one that takes into account the requirements of your body. "So if you are mainly aiming at weight reduction, you should concentrate on cardio-vascular exercises. Also, it is important that you take your age, lifestyle and body structure into account while planning on which exercises to combine," says Tapas Kumar Dikpati, manager, Talwalkars Prime Fitness, Calcutta. Three times a week, you could try 30 minutes of aerobic exercises, alternating activities such as walking, swimming and stair climbing. Twice a week (not consecutive days), try 30 minutes of strength training, working each major muscle group. As far as an everyday schedule is concerned, try five to 10 minutes of stretching. You could also opt to walk every day.
Start slowly and gradually increase the duration and intensity of your exercises. Try to follow the "10 per cent rule" — increase the frequency, duration, or intensity of an activity by no more than 10 per cent each week.
"You may not see results overnight, but cross training will have a beneficial effect on your health and fitness level," stresses Anubha Chakraborty, director of Atlanta Health Centre for Women.
However, what you must be careful about is that all your exercises must be well spaced out. If you already have a hectic schedule and then follow it up with an intense workout at the gym or a round of table tennis, without resting in between, you are likely to develop fatigue or damage muscle tissue.
So, go ahead and indulge your passions — be it dancing, swimming or biking. Cross training can be a whole lot of fun too.
Cross training must include
Aerobic exercises (climbing stairs, walking, skating) to improve cardiovascular capabilities.
Strength training (weight lifting, push-ups), that help in developing muscle mass
Flexibility exercises (stretches, yoga) that help to keep muscles fit.