De Niro, child of Cold War
Read more below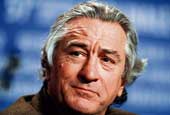 ---
Published 12.02.07, 12:00 AM
|
---
Robert De Niro at a news conference for his movie The Good Shepherd at the 57th Berlin film festival on Saturday. (AP )
Berlin, Feb. 11 (AP): Robert De Niro brought a long-term fascination with the Cold War to its one-time front line yesterday as The Good Shepherd — his second movie as a director — screened at the annual Berlin film festival.
The movie, which comes 13 years after De Niro's direct-orial debut with A Bronx Tale, is one of 22 competing for the top Golden Bear award in Berlin.
It stars the Oscar-winning actor only in a supporting role — because, he said: "I'm not crazy about directing myself."
The Good Shepherd traces the origins of the CIA throu-gh the eyes of one of its earliest agents, played by Matt Damon.
De Niro, 63, said he was attracted by the "sweeping scope" of the script from Eric Roth, whose screenplays include the Oscar-winning Forrest Gump — but also by a fascination with the period itself.
"I'm fascinated by the Cold War; I'm a child of the Cold War," he told reporters, recalling visiting the divided Berlin as a child.
"That whole period and the intelligence world — all that stuff is fascinating."
"I didn't want to criticise," he said. "I put the things down in as straightforward, direct, honest a way as I could."
As for the CIA's later history, De Niro said that "you can't do everything" in one film. He said he would "love to do a second part" covering the period from the building of the Berlin Wall in 1961 to its fall in 1989; and a third going up to the present.
In the movie, Damon's Edward Wilson neglects his wife (Angelina Jolie) and son as he resolutely pursues his espionage career.
Asked about possible parallels between his portrayal of the CIA and Mafiosi, who have featured in his acting past, De Niro replied that "there's a definite similarity to both secretive organisations — although, he added: Edward Wilson's family is more dysfunctional than the Italian families that I can remember."
Among a cast that also includes Alec Baldwin and Michael Gambon, De Niro himself plays Gen. Bill Sullivan, the Army official who chooses the agency's promising young recruits.
De Niro said that he "never thought of playing that part" until a studio executive suggested he take it. "I just don't want (to take) too much time on myself" when directing, he said.
Damon praised De Niro's attention to detail as a director. "He micromanages all those little details and he doesn't stop until every one of those details is in the right place," he said.
De Niro won the best-actor Oscar for 1980's Raging Bull and supporting actor for 1974's The Godfather: Part II, and has been a nominee four other times.
Another Hollywood veteran, Martin Scorsese, is seeking the first Oscar of his career this year, nominated in the best-director category for The Departed.
Asked if it would be a good year at the Oscars for Scorsese, De Niro replied: "I would hope so, yes."