Dad defends 'good kid'
Read more below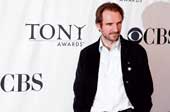 ---
Published 16.02.07, 12:00 AM
|
---
Ralph Fiennes: Victim of jealousy?
Sydney, Feb. 15 (AFP): The father of a Qantas air hostess embroiled in a mile-high sex scandal with Hollywood heartthrob Ralph Fiennes has said colleagues who reported her were just jealous.
Graham Robertson defended his daughter Lisa, 38, saying she was a "good kid", The Daily Telegraph said today.
"Lisa just does her job and if someone wants a cup of coffee and biscuits, she looks after them," he said.
"She's not a bad looking girl. If you do the right thing people take a liking to you."
Robertson said Qantas colleagues who reported seeing his daughter leaving the same toilet as Fiennes on a January 30 flight were "probably ugly as a hat full of arseholes and were just jealous".
The stewardess has been suspended while Qantas investigates the incident that allegedly took place during the flight from Australia to India, and could lose her job.
In a statement lodged with Qantas and obtained by the paper, Lisa Robertson said the 44-year-old star of The English Patient and Schindler's List had become "amorous" after the pair chatted together.
"I went to the nearby toilet and entered it, he followed me and entered the same toilet," Robertson said.
"Mr Fiennes became amorous towards me and, after a short period of time, I convinced him to leave the toilet, which he did. I left the toilet a short time later."