An eye on private eyes
Read more below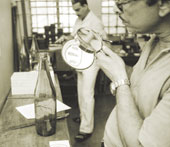 ---
Published 05.09.07, 12:00 AM
|
---
Sherlock Holmes may have had a thing or two to say about the Private Detective Agencies (Regulation) Bill, 2007, that was tabled in Parliament recently. But for the huge tribe of private investigators in the country, the bill is a welcome development.
For a long time, the government has been mulling a bill to regulate the detective agencies that have mushroomed in various parts of the country. Currently, detective agencies or individual private investigators can register themselves under local trade acts, municipal acts, society registration and company registration acts. However, the Private Detective Agencies (Regulation) Bill calls for the setting up of a Central Private Detective Regulatory Board (CPDRB). Similar boards will be set up at the state level too. Once the bill is passed, it will be compulsory for every professional detective or organisation to get registered with the state or central board.
Besides issuing licences, the board will lay down standards for the training of detectives. It will also formulate a code of conduct for agencies and their agents, particularly with regard to the protection of the rights of individuals to privacy and freedom. It will also advise the government on policy matters related to this sector.
"This is a very welcome step. Now we know that there is a national body that will take care of our problems. Detective agencies will also think twice before indulging in any illegal activities," says Kunwar Vikram Singh, managing director of Delhi-based Lancers Network Ltd and one of the top private detectives in the country.
"Private detective work" has been defined in the bill as "the collection of information in lawful manner for such an objective by a licenced private detective agency". According to Singh, various companies that conduct surveys, gather information and do background checks of individuals will come under the purview of the new law.
"Currently, much of the detective work done by these agencies pertains to pre and post-matrimonial problems. But once they are properly monitored, they can work on cases like bank frauds, property-related crimes, etc, which have so far been the domain of government agencies," says Joginder Singh, former director, Central Bureau of Investigation (CBI). Right now, there are about 1,300 detective agencies in the country.
But the proposed law is not without its critics. "The bill stipulates that agencies will have to pay Rs 50,000 as licence fee to operate in one state and Rs 3 lakh to operate in two or more states. This is an astronomical sum for small detective agencies and individual investigators," says Dinonath Malick of Watchdog Detectives Association, Calcutta. Malick also points out that the bill is not clear when it talks about operation in a single state, since detectives often have to travel to other states to pursue their investigation.
According to Malick, the bill will benefit big security agencies that have detective divisions but earn their revenues mainly from providing security. "But what about professional investigators who work individually and don't earn the kind of money that the big ones do," he asks.
Foreign detective agencies operating in India will also face problems if the bill is passed. For the bill stipulates that a company, firm or an association of persons "shall not be considered for issue of a licence, if it is not registered in India, or having a proprietor or a majority shareholder, partner or director, who is not a citizen of India". In other words, international detective agencies like Pinkerton Detectives, Securitas, Hill & Associates, Kroll and others may have to either offload their majority stakes or close their businesses altogether. "It concerns us because it impacts our business in India. But the bill is in an early stage, so we would not like to comment on it," says Gisela Lindstrand, senior vice-president of Securitas AB, one of the largest foreign agencies providing detective services in the country.
Others are not so diplomatic. "Most MNCs employ foreign detective agencies to carry out background checks. Since Indian agencies have not been able to make a dent here, they have pressured the government into including this clause," says a high-ranking official of an international detective agency.
But Indian agencies insist that foreign companies are not a threat to them. "We have not ganged up against any foreign company. Moreover, when it comes to human intelligence, there is no area in which we lag behind foreign agencies," says Captain Ravee, secretary general, Association of Private Detectives and Investigators (APDI), a Delhi-based body with nearly 200 members. "If the government feels that these international companies could pose a threat to national security because they employ former intelligence officials, it is not for us to question that logic," adds Ravee.
But there are rumblings of discontent from indigenous agencies too, especially over the provision of minimum qualifying standards for private detectives. "When there are so few detective training institutes in the country, how do you set minimum qualifying standards," asks Raman Khanna of the Calcutta-based Hawk Intelligence Services.
But Joginder Singh says that laying down minimum standards is important. "Look at the private security services companies. They sometimes employ labourers as guards. That should not happen here as detective work requires trained personnel," he says.
Another area of concern is the contradictions in the bill with regard to privacy. Clause 19 of the bill says that any officer not below the rank of inspector of police who is authorised by the board can enter the premises of an agency and inspect and examine all the records, accounts and other documents and can take a copy of any document. On the other hand, Clause 25 states that the agency shall give the information for which the enquiry was undertaken, "only to the client or to his authorised representative".
"What if some corrupt inspector takes away the documents of an investigation and gives them to unscrupulous elements? Then the privacy of my client is going to be compromised," says Khanna.
An official of the home ministry reveals that the bill will be referred to a Parliamentary Committee, where all its aspects will be discussed and some of its drawbacks looked at closely.
But industry leaders such as Ravee are keen to get the bill passed as soon as possible. "We want the bill to be passed in its current form. If later there are some problems, we can always get back to the government and ask for some amendments. The most important thing is to pass the bill," says Ravee.