How I Made It
Read more below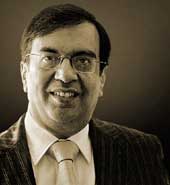 ---
---
He is the only bright spot in an austere setting. Chander K. Baljee's office looks spartan, with a desk and black chairs. It's part of a business plan. "It's company policy to keep costs low," says Baljee, managing director of Bangalore's chain of business hotels, the Royal Orchid Hotels.
The approach has paid off. When Baljee moved to Bangalore in the early 1970s, he had problems winning a single tender to build or lease a hotel. Today, Royal Orchids owns four hotels in Bangalore and one in Mysore. This year, the company went for an IPO. "Our IPO was 40 times oversubscribed," says Baljee. Last year, the company posted a turnover of Rs 85 crore.
When Baljee bought his first hotel, Hotel Harsha, in Bangalore, he barely managed a first-year turnover of Rs 60,000. But he was not complaining. "I was happy to have started off in a profession of my choice," says he.
Baljee graduated from the Indian Institute of Management Ahmedabad in 1972. "I wanted to be my own master. I was not interested in taking up a job," he recalls.
That decided, post-studies, Baljee returned to Simla, to help in his family's hotel business. "But I was not doing much as my father and brother were running the show efficiently," says he.
"A friend suggested that I pitch for a hotel in Bangalore," says Baljee. He took the next train down south and pitched for two hotels in Bangalore. Both tenders went to someone else. Two unsuccessful tenders was not the end of the road. He stayed on in the city and researched the hotel scene there. He zeroed in on Hotel Harsha — a small-time, non-profit-making, seedy cabaret joint.
The challenge was to give Hotel Harsha an image makeover. "We got rid of all the hotel's disreputable activities. We focused on holding conferences," says Baljee. The IIM-grad used his alumni contacts to get leading B-schools like IIM-Bangalore, etc, to hold their annual conferences in Hotel Harsha. "The strategy paid off. By 1988, we had earned enough to purchase the hotel," says Baljee.
That was the turning point in his career. "We now aspired to handle bigger hotel projects," he says. In 1999, Baljee won a tender to build a hotel on Bangalore's prime Airport Road. The Royal Orchid Hotel, which is now the firm's flagship, was completed in 2001.
Royal Orchid was pegged as a business hotel. "We are not in direct competition with the city's opulent seven-star hotels. We offer a value-for-money proposition," says Baljee. Rooms have a plasma television, mini bar, tea-coffee maker, and free Wi-fi and videophone facility for women guests. For the long-term business traveller, the hotel offers service apartments that come with a kitchenette, dining area and a living room.
Hotel Royal Orchid started in a bad year. "The 9/11 crash happened the same year and business shrank to a trickle," says Baljee. That's when the company's lean buying policy came of help.
The post-2003 software boom more than made up for the slump period. "In the past three years, we have had an exponential growth. Business is growing by almost 50 per cent every year," says Baljee. The company is now on an expansion spree with plans to start two hotels in Hyderabad, and one each in Pune, Jaipur and Delhi.
It's understandable when Baljee says that he does very little in life other than work. "My only recreation is an annual holiday with my family," he says. While holidaying, Baljee always stays in the best hotel that money can buy. It's a learning process.
Based on a conversation with Varuna Verma in Bangalore