How I Made It
Read more below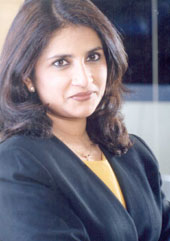 ---
Published 16.05.06, 12:00 AM
|
---
Sulajja Firodia Motwani
Joint Managing Director, Kinetic Engineering
Sulajja Firodia Motwani says that of all the roles she plays, the one she loves the most is being mom to her six-year-old son Sidhant. But you may choose to believe the joint managing director of Kinetic Engineering at your own risk. For not only has this lady been voted among the top 25 business leaders of the next century in a poll of industrialists, conducted by Fortune India, the World Economic Forum has also selected her as a "Global Leader of Tomorrow". This was in 2002. And, if anything, she has only underscored her achievements since then.
Motwani studied in Garware School in Pune and did her graduation in commerce from the Brihan Maharashtra College of Commerce) in the same city. Says she: "My growing years were full of sports and other activities. I was a national level badminton player for Maharashtra and trained every day for hours."
Armed with a good academic record, in 1990 Motwani went to pursue her masters in business administration at the Carnegie Mellon University in the US. She turned out to be the youngest graduate at 20.
Motwani's first full-time job was that of an analyst with BARRA, a California-based portfolio management company. Later on, she moved to sales where she was hawking expensive financial software to top executives on Wall Street. "Being a young Indian girl, the task sounded daunting. But I actually did very well," says Motwani. "This affirmed my belief that, at the end of the day, any prejudice could be overcome by not focusing on it, but rather focusing on the job at hand," she adds.
After working with BARRA for a few years, Motwani moved back to India in 1996 and joined her family business ? Kinetic Engineering. Says she: "We were at that time contemplating the buyout of the Honda stake and going our way. And I thought it would be good to join at such a critical stage of the company."
Motwani began the job by travelling and meeting dealers and customers around the country in order to learn about the national market up close and personal. She continued this for several years. There is no end to learning, she claims.
Motwani believes her contribution has been in transforming the company from a niche moped manufacturer to a manufacturer of a range of two-wheelers which includes scooters and motorcycles. "We launched new models in all segments and also started listening more attentively to our customers," she says. Since then, Motwani has been responsible for the sales, marketing, strategy and international alliances.
So how easy is it to run a family business? "A legacy is a blessing, but it can also bring some baggage," says she. "I think business is full of challenges. In a competitive environment and even when the business is an established one, it is no different."
Motwani was strongly influenced by her grandfather, the late H.K. Firodia, who inculcated in her the principles of honesty, enterprise and excellence. She acknowledges that she tries to apply these principles in her professional life.
She likes to put in long hours at work, and expects her team to do the same. "Beyond that, I am fairly democratic and believe strongly in teamwork, as well as in mentoring. However, at the end of the day, I believe that there is no substitute for hard work," she says.
The woman who made it to the Maharashtra badminton team enjoys adventure sports like skiing, scuba diving, and white water rafting. And she likes to socialise too. "I enjoy meeting people from different walks of life," she admits. Motwani has also been an active participant of the Mumbai Marathon for the past two years.
But despite all this, it is very clear that Motwani eats, sleeps and dreams Kinetic. "I want to see a Kinetic in every Indian home and would like the company to be a world-class organisation," she concludes. And she does have the kinetic energy to steer it!
As told to Aparna Harish in Calcutta