Winter sweetener from land-protest hub
Barkagaon's sugarcane jaggery melts hearts in sankranti season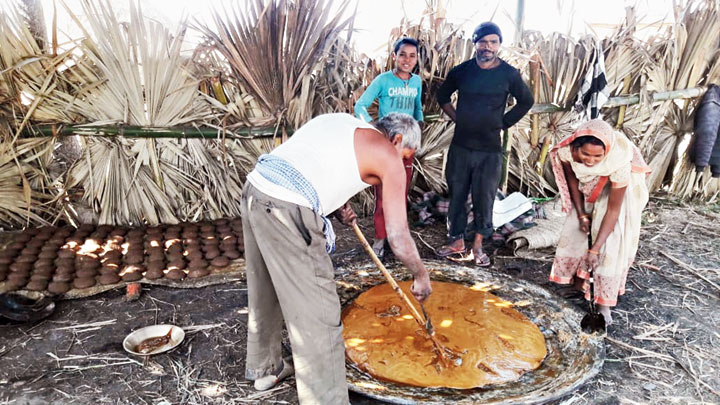 ---
---
Barkagaon may be in the news for sending 29-year-old Amba Prasad, to the Assembly as Jharkhand's youngest MLA, or for land agitations of villagers against the National Thermal Power Plant (NTPC) which owns three coal mine projects here.
But come Sankranti, the air of Barkagaon is filled with the fragrance of jaggery.
Fertile Barkagaon, a block some 40kms away from Hazaribagh city, is the region's green bowl. But in winter, hundreds of farmers grow sugarcane and collect the juice to make gur that is then sold as jaggery cakes in local markets as well as in Delhi, Lucknow, various cities of Gujarat, Punjab and Maharashtra.
Often the jaggery is mixed with tasty additives — raisin, cashew, ginger, semolina, bhatua (Chenopodium album) — that add both flavour and health benefits. Jaggery is sold from Rs 60 to Rs 120 per kilo, depending upon the quality and additives used.
At present, villages such as Gondalpura, Mirjapur, Simratari, Badam, Kandtari, Saandh and Shivadih are most noted for making jaggery.
Sewak Mahto, also a jaggery producer, said the produce was known not only in Jharkhand but outside too. "A lot of agents from outside purchase our jaggery in huge quantities. Jaggery is a cottage industry in Barkagaon in winter," he said.
Almost every sugarcane farmer had an iron utensil of 98 litre capacity to boil the juice, he added. One full iron utensil of juice, when boiled, turns into a solid 49 kilo lump. From this lump, waste is cleaned for 24 kilo of pure sugarcane jaggery. "It's a very slow process and you need to stir the juice constantly to ensure it does not stick at the bottom of the pan. Else, the taste is spoiled. On an average, it takes five hours to boil the juice. Hard work, but the sweet fragrance keeps us going."
He added that villagers of Barkagaon didn't offer tea or coffee to their guests, but jaggery sherbat "which has no match in taste".
According to villagers, sugarcane is cultivated across over 150 acres of Barkagaon every year.
"We need government support to get more markets and a better price for our jaggery," said Mahto. "We offer handmade gur of superior quality, which with proper market linkage could change the fortunes of many farmers here."