Walkers, own 400m along Ranchi main road
Overnight, some people wiped out the demarcation line and vehicles were parked on the demarcated area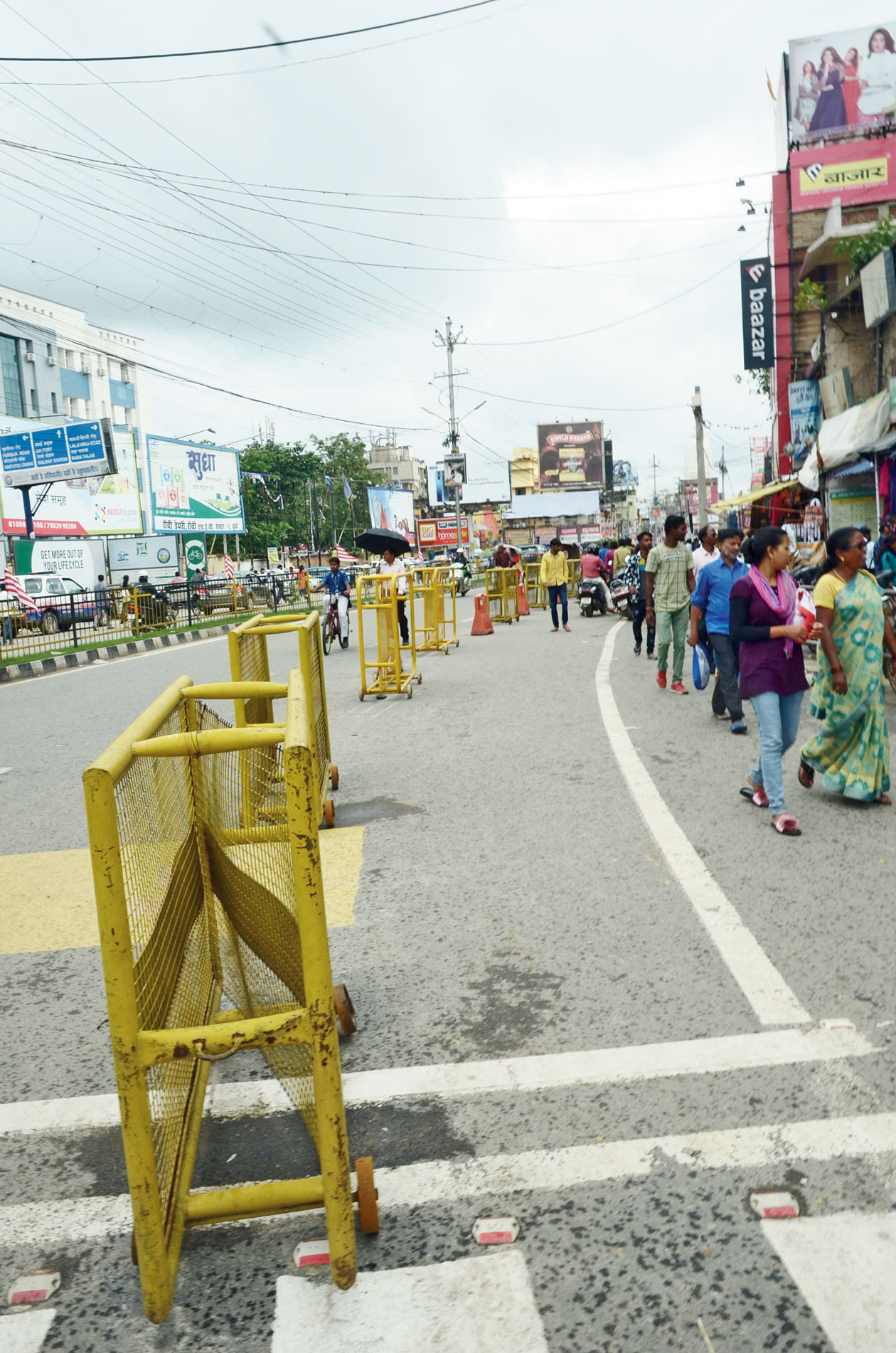 ---
|
Ranchi
|
Published 24.08.19, 07:29 PM
---
The municipal corporation has decided to build a permanent pathway measuring 400 metres from Shaheed Chowk to Sarjana Chowk, a part of Ranchi Main Road, for pedestrians.
As a precursor to this, during the first week of this month, Ranchi Municipal Corporation had started a trial run of the pathway and demarcated a width of 4m as footpath along the road with a yellow line and sliding road barriers.
Overnight, some people wiped out the demarcation line and vehicles were parked on the demarcated area.
However, despite these setbacks, walkers appreciated what the RMC was trying to do, Ranchi deputy mayor Sanjeev Vijayvargiya told the paper. "That's why we have decided to permanently construct a sidewalk for which design is being made," the deputy mayor said.
On how the project came about, he said: "True, due to lack of proper enforcement and some mischievous elements, we could not continue the demarcation, but the response of ordinary people was really good. They felt good that on a stretch with heavy traffic, we were thinking about pedestrians. There are several court judgments declaring pedestrians had the right over road and there must be vehicle-free zones and sidewalks in urban spaces."
On the design layout, the deputy mayor said that public works department (PWD) was all set to float a tender on Friday to construct drainage on Main Road.
"The proposed drain will be covered with slabs and be slightly elevated. Some additional construction will be done so that it becomes a dedicated footpath. Its width will be around 6 metres and it will be protected with an iron grille," Vijayvargiya said.
He added that the RMC, along with traffic police, would also conduct a survey across the capital to check which major roads and squares needed dedicated footpaths for pedestrians. "At Ratu Road Chowk, for instance, we have felt the need for a footpath."