Uneasy calm over self-rule turf in Jharkhand
BJP leader and three-time chief minister Arjun Munda is contesting from Khunti, a reserved constituency of over 11 lakh voters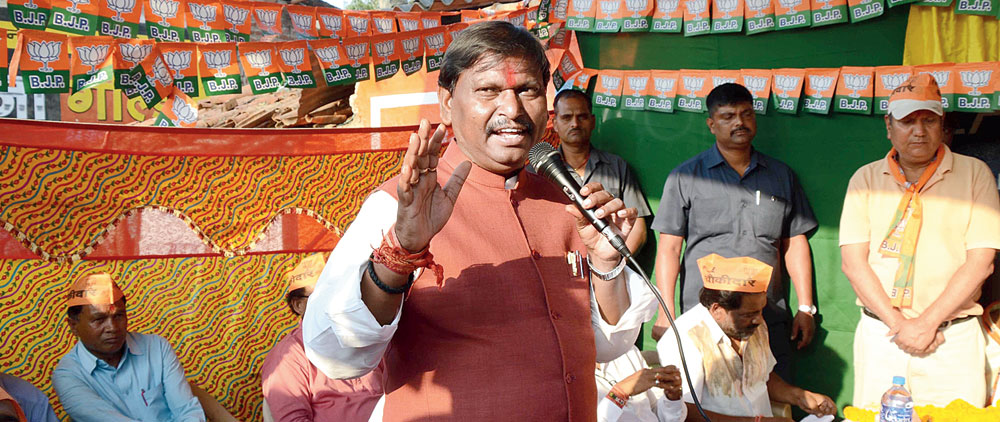 ---
|
Khunti
|
Published 03.05.19, 01:13 AM
---
At the entrance to Chalkat village, the writing on the stone slab erected sometime in March 2017 to articulate a set of demands of local tribals has been partially rubbed off, indicating a thaw of sorts with the local administration. That means the 800 and odd voters of the village in the deep interiors of Khunti district, some 35km from Ranchi, will not boycott the elections.
That is a significant change of heart in Jharkhand's epicentre of pathalgadhi protests that drew on an ancient tribal custom of honouring the dead by erecting plaques near graves of forefathers to make a point. The "self rule" agitations saw their beginning in the neighbouring village of Kochang. Ultimately, as many as 30 villages joined the protests, erecting pillars and inscribing on them articles from the Constitution, Fifth Schedule and PESA (Panchayats Extension to Scheduled Areas Act 1996).
"Our only appeal to whoever is elected is to ensure that our rights, as enshrined in the Constitution as a scheduled area, are protected," says Johan Soy, a village elder whose son is a preacher in the local church.
Kochang and Chalkat are ensconced within two massive hill ranges, one a stronghold of the PLFI and other Maoists. The hills are visible only after crossing Bandhgaon in neighbouring West Singhbhum district, a 45km smooth drive from Khunti town. From there on it's a winding road that becomes an undulating dirt track of around 50km through thick forests that yield anything and everything from mango — the local Biju variety is being eagerly awaited — jack fruit, tamarind, papaya, sal and lac that pretty much make up the local revenue stream. Hidden behind the foliage of trees are opium farms that everyone knows about but no one talks about. It's end-April, and hence, the opium has been "harvested", packed, and despatched, adding significantly to farmers' annual incomes. With the opium crop cycle over, rice has been sown again.
Khunti is genuinely lush green and deceptively peaceful. Beneath the calm, the local community of tribals is worried. Five of the pathalgadhi protesters have been arrested and an FIR has been filed against 3,000 unnamed local residents after police action that led to the death of one person. A few teams of security forces are still camping in local schools, a cause of widespread rancour. Occasionally, plain clothed policemen patrol the villages in SUVs.
BJP leader and three-time chief minister Arjun Munda is contesting from Khunti, a reserved constituency of over 11 lakh voters, granted to him after eight-time MP Karia Munda, 83, was denied a ticket on account of his age. Both recognise the undercurrents and agree with the state government's conclusion that the pathalgadhi protests were "engineered by outsiders" and that explaining the existing laws of the land was the only way to soothe frayed tempers.
"I am trying to clarify all the primary provisions of the Fifth Schedule, and PESA, about which a lot of misinformation is being spread," Arjun Munda tells The Telegraph while travelling at 100kmph on the Khunti-Chaibasa road in his campaign SUV. "This is divine land for us," he adds, alluding to Brahme, Ulihatu and Chalkat villages associated with tribal icon and freedom fighter Birsa Munda's birth and growing up. "I will explain how the existing provisions of the law can benefit the tribal community. The core issue is about local land revenue and how that can be used for the benefit of the community. Revenue officers should have been involved to explain things."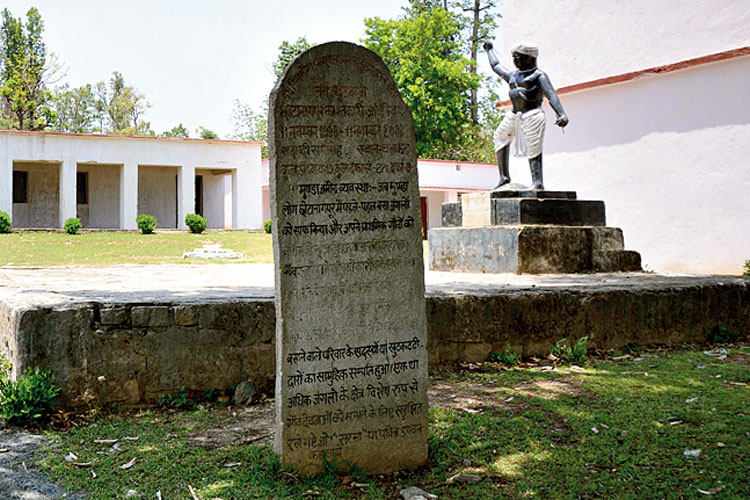 Of the six Assembly segments of Khunti, the BJP won two in 2014 and its ally Ajsu one. The JMM won two and the Congress one. This time, with the gathbandhan in place, it is a direct fight between Arjun Munda and the Congress's Kalicharan Munda, who is the brother of BJP's Khunti MLA Neelkanth Munda. With Neelkanth always by Arjun Munda's side while campaigning, it has become a bit awkward for the party, admits the BJP camp.
"It's a tight contest," agrees Karia Munda, respected elder statesman of the district whose rank and file is disappointed he's not contesting. But Karia "baba", as he is affectionately referred to, says he is a loyal soldier of the party. No one disputes that. "I do feel bad that I am not contesting. Who wouldn't? But I am here campaigning. I am here to help him (Arjun Munda)," he says while holding forth at the bungalow of Aloka and Subhrendu "Joy" Mukherjee, barely 50 metres from Khunti's Subhas Bose Chowk that boasts a statue of Netaji. The Mukherjees, known for their hospitality, have been in Khunti since 1902 and their sprawling home, because of its convenient location, is an open house where old-timers meet every day for a cuppa and political adda.
Every election has its own challenges, Karia Munda seems to suggest when he admits that the BJP tally of 12 MPs could go down in Jharkhand this time. "Pathalgadhi-type protests are not in our parampara. It happened due to outside influence," he says, insisting that the core issue in 2019 is development. "If you want development, if you want the country to grow, there is only one party," he declares with an air of finality.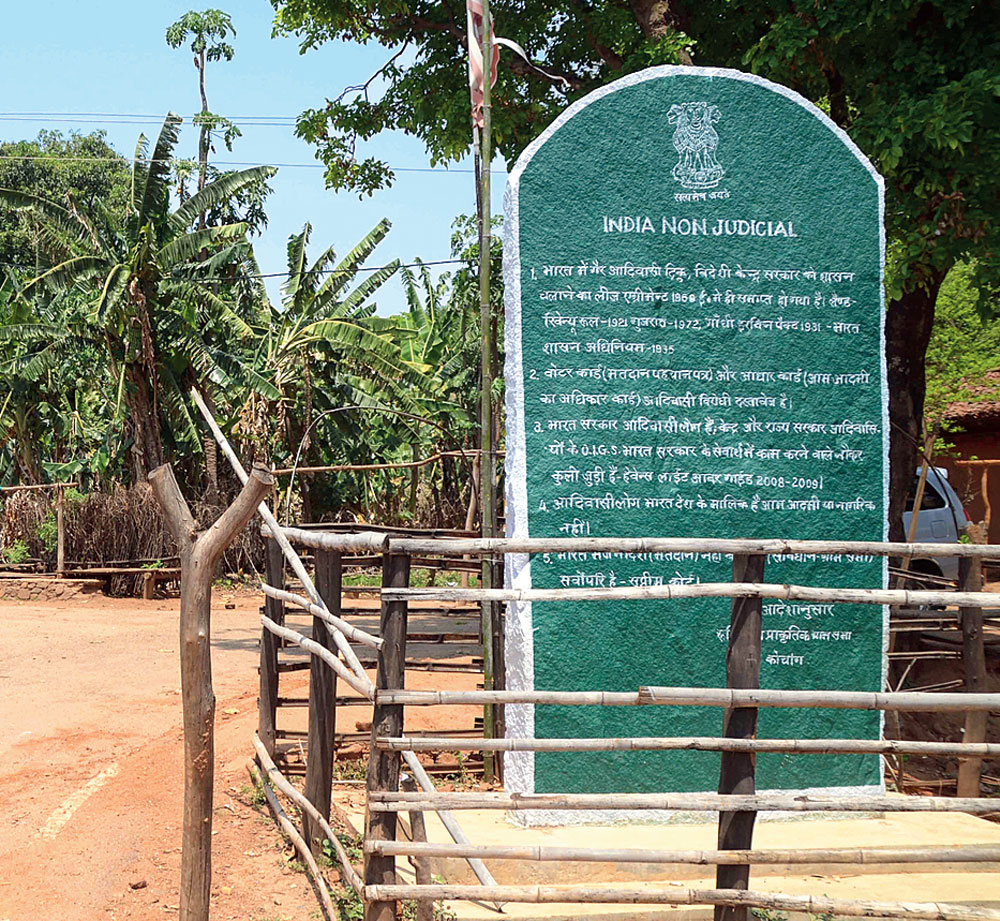 Away from the Mukherjee residence, the Congress is setting up an office at Kochang village of 1,200 voters. It is where one of the first pathalgadhi protests had fired in 2017. A small crowd has gathered, looking from a distance. "Math daan mera haq hai (Voting is my right)," says a youth leaning on his bike, his tone defiant. Angry even. The local postman is seated at the post office 500 metres away, stamping savings bank passbooks. "They will vote," Topi Munda confirms.
"It is a vote of anger," explains Nayeemyuddin Khan, a social worker who everyone in town knows and loves. "The truth is that Khunti is not being looked after the way it should be. There is a lot of anger. After all, some of their fellow villagers are in jail," says the soft-spoken gent who is helping the Congress set up its office. He reveals that the gram sabha deliberates and decides who to vote for. Everyone in the village abides.
Kochang, it seems, has decided. The pathalgadhi at its entrance is intact. Unlike in Chalkat, its inscriptions have not been rubbed off.