Traffic light minus cops equals regular risk
Being an important crossing on Bistupur Main Road, over 2 lakh vehicles pass the N-Road traffic light every day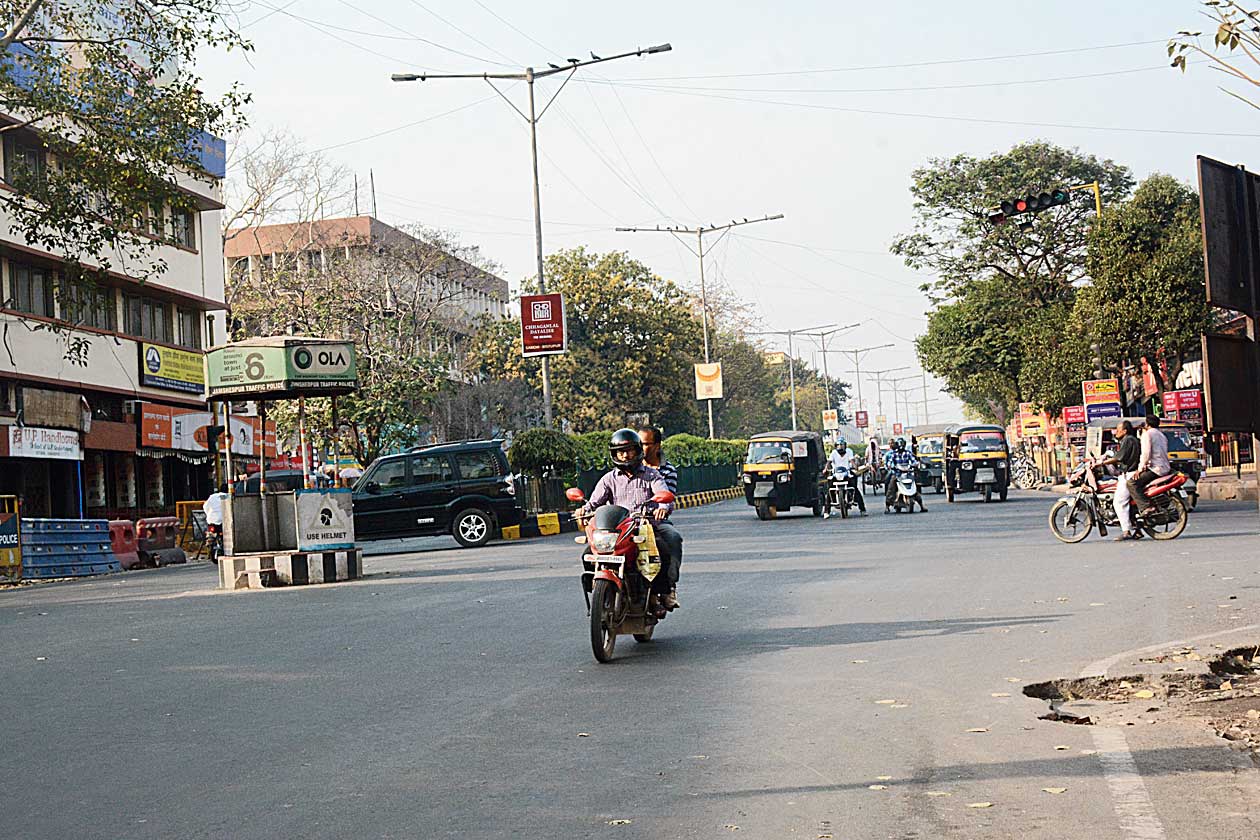 A biker jumps the red light at N-Road intersection in Jamshedpur on Sunday.
Picture by Bhola Prasad
---
Jamshedpur
|
Published 24.02.19, 06:38 PM
|
---
Jugsalai resident Rajendra Prasad Singh who stopped his bike at the N-Road intersection on Bistupur Main Road on Sunday morning resumed his ride as the red light changed to green. But a motorcycle from G-Town-end jumped the red light and hit him. He fell off his bike and bruised his left hand and leg.
In another mishap, a 30-year-old scooterist crossing the N-Road traffic light from Bistupur market-end towards the main road lost her balance when a biker from the opposite direction jumped the red light and hurtled towards her.
Both Singh and the young woman escaped with minor injuries, as both were wearing helmets. Else, the mishaps could have been serious. Instances of two-wheelers jumping the red light at N-Road in Bistupur are rampant.
The reason is obvious. Though the signalling system was installed at N-Road crossing some two decades ago, the traffic police post nearby was removed in 2016. Since then, unruly riders flout the signal with impunity, knowing no policeman would be around to prosecute violations.
Being an important crossing on Bistupur Main Road, over two lakh vehicles — including two-wheelers, four-wheelers, three-wheelers and buses — pass the N-Road traffic light every day.
Sushil Sonthalia, a businessman with his establishment in Bistupur and home in Sonari, said the absence of a traffic police post at N-Road had left law-abiding commuters scared of rash drivers.
"The N-Road traffic light is becoming increasingly dangerous. It is a free-for-all there. Sad, because it is a crossing on possibly the most important road of the city," said the 60-year-old businessman. He added, "Nowadays, I avoid the stress of crossing N-Road. Instead I take a bypass to reach my shop on Diagonal Road in Bistupur."
DSP (traffic) Shrivendra said they were aware of traffic violations at the N-Road intersection, but were "helpless at this moment".
"We should have at least 200 traffic personnel in the city, but we have less than half the number," he said.
At present, Jamshedpur has 71 traffic constables, 15 sub-inspectors and five inspectors. "We can depute cops at the N-Road intersection only when we have enough people at our disposal," the traffic DSP added.