Traffic law quandary for bikes & scooters
Two is company, three is an offence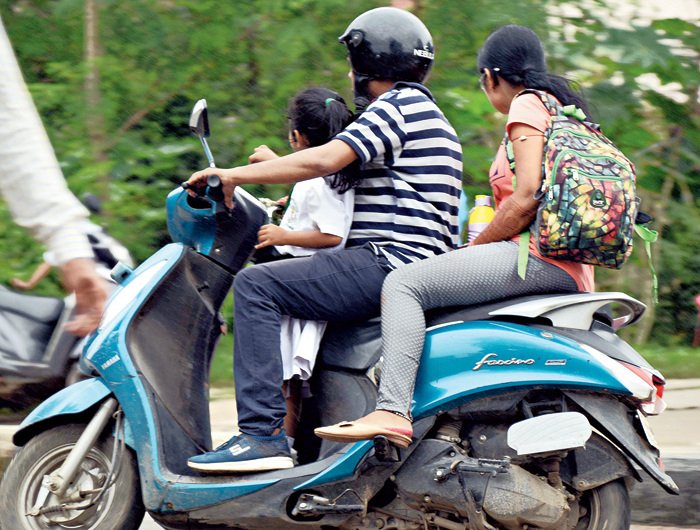 ---
|
Ranchi
|
Published 04.09.19, 10:00 PM
---
An iconic image of middle-class India, a child riding with parents on a two-wheeler, depicts an offence according to the amended Motor Vehicles Act that came into force across the country — except Punjab and Madhya Pradesh — on Sunday. According to Section 194C of the law, more than two persons riding a two-wheeler are liable to be fined Rs 1,000. Earlier, the fine would be Rs 100.
And that has driven many families to a tough question: whether they can commute together on a two-wheeler, now that the traffic cops are on an enforcement spree.
"The new rule if rigorously implemented will naturally curb accidents because most accidents take place due to violation of traffic rules, but I am equally worried whether I can take my children for a ride or not," said Arun Kumar Mishra, a resident of Kanke Road. "I drop both my daughters to school on my bike. But today I could not muster courage to drop them on my bike after I came to know that yesterday (Tuesday) a lady was fined Rs 6,000 for triple-riding in Ranchi. For the people of middle and lower income groups, bike is the only mode of transportation."
The lady who was fined, traffic police sources said, was penalised Rs 1,000 for triple riding, and Rs 5,000 because she did not have a driver's licence.
Sujit Kumar, a resident of Argora, also expressed similar fears.
"Usually on a holiday I go to the market or visit my relatives with my wife and three-year-old son on my bike. My wife and I use helmets but I don't know if I carry my son will it be considered as a triple ride that constitutes an offence? I can't pay Rs 1,000 as fine," said Kumar.
A senior traffic police officer, who spoke under cover of anonymity, said that the law always prohibited children younger than four from travelling on two-wheelers as pillion riders, and that children older than that must wear helmets.
However, the officer admitted, the rule was hitherto not enforced strictly given that a two-wheeler is more often than not the only mode of transport for middle-class families.
Morabadi resident Vimal Krishna felt the law must be enforced without second thoughts.
"Rules are meant for safety of people. In Bangalore, only children 12 years or above are allowed to ride on a two-wheeler as pillion rider. Problem is that people are not aware of that aspect of law. It will be slightly inconvenient for families, but they can get a helmet for (the older) children," said Krishna.
The senior traffic police officer admitted that practically it will be difficult to totally prohibit minors from riding pillion.
"It will pose problems for lower- and middle-income groups who form majority of the population," the officer said. "They are not rich enough to purchase a car hence scooter or bike is the only option for them. Most of them drop their children to school on bike. The problem is that helmets for children are not available in Ranchi markets.
"We also don't know how to enforce the rule," the officer added. "We may not rigorously implement the rule regarding minors but we will certainly ask parents to drive safely and take necessary precautions. We will also not allow more than one minor as pillion rider. We will implement the rule in a phase-wise manner in the coming days."
Coal town blues
In Dhanbad, the traffic rule enforcement drive that is being conducted since Sunday was put on hold on Wednesday due to the JMM's Badlav Yatra as a large number of traffic policemen led by DSP traffic Dinesh Kumar Gupta remained busy since the morning managing the vehicular flow for the rally. On Day One of the drive on Sunday, fines worth Rs 42,500 were realised and the figure on Day two was 15,000. On Tuesday, Rs 55,000 worth of fines were recovered for violations like helmet-less driving, drink-driving, overloading and driving without seatbelt.