Toddler dies playing, parents donate eyes
2-year-old falls off balcony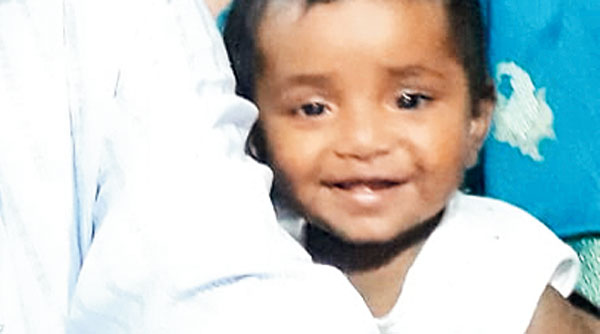 ---
|
Ranchi
|
Published 19.07.20, 02:39 AM
---
A couple walked into Kashyap Memorial Eye Hospital in the Jharkhand capital on Friday evening, carrying the body of their only child.
Sulekha Panna and Chandra Prakash wanted to donate the eyes of their daughter Vanshika, who died at the age of two from an accident.
"We usually seek eye donation in such cases. But this was the first time parents had come to donate the eyes of their only child who had just died," medical director Dr Bharati Kashyap said on Saturday morning.
On Friday morning, Vanshika had fallen from the balcony of their house in Gumla town, around 100km from Ranchi, and suffered grave injuries, Kashyap said.
The accident occurred when Vanshika was playing in the balcony after her mother Sulekha, who works in a bank, had left for office and her self-employed father Prakash was busy with some work at home.
Vanshika was rushed to a local nursing home immediately. Doctors referred her to Rani Children's Hospital in Ranchi as her condition worsened. The parents then arranged a vehicle to shift Vanshika to Ranchi.
"We had reached Ranchi around 3pm. We were just around 2km from the hospital when I could make out she was no more," Prakash said over phone.
The couple decided to still go to the children's hospital where the doctors declared Vanshika dead on arrival.
Despite being numbed by shock, Prakash and Sulekha instantly decided to donate the eyes of their only child "so that two persons could get back their vision".
"It was an extraordinary gesture that they decided to donate the eyes of their daughter and rushed to our hospital to save time," Kashyap said.
The cornea specialist at the eye hospital, Dr Nidhi Gadkar Kashyap, immediately retrieved and preserved the corneas of the baby, the medical director said. They would be transplanted to the "two most needy corneal blind patients shortly", she said.
She said many prominent persons join the eye donation campaign run by the Kashyap Memorial Eye Bank, which has been functioning since 1995, but they don't donate eyes even when an elderly person dies in the family.
"We thought we could keep the memory of our child alive in a better way by helping two persons see the world," Prakash said.