Teams set up to check oxygen level of home-isolated patients
Asymptomatic patients must be monitored too, says health director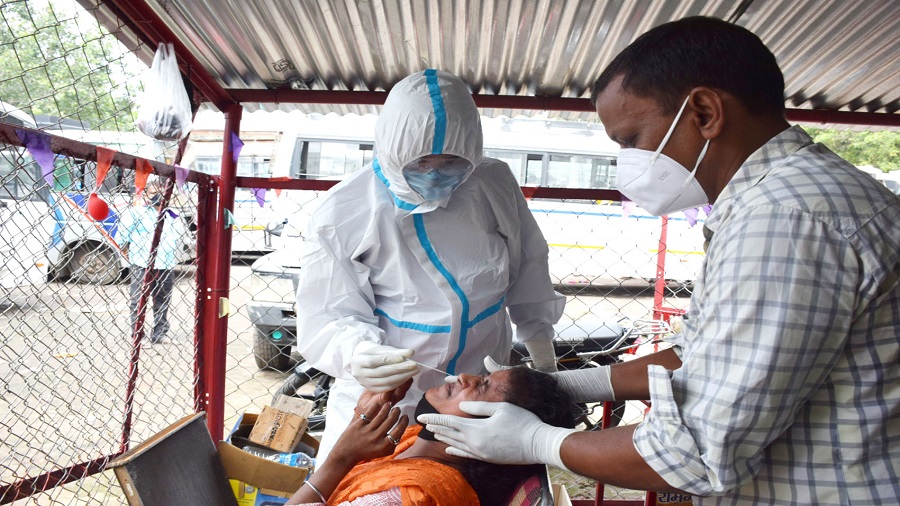 ---
|
Ranchi
|
Published 19.09.20, 08:40 PM
---
The Jharkhand government has constituted dedicated teams to go door-to-door and measure oxygen levels of Covid patients staying in home isolation across the state, health officials said on Saturday.
The initiative, officials added, was taken in the wake of reports highlighting a sudden drop in oxygen levels of many asymptomatic patients across the country.
"Many asymptomatic Covid patients were experiencing a fall in the oxygen level in their bodies, which could prove fatal if not treated on time," said state health director Ravi Shankar Shukla.
Shukla added that the teams were constituted at the panchayat level for rural Jharkhand and ward level in urban areas to keep a tab on patients staying in home isolation.
As per the home isolation norms set by the government, patients should have an oximeter at home to keep a check on the oxygen level in their body. However, many patients cannot afford an oximeter, officials said. Inspection teams will identify such patients, who do not have an oximeter, in the first phase of the drive.
"The teams will take all necessary precautions as per the protocol during the drive. All members of these teams will wear PPE kits when they visit homes of Covid patients," said Shukla, adding that oximeters and PPE kits were already provided to the teams in various districts.
An oximeter, available in medicine shops, comprises a monitor which contains the batteries and display, a probe, which consists of light emitting diodes, and a light detector called a photo-detector. The probe in the machine senses the user's pulse.
The oximeter measures pulse rate and the oxygen saturation of haemoglobin in arterial blood. Normal readings, according to doctors, range from 95 per cent to 100 per cent. Anything less, and the user should get medical assistance from a doctor.
As per latest figures with the health department, there were 13,610 active Covid-19 cases in Jharkhand. More than half of these patients, sources said, were in home isolation. So far, the state has reported 68,638 cases, and nearly 55,000 Covid patients have recovered.
More than 600 Covid patients have died in the state, and a majority of them were suffering from some or other comorbid condition, officials said. While nearly 75 per cent of the deceased were above 50 years, at least 29 Covid victims in the state were younger than 30 years. The government, however, is yet to compile data of patients who died in home isolation.
As per government data, around 16.50 lakh people have been tested for Covid-19 in Jharkhand so far, and most of them were from urban areas. Latest figures show that around 3,000 people were battling the virus in Ranchi, while around 2,800 were undergoing treatment in Jamshedpur.