Storytellers from around the world make a difference in pandemic times
Tales a breath of fresh air, with competitions to look forward to in Jamshedpur-based festival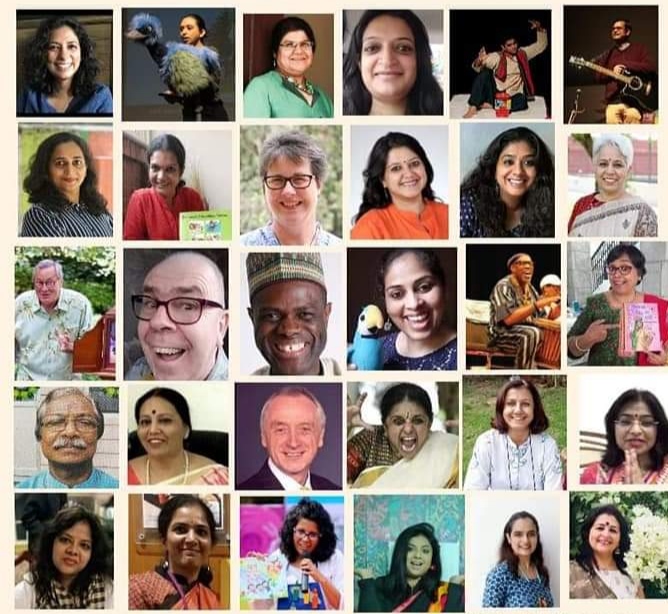 A collage of participating storytellers in Katha Parab
Telegraph picture
---
Jamshedpdur
|
Published 07.06.20, 01:10 PM
|
---
If you think there is an overdose of online academic lessons, corporate meetings and webinars, you can take a break by attending online story sessions and workshops that can bring a smile on your face.
Around 32 storytellers from across the country and from the United Kingdom, the USA, Singapore and Africa will take weekend sessions and workshops for those who believe that stories can change the world.
The initiative is a part of Katha Parab, an online storytelling festival organised by Jamshedpur-based start-up TheStoryMunch, professional storytellers will try to connect with their audience differently. The virtual storytelling festival was inaugurated yesterday via Zoom, and has so far witnessed some 60 participants. The concluding session will take place on June 28.
"Stories are an important medium to connect. We are already stressed, and stories can make us happier. So storytellers have joined hands to stay virtually connected through stories," said Richa Sinha, founder of TheStoryMunch.
Participants include Geeta Ramanujam, founder of Kathalaya; Tony Cranston from Talking Stories, in the UK; Santhali litterateur Surya Singh Besra, and Rituparna Ghosh, founder of The Story Bag that is also supporting Katha Parab and other storytellers.
The weekend sessions will be hosted online for parents, teachers and educators. Sessions will also be organised for children between two years and 17 years.
Competitions in various categories are also being organised. Here is a list:
Katha Bolo: narration for parents, children and teachers
Katha Padho: reading a passage of choice for children between five years and 15 years
Katha Kala: bookmark-making for children between five years and 15 years along with teachers and parents
Katha Maya: dressing up as a favourite character for children aged up to 15 years
Katha Kyun: speech on the importance of storytelling
Katha Kosh: quiz for students between eight years and 15 years.
The organisers have also decided to donate a part of the proceeds to social causes, including organizations like People for Change; Roti Bank; Milaap and tribal artisans.
Although it is a new concept, people are gradually responding to the festival.
"When I learnt that Geeta Ramanujam ma'am is doing a workshop, I jumped into it and didn't regret it," said Nor Azhar Ishak, an education specialist who attended the session on Saturday.
Others who do not know about such festivals in place expressed their eagerness to attend the same.
"We are overloaded with online classes and webinars and conferences. Since attending and organizing programmes isn't possible physically, we were looking for such sessions which can act as a breath of fresh air for us and our families. Stories are important- to focus and to inspire," said Avinash Kumar, a corporate executive in Jamshedpur.