Student start-up taps citrus fruit waste to keep loos clean
48 community toilets in steel city to use IIT(ISM) outfit's bio-enzyme solution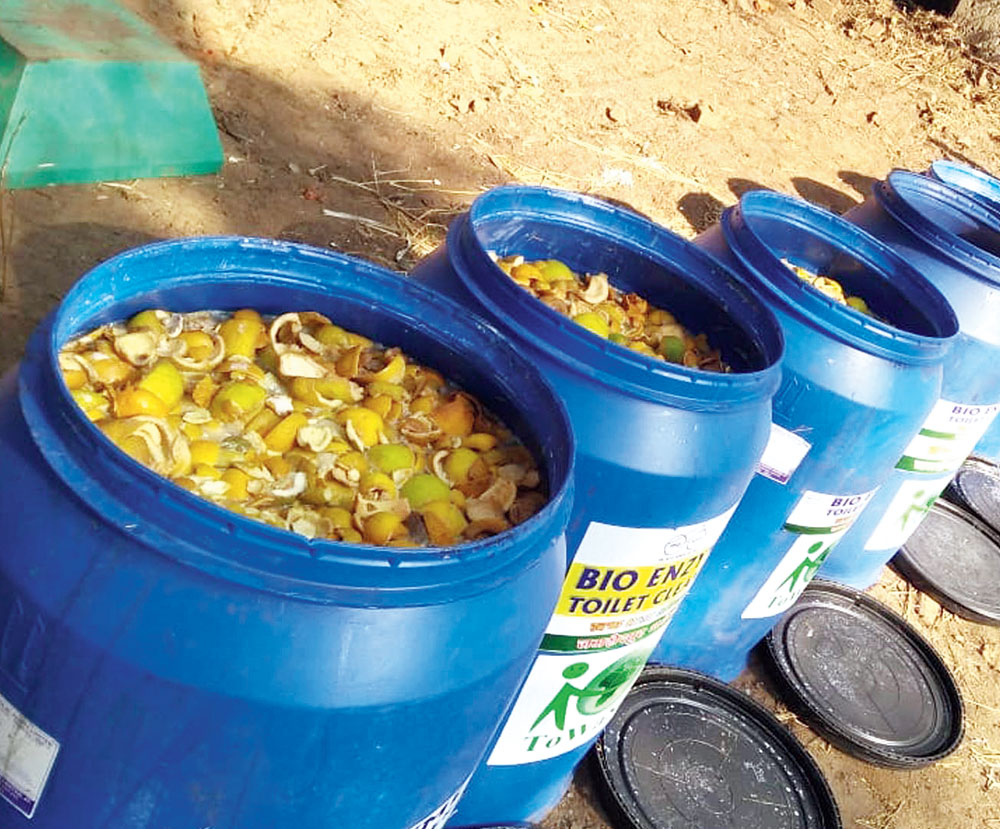 Green cause: Fruit leftovers packed in plastic drums and ready for fermentation in Jamshedpur.
The Telegraph picture
---
Dhanbad
|
Published 18.12.18, 06:54 PM
|
---
Dedication doesn't have an off season. So what if Xmas holidays are here, ToWaSo — a waste management start-up run by IIT(ISM) students and alumni in the coal town — is working overtime to ensure green sanitation some 150km away.
ToWaSo, an acronym for Total Waste Solution, has joined hands with Jamshedpur Notified Area Committee (JNAC) to keep 48 community toilets in and around the steel city squeaky clean with the help of bio-enzymes.
The enzymes are being produced by fermentation of skin and pulp of citrus fruits using microbes. The anaerobic (without oxygen) reaction takes three to four weeks to yield the bio-enzyme solution that can then be used as a natural toilet cleaner. The solution can be used on any hard surface as well such as floors.
Alumni Saurabh Suman, a founder-member of ToWaSo, said they had used the bio-enzyme on pilot basis at a community toilet near a vegetable market in Jamshedpur and the response was overwhelming.
"We are now in the process of developing around 1,800ml of the solution. It will be ready by the month-end and will be used in 48 community toilets under JNAC command," Saurabh said, adding that the bio-enzymes were being prepared in situ. "We have placed 10 plastic drums, each of 200ml capacity, near a JNAC town hall. One contains the microbes while the others are storing fruit leftovers collected from roadside vendors."
The entrepreneur said the bio-enzyme solution would be provided for free to JNAC, which in return was offering logistics support. "We plan to market the solution in the future," he maintained.
On the advantages of using a bio-enzyme as toilet cleaner over an acid, Saurabh said the former was capable of digesting organic waste more rapidly.
"Acid reduces bacterial growth in septic tanks, which in turn affects degradation of faecal sludge. Bio-enzymes, on the other hand, do not affect growth of bacteria in septic tanks and thus facilitates in degradation of faecal sludge. Also, bio-enzymes reduce bad odour effectively while controlling the fly population in and around community toilets," he explained.
Special officer of JNAC Krishna Kumar lauded ToWaSo's efforts. "The benefits of bio-enzymes are double-fold, all thanks to IIT(ISM). First, they offer us a green method of keeping toilets clean. Second, they provide a way to tackle the roadside garbage problem," he said.
Established in February 2016, ToWaSo won the Urban Sanitation Hurrah Award in July the same year from a premier magazine on urban hygiene. The start-up also helped Chas Municipal Corporation develop compost pits, which in turn allowed the town in Bokaro rank 19 in the pan-India sanitation survey last year.