Shivaratri: strict vigil planned at Dalma Wildlife Sanctuary
Officials to frisk devotees before they enter hill temple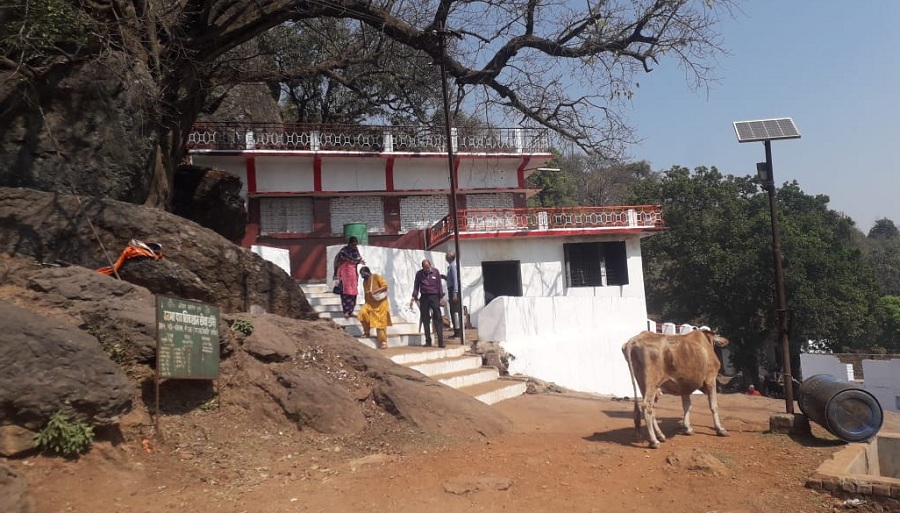 The Shiva temple atop Dalma hills.
Bhola Prasad
---
Jamshedpur
|
Published 09.03.21, 07:25 PM
|
---
Authorities of Dalma wildlife sanctuary will be making elaborate arrangements to ensure Shivaratri celebrations take place without any untoward incidents.
Sanctuary officials will pay extra attention to elements who climb the hills with tyres, match boxes and other inflammable items which could set fire to the 194 sq km jumbo abode. 
Over 50,000 devotees are expected to visit the temple at the top on the eve of Shivratri, which is on March 10.
Some distance of the 8km route that snakes from Fadlugora to the hilltop temple will be illuminated with tube lights. Apart from this, all visitors will be frisked and metal detectors will be installed at the two entry points of Fadlugora and Makulakocha.
Security arrangements will be focussed on the Fadlugora route because devotees from Jamshedpur, Chandil, Ghatshila and villages dotting NH 33 prefer it over the longer Makulakocha route, where one has to cover 3km to reach the entry point from the highway and then trek over 16km to reach the temple.
 "Like every year, the temple will witness heavy footfall of devotees. We are not taking chances when it comes to the safety of the faithful. Besides installing tube lights on some parts of the route from Fadlugora, we are deputing personnel at the two entry points," said assistant conservator of forest (ACF) R.P. Singh.
Some parts of the sanctuary have lit up before and officials are in no mood to leave anything to chance during Shivaratri. "Miscreants enter the sanctuary on the eve of Shivaratri armed with tyres, match boxes and inflammable items. They burn and throw the tyres inside the sanctuary as a result of which fire spreads. Some parts of the sanctuary have already caught fire and we are in no mood to compound matters. Strict frisking would be done at the Fadlugora entry point," a forester said on condition of anonymity.
He added two generator sets had been requisitioned for lighting up the way.
On other security measures, the forester said foresters and trackers with torches in hands will keep vigil at the entry points and at the temple. "Fifty trackers each will be deputed at the two entry points," he said
Asked about elephant trouble, he said the herds were still stationed on the fringes of the sanctuary while some are positioned downhill.
Lighting up the way to the temple started in 2018 after devotees complained of inconvenience while trekking in the dark. Earlier, villagers used to burn tyres to light up the path and keep elephants at bay. The practice was dangerous as an ember could set the sanctuary, filled with dry leaves, on fire.
Shivaratri fetches huge revenue for the Ranchi wildlife division, which looks after the Dalma reserve. Devotees are charged Rs 2 each for visiting the temple. There are separate charges for vehicles.