Seraikela karateka nominated joint secretary of state Delphic council
23-year-old Amit Modak runs martial arts NGO in Seraikela-Kharsawan, Ranchi, Simdega and Hazaribagh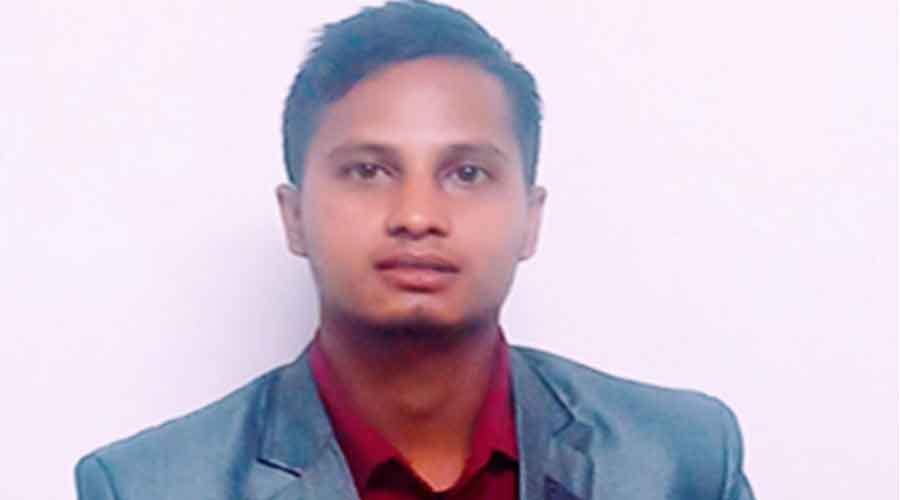 ---
---
Amit Modak, a karate practitioner and resident of Gamharia in Seraikela-Kharsawan district, has been nominated as the joint secretary of Jharkhand Delphic Council.
The 23-year-old was nominated to the post during a recent online meeting of the South Asian Delphic Council.
Expressing happiness, Modak thanked Indian Delphic Council founding president and advisor (South Asian Affairs) of International Delphic Council (IDC) Bijender Goel for his nomination.
"There is no dearth of talented artists in Jharkhand and I would try my best to help them get international recognition," Modak, who also excels in taekwondo, said.
Modak is the world record holder for the fastest punches in a second. He achieved the feat (10 punches in one second) in January, 2019. The High Range Book of World Records, a Hyderabad-based organisation established to explore talented, creative, outstanding, innovative or philanthropic people and honour them by certificates, recognised the skills of the youngster.
Modak heads the Youngistan Warriors of Martial Art, an NGO formed last year. He trains school students under his NGO's banner for free. The NGO also works in Seraikela-Kharsawan Ranchi, Simdega and Hazaribagh. The training has been discontinued due to the pandemic but will resume once the situation improves.
He has won medals in national and international competitions.
IDC is a voluntary, not-for-profit, non-political, non-religious global organization that works to foster harmony amongst people through engagements in the various arts forms and the cultural identities that manifest them, through the Delphic Games.
The ancient history of the Delphic Games traces its roots back to Delphi in Greece 2500 years ago as the twin-sister of the Olympic Games. The Delphic Games are to Arts & Cultures what Olympic Games are to physical sports.
While the Delphic Games of the modern era were revived in 1994, the Olympic Games were revived in 1894. Since revival, the Delphic Games have been hosted in Georgia, Russia, Malaysia, South Korea, Philippines, Germany and South Africa while Delphic Summits, Delphic Art Wall initiatives and other festivals of cultural significance have been organised elsewhere in the world.
International Institutions like UNESCO, Council of Europe, ASEAN among others have endorsed the various editions of the Delphic Games in the past.
World leaders, including Nelson Mandela (South Africa), Mikhail Gorbachev (erstwhile USSR), Helmut Kohl (Germany), Eduard Shevardnadze (Georgia) as well as celebrated musicians, painters, academicians, historians, arts & culture revivalists and the likes have supported the Delphic Games. India has participated in three editions of the Delphic Games in various countries and even won gold and silver medals in South Korea.