Ranchi, Dhanbad blow up Diwali curbs
Jamshedpur quieter as cops keep close watch to ensure sound limits set by SC are not breached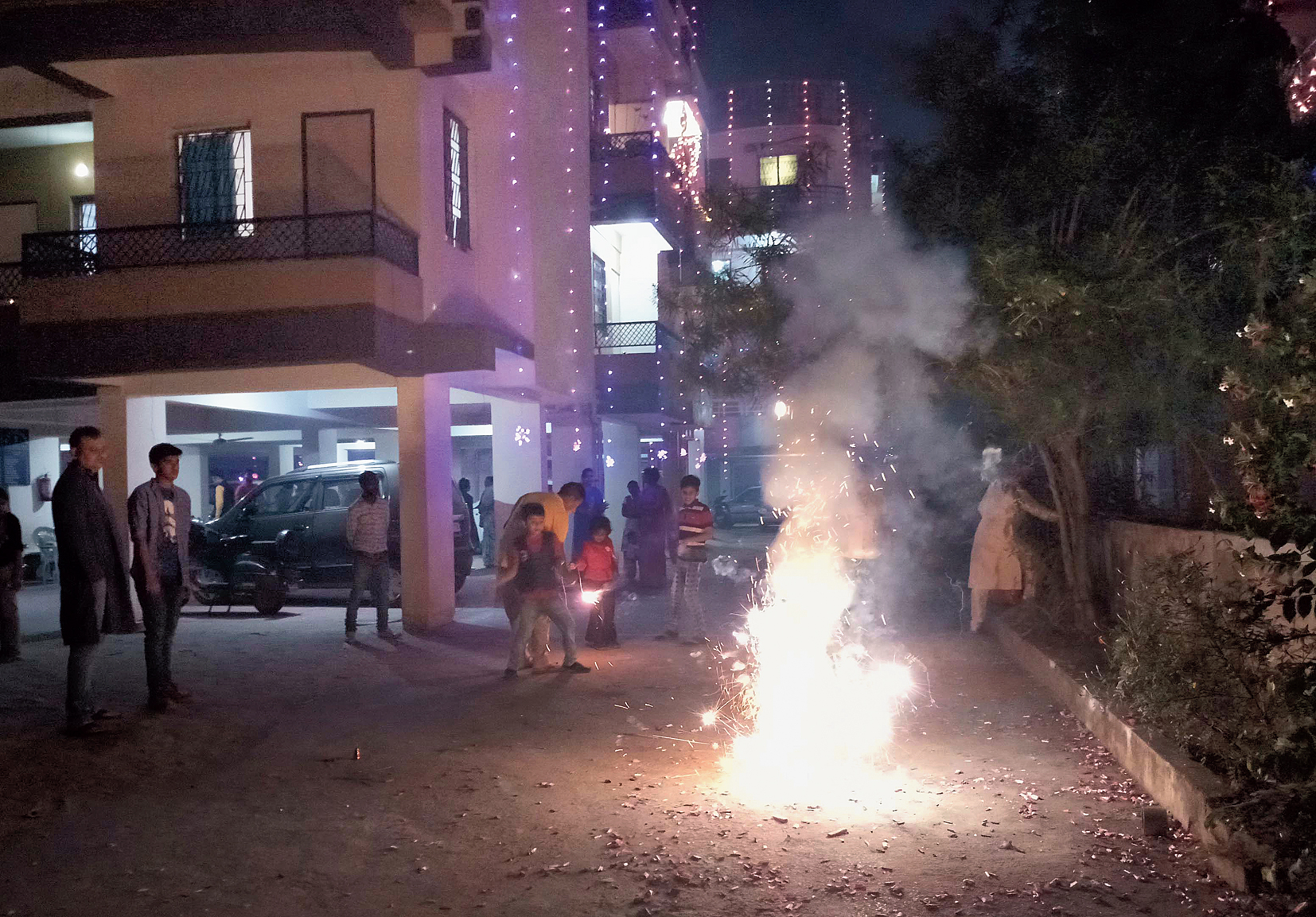 Children burst firecrackers at RP Singh Enclave in Kokar, Ranchi, on Diwali Wednesday.
Picture by Prashant Mitra
---
Ranchi
|
Published 08.11.18, 06:33 PM
|
---
How capital, coal town fared in cracker compliance
Ranchi and Dhanbad flunked the Diwali compliance test with revellers in most neighbourhoods of the capital and coal town not just bursting high-decibel firecrackers on Wednesday, but also breaching the two-hour time window. The Supreme Court's 8pm-10pm order notwithstanding, the noise fest in many areas continued beyond midnight. Ranchi SSP Anish Gupta said he had directed all police stations to compile and submit a report on complaints and violations by Friday. He, however, added that no cracker-related accident had been reported from any part of the city. The Telegraph highlights pockets that spent a deafening Diwali and those that were quieter

Ranchi
Kanke Road
Revellers here began bursting firecrackers by 7.30pm, half an hour in advance. The celebrations began on a muted note, but became ear-splitting in an hour. The decibel devil continued to romp much beyond the 10pm deadline.
A PCR van was on patrol in the area. But, the blinding light and smoke seemed to prevent them from identifying and nailing offenders.
"It is very unfortunate that people don't understand what is good for them, let alone the environment. A change in mindset is needed," said Sabita Mishra, a resident.
Morabadi
Morabadi largely ignored the Supreme Court order. Crackers were burst till 1am on Thursday, mostly by revellers perched on roofs of high-rises.
"In fact, some people burst crackers in protest against the order. Are crackers during Diwali solely responsible for air and noise pollution, they mocked," said a resident.
Kokar
The high-decibel carnival began around 6.30pm and continued well into the night. But, only a few complaints reached police because no one wanted to antagonise anyone.
Sadar thana OC Dayanand Kumar said less number of crackers were burst this time compared to previous years. Residents begged to differ. "People knowingly or unknowingly violated the court order. Noisy crackers were used at least till midnight. I did not notice any decline in sales either," said S.K. Mishra who lives here.
Pradeep Kumar Sinha, another resident, said children were the only ones to follow the rules. "They had heard that police would arrest them if they burst bombs. Fear made them adhere to some rules."
Jawaharnagar
Residents of this VIP neighbourhood obeyed the apex court order in letter and spirit. Revelry was all about diyas and low-decibel crackers.
Animals and birds had a peaceful evening.
"It is civic sense not to cause inconvenience to others in the name of Diwali. Even before the recent SC directives, there were standing instructions against use of loudspeakers and firecrackers after 10pm," said a resident.
Chutia
It was an unmatched noise fest here. Revellers burst a variety of bombs and launched rockets past midnight.
"I had a sleepless Diwali. It felt like someone was carpet-bombing our area. Awareness was largely missing," said Saurabh, a resident.
Lalpur
Lalpur police said a PCR van and Mobile Tiger units were on patrol, but crackers did breach the deadline.
"Noisy fireworks continued at least till 11pm. It was though lesser than last year, when the revelry and continued till nearly midnight," said Nitish Priyadarshi, an environmentalist and assistant professor at Ranchi University.
Upper Bazaar
The largest firecracker market in the city reportedly spent a quieter Diwali compared to last year.
"Fearing police action, many abstained from bursting noisy crackers. However, they should stop using high-decibel and high-emission crackers for their own good and to protect the environment, not because they are afraid of being arrested and jails," Rahul Kumar said.
Harmu
Councillor of Ward 26 Arun Kumar Jha held a meeting with residents on Diwali morning, urging them to honour the SC guidelines. By evening, his appeal was forgotten. Some parents complained that children were upset with the court order and that they did not want to disappoint their wards. The decibel carnival continued till 2.30am (Thursday), said councillor Jha.
Dhurwa
Ranjan Singh, a civil contractor and resident of Adarsh Nagar here, said the court order was honoured till 8pm.
"However, once the revelry began, there was no end to it. I heard bursting of crackers till 1.30am," Singh said, adding that he wanted to call police, but dropped the idea because he did not want to "mar the Diwali spirit".
Ratu
Kaushal Kishore, a businessman from Ratu Road, said his family honoured the court guidelines. "Not many were like us. The cracker fest started from 7pm and went on till midnight. We realised it is difficult to put a check on revellers unless they themselves realise what is right and what is wrong," Kishore said.
Dhanbad
Hirapur
Despite being located less than a kilometre from the district headquarters, the area mocked court guidelines like no other.
Sanjay Kumar, who runs a cyber cafe in Vinod Market, said bursting of noisy crackers began at 5pm and continued till at least 1am.
"No one cared what the apex court said. In fact, the intensity of fireworks increased after 10pm once Lakshmi Puja on the occasion of Diwali ended in various households," echoed Krishna Prasad, another shopkeeper. He added that the noise fest actually started from Kali Puja on Tuesday.
Bank More
The commercial hub cocked a snook at Diwali restrictions, with most revellers starting to burst crackers after 10pm.
"Many cracker stalls too remained open after 10pm and people were in buy-buy mode," said Surendra Arora, owner of a gift shop and vice-president of Federation of Dhanbad Zilla Chamber of Commerce and Industries.
Pravin Keshri, who owns a garments store, added high-decibel crackers were freely used in the absence of strict policing.