Ranchi bus fare a big plus
E-rickshaws off Ranchi Main Road but commuters fine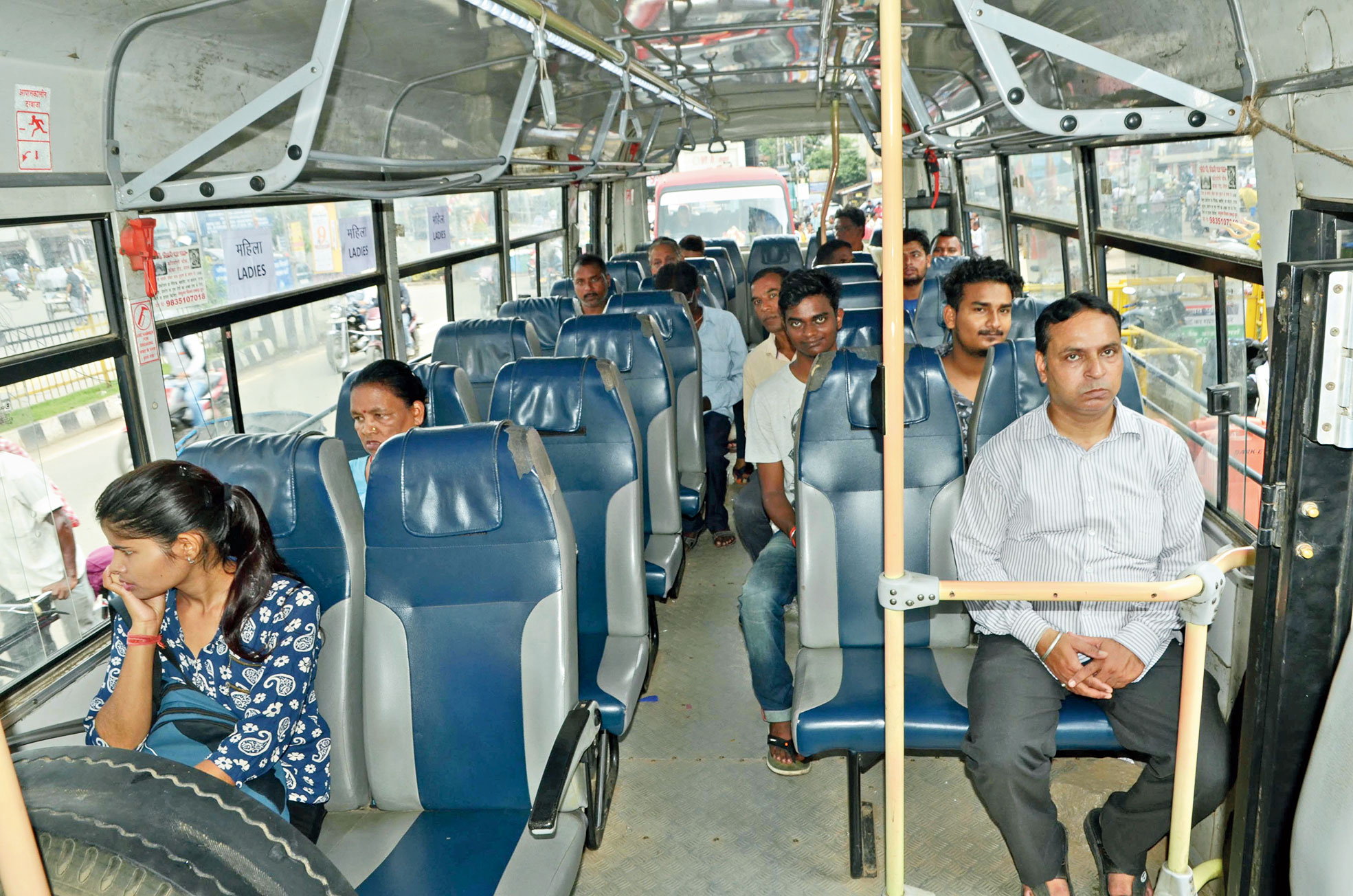 Passengers inside a city bus on Main Road in Ranchi on Monday.
Picture by Prashant Mitra
---
Ranchi
|
Published 02.09.19, 07:37 PM
|
---
Commuters gave the city bus service a largely favourable response as they enjoyed a hassle-free ride on the 4km stretch between Albert Ekka Chowk and Rajendra Chowk on the second day of the e-rickshaw ban on Ranchi Main Road.
Commuters gave a thumbs up to the regularity of buses and the Rs 5 fare, half the fare charged by the e-rickshaw, and smoother traffic on Main Road. The only grouse was the lack of seats, especially when boarding the bus mid-route.
S.N. Singh, a retired BSNL employee and Jamshedpur resident who was in Ranchi on a visit on Monday, said he was delighted at the Rs 5 fare. "Tell me, what do you get for Rs 5 nowadays?" he said. "As I got no e-rickshaw on Main Road, I was left with no option but to use the city bus service. I was afraid of getting late but the speed of the bus was a pleasant surprise. I reached Sujata Chowk in less than 10 minutes by bus (from Albert Ekka Chowk). And I'd never got such an economical mode of conveyance in Ranchi," he said.
Doranda resident Raj Kumar, preparing for his competitive exam, said the fare was cheap. "It gave me immense pleasure to reach Hi-Street Mall from Albert Ekka Chowk for just Rs 5. Earlier I had to spend Rs 10 for the same stretch," Raj grinned.
Ashok Gaur, a retired agriculture department employee, however said he preferred the e-rickshaw. "Though the fare was Rs 10, getting a seat was a certainty. In the city bus, getting a seat is all about luck and timing. Today (Monday), I had to stand from Sujata Chowk to Albert Ekka Chowk. At my age, I don't like to stand and get jostled," Gaur said. Agreed Manorama Devi from Bariatu. "A bus is not comfortable without a seat. Plus, reaching the door of a moving bus is difficult."
A resident of Krishnapuri in Chutia, Yugal Ekka, said the bus service had given him the opportunity to walk.
"When you board a bus, you get off at the designated stop and walk," he said. "I normally spend Rs 60 on petrol. But I used city bus and spent only Rs 10. And I got off at my stop and walked to my destination. Healthy for my wallet, healthy for me," he added.
Jamil Akhtar, a resident of Hindpiri, said he was happy with the bus service as jams were few on Main Road. "Except for a slight jam between Hanuman Mandir and Urdu Lirbray, I did not face any problem. Traffic was smooth."
Municipal commissioner Manoj Kumar said residents would get used to the buses. "We will try to make buses comfortable for senior citizens and women," he said.