Rain pain for veggie shopping bag in Ranchi
Many vegetables are rotting in fields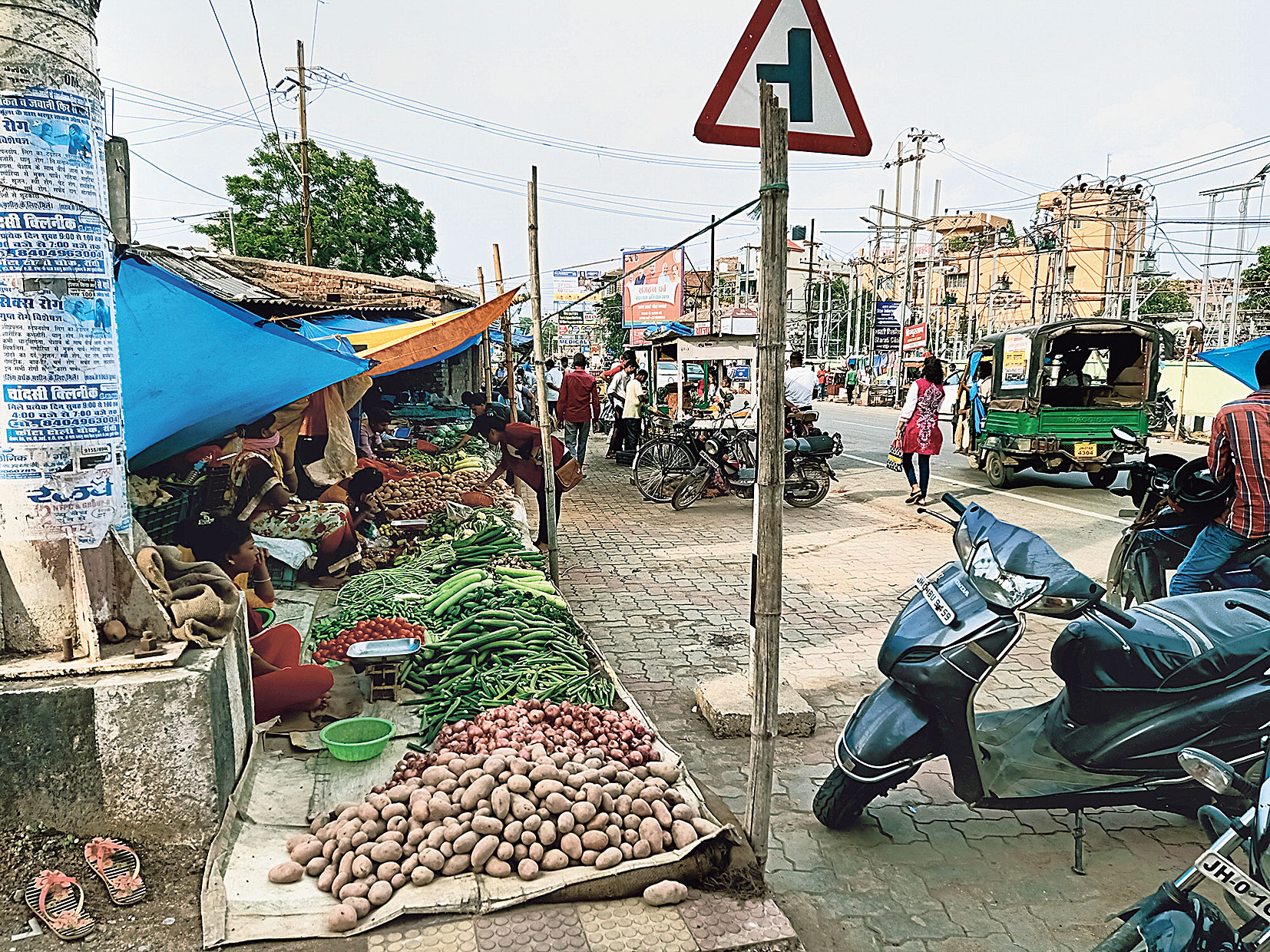 ---
|
Ranchi
|
Published 13.07.19, 07:22 PM
---
If the monsoon has dragged down temperatures in the capital and its adjacent areas, it has also made vegetable prices spurt owing to flooded farmlands.
A rough survey of Ranchi's vegetable markets suggested a sharp rise in prices in the last five days. The potato, sold for Rs 10 per kg five days ago, on Saturday comes for Rs 15, onion and bottle gourd, which sold for Rs 12 to Rs 15 per kg, now come for Rs 25, cauliflower that came for Rs 20 to Rs 25 per kg now costs at least Rs 30 more (see box).
The main reason, agree Birsa Agricultural University (BAU) experts and vegetable sellers alike, is that production has taken a hit due to stagnant water in vegetable fields without proper drainage. Many vegetables are rotting in fields.
Otherwise, the capital, with nearby vegetable belts Mandar, Chanho, Bero, Patratu, Pithoria, Tamar, Brambe and Majhiaon usually gets a good supply of fresh vegetables at reasonable prices.
President of Daily Market Dukandar Sangh Mohammed Serja feared prices would increase further due to "vegetables rotting in stagnant water". "The situation is likely to prevail throughout monsoon," he said.
At BAU in Kanke, assistant dean of the College of Agricultural Engineering D.K. Rusia also said proper drainage of fields was a must to get good output in monsoon. "Farmers should ensure rainwater does not stay standing in vegetable fields, or else the crop will rot. Drains and slopes need to be created in fields. Also, sticks as support helps prevent plants with vegetables from touching the wet ground," he said.
Chairman of BAU department of agronomy Raghav Thakur supported Rusia. "Apart from creating proper drainage structures, farmers should also remove unwanted plants from their field to prevent water from stagnating. Unwanted plants check the flow of water," Thakur added.
While farmers get these advisories a tad late in the day perhaps, residents rue how their household budgets are haywire. Vidya Nagar resident and forest department employee Rajesh Kumar Gupta pointed out that except for cucumber, which was still at Rs 20 per kilo, the price of every vegetable had increased. "I have asked my wife to reduce quantity of vegetables in daily meals," Gupta said.
Argora homemaker Koushalya Devi said she stopped purchasing pointed gourd (patal) ever since its price rose from Rs 45 to Rs 60 a kilo. "This hurts because my son likes patal fry with meals a lot. I used to purchase it daily when it was affordable," she said. So how does she placate her son? "He likes lady's finger (bhindi) fries too. Though its price doubled to Rs 40 per kg, I do buy it," she said. "We teach our kids to love eating vegetables but they are getting beyond our reach."
Kadru resident Bablu Kumar said he had devised his own way to beat this inflation. "Dal-bhat chokha kabhi na de dhokha (rice-lentils and mashed potatoes will always be loyal)," he laughed. "We also eat a lot of gram, soybean nuggets and paneer during rainy season."