Rain makes vegetable prices head north in Jharkhand
Vendors blamed it on late rains indicating a crisis could be brewing in farms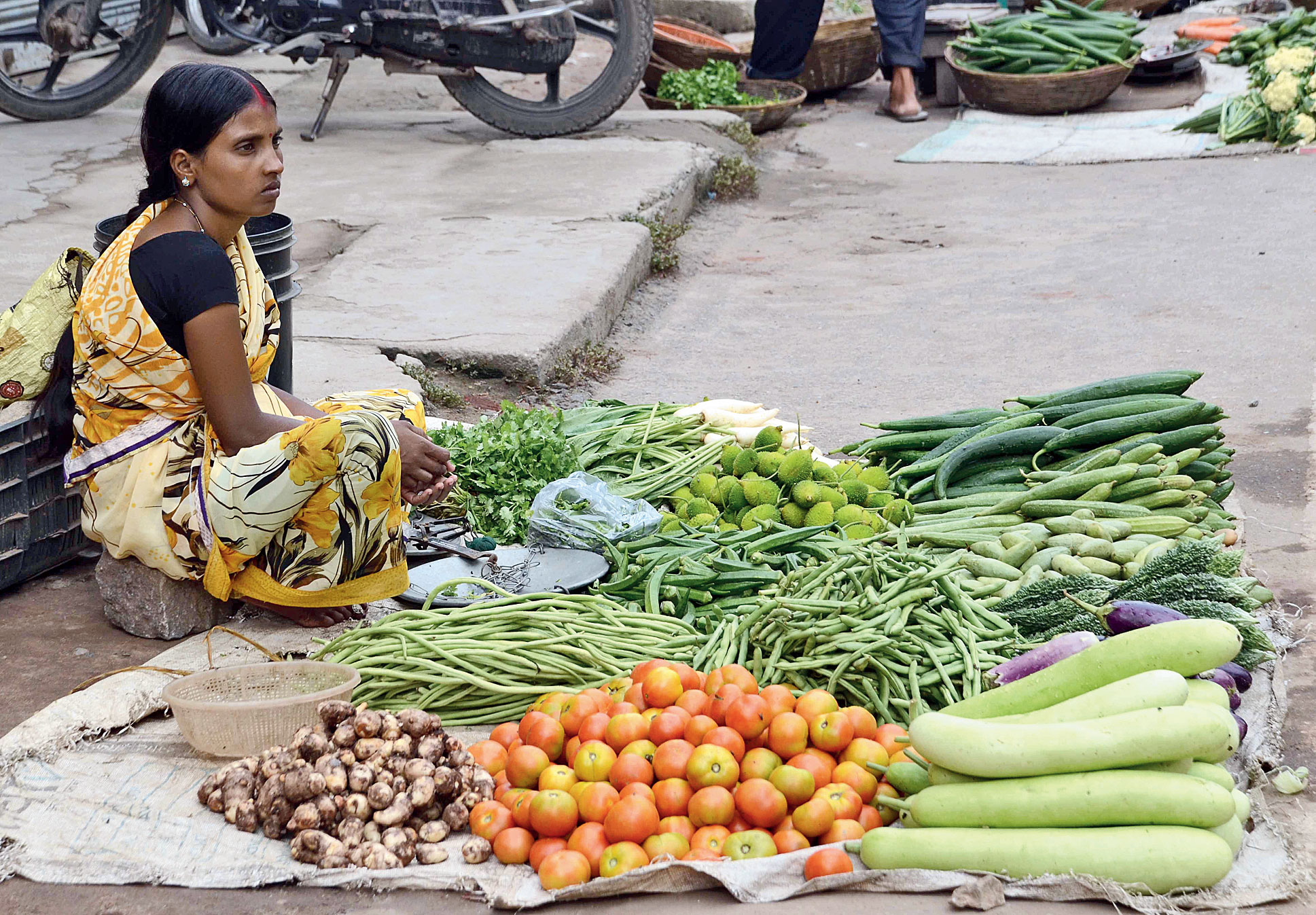 ---
|
Ranchi
|
Published 02.10.19, 10:44 PM
---
After onions, prices of green vegetables have shot up across the state, with the rise sharpest in the capital. Vendors blamed it on late rains disrupting supply from within Jharkhand, indicating a crisis could be brewing in farms.
A dip-stick survey of vegetable markets at Lalpur, Harmu, Naga Baba Khatal, Doranda, Argora, Dipatoli and Morabadi in the capital showed prices have become almost double.
Homemakers complained about their battle to manage the household budget in the time of festivities that anyway put a strain on finances.
"Tomato, which I used to purchase at rates ranging between Rs 25 and Rs 30 per kg till four days ago, is being sold between Rs 55 and Rs 60 per kg," said said Deepali Choudhary, a homemaker from Dipatoli. "There has been a similar hike in prices of French beans, cauliflower and other vegetable items. It has become difficult for me to manage the monthly budget in the Puja season."
Neelam Gupta, another homemaker from Vidyanagar, echoed the angst.
"I was happy thinking that I will be able to save some money I used to spend on onions as during Navratra we do not consume garlic and onion but after I went to buy green vegetables my happiness vanished. Price of ginger and coriander, which are good substitutes to add some taste in vegetables, have doubled. Four days ago I used to purchase 100gm coriander for Rs 10. Today I paid Rs 20," Gupta rued.
Bablu Kumar, a vegetable vendor, said no relief was likely for at least for two months.
"Price increased due to rain as vegetable crop got damaged in the field and local supply got affected. Now we depend on supply of green vegetables from outside the state. Tomato is coming from Bangalore, pointed gourd (parwal) is coming from Bengal. Similarly other items are coming from Delhi and other places," he said.
Coal town hit too
In the coal belt as well, prices of most vegetables including tomato, coriander, cauliflower, bhindi, and parwal have witnessed a sharp rise in the last two-three days.
"The price of parwal has increased to Rs 60 per kg from Rs 40, bhindi prices increased to Rs 50 per kg from Rs 30, coriander has increased to Rs 500 per kg from Rs 300, cauliflower is being sold at Rs 60 per piece, up from Rs 40 per piece, and tomato has risen to Rs 60 per kg from Rs 40," said Ramesh Kumar, a vegetable seller at police line in Dhanbad.
Jharia-based vegetable retailer Munnna Verma said: "The rise in prices in almost all vegetables is due to incessant rains in the state during which transport of vegetables from other districts was adversely affected."
Steel city slight relief
Prices of vegetables in Jamshedpur markets have also risen, but not as much as elsewhere.
Potato prices shot up by Rs 3 per kg as fewer trucks were arriving at the Sakchi vegetable mandi from Uttar Pradesh and Bengal. The staple, which was available at Rs 12 per kg last week, is being sold at Rs 15 per kg. The prices of other vegetables such as tomato, bitter gourd and cauliflower have also gone up. Cauliflower was selling at Rs 40 per piece — double of what it was earlier this week.
"Recent rains coupled with Durga Puja have prompted a rise in vegetable prices," said Manoj Gorai, a vegetable vendor at Sakchi. "Such prices of vegetables are expected to continue for another few weeks."
Tomato was selling between Rs 40 and Rs 60. Bitter gourd prices have shot up by Rs 10 to Rs 40 per kg. Bhindi, however, has come down from Rs 30 per kg to Rs 20.