Rain damper ahead of Puja
Rampada also needs to work on three large idols at different pandals of the city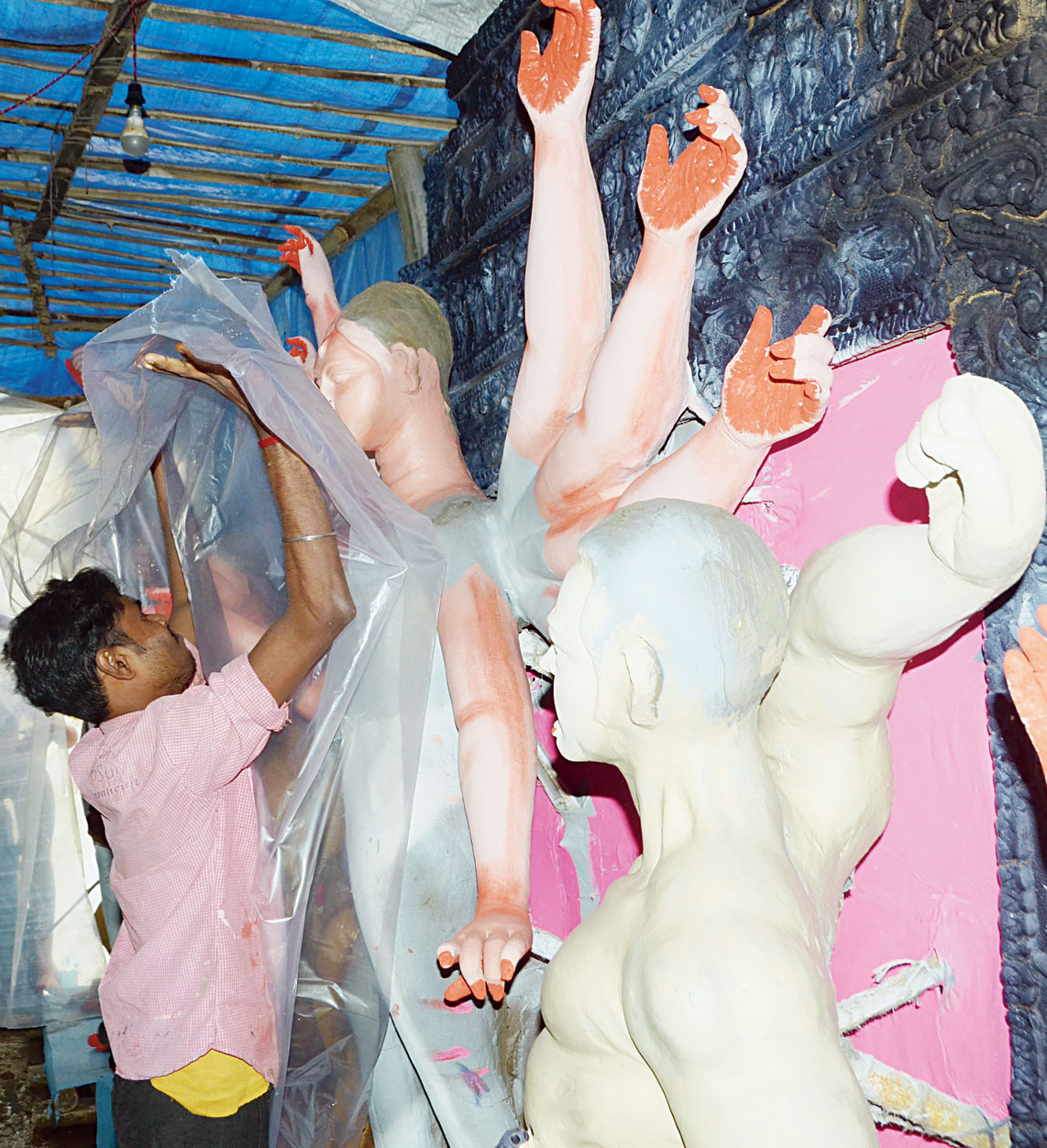 ---
|
Ranchi
|
Published 28.09.19, 06:43 PM
---
Untimely rain has caught puja organisers and idol makers busy with last-minute preparations off guard.
"We try to complete the idols in advance, but some last-minute tweaks and finishing touches are done during the last few days before the start of the puja. Untimely rain have hampered our work. I have completed most of the 35 idols I have to deliver. But dispatching them to the pandals is posing a great problem," said Rampada Pal, a well-known artisan, who has a workshop at Tharpakna.
Rampada also needs to work on three large idols at different pandals of the city.
"Some clay work and painting are done at the pandals. The moisture in the makes it really difficult for the idol to dry. I may have to use hot air blower for drying the clay and paint," Rampada added.
Ajay Pal, another idol maker with a workshop on Peace Road, said the recent shower show had also impeded his work.
"I had to deliver two idols to the organisers in Khilari and Bundu, but last night's rain didn't allow me to do so," he said, adding that he somehow managed to dispatch the idol meant for a Bundu pandal on Saturday.
The truck had to be brought inside the workshop and the idol, wrapped in plastic sheets and sheltered by tarpaulin, was put on it.
"The risk of rain damaging the idol during its long journey remains," he said.
Decorators and artisans employed by the organisers are equally worried.
"I have to complete three puja pandals, including one in Khunti, but work had to be stopped completely because of rains," said Rajeev Ranjan of Nibaranpur, who owns Bina Tent House.
Rakesh Mandal of Digha in Bengal, who is working at the pandal of Rajasthan Mitra Mandal on North Lake Road, said painting on the outer walls of the pandal had to be stopped from Friday.
He said the paint on the plywood had been washed.
"Applying fresh coat of paint on moist surfaces would pose a great problem and using hot air blowers may not give the desired effect," he added.
The organisers of Panch Mandir Puja Samiti in Harmu Housing Colony are also facing the same problem.
"Our work was nearly complete, but the paint at many places of the outer surface of our pandal got washed away by the rain on Friday night. We doubt whether a touch-up would be possible in next few days," committee vice-president Alok Gupta said.
Ranchi received 40.2mm of rain in 24 hours till 5.30pm on Saturday.
Though it was much less compared to places such as Koderma that received 198.4mm, it certainly is a cause for concern, more so because the local Met office has forecast rainfall at most places in Jharkhand even on Sunday.