Poison ails Subarnarekha river, finds survey
Subernarekha passes through areas with high concentration of industries and mining activity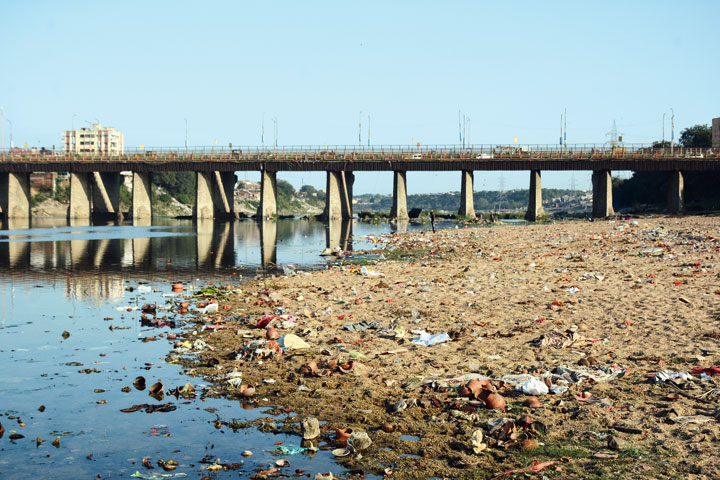 Trash strewn along the banks of the Subernarekha in Mango, Jamshedpur, on Wednesday.
Picture by Bhola Prasad
---
Jamshedpdur
|
Published 18.12.19, 09:20 PM
|
---
A state pollution control board survey has found that pollution in the Subernarekha river, considered the lifeline of the Singhbhum region, is rising.
The regional office of the Jharkhand State Pollution Control Board in Adityapur carried out the survey last month.
A three-member team collected water samples from Domuhani, Mango, and Moubhandar in Ghatshila.
"The results are certainly concerning if not alarming," said an official of the board, who requested anonymity.
The survey found that the pH value of water exceeded its normal limit in Mango and Moubhandar. While the pH of natural water ranges between 4 and 9, these two places showed a range of 9.4 to 8.2.
The pH value of water was found to be within the normal limit near Domuhani. 
The level of dissolved oxygen, which helps in dissolution of inorganic substances in water, however, was found to be low near Domuhani, Mango and Bhuiyandih. Against a desirable limit of 5mg/litre, the dissolved oxygen content in these places were in the range of 3.07mg/litre to 4.03mg/litre.
Excess lead content was found in the water at two points, Moubhandar and Galudih. The prescribed limit of lead in river water is 0.05mg/ litre. The samples collected from those two points had lead levels between 0.56mg/litre and 2.10mg/litre.
Pollution control board official Satya Prakash, who was part of the survey, held dumping of industrial effluents into the river responsible for the lead contamination.
Exposure to high dose of lead can result in abdominal discomfort and anaemia, he said, adding that in some areas the alkalinity and level of calcium were also found to be less than prescribed limits.
The Subernarekha passes through areas with high concentration of industries and mining activity.
"Unmindful discharge of industrial effluents and domestic wastes is choking the river," pointed out K.K. Sharma, a local environmentalist.
Pollution control board officials said the survey report would be sent to the board's headquarters in Ranchi for follow-up action.