Parents of tots unlucky at lucky draw sweat in winter
Demand for coveted seats exceeds supply, no option but to wait for second list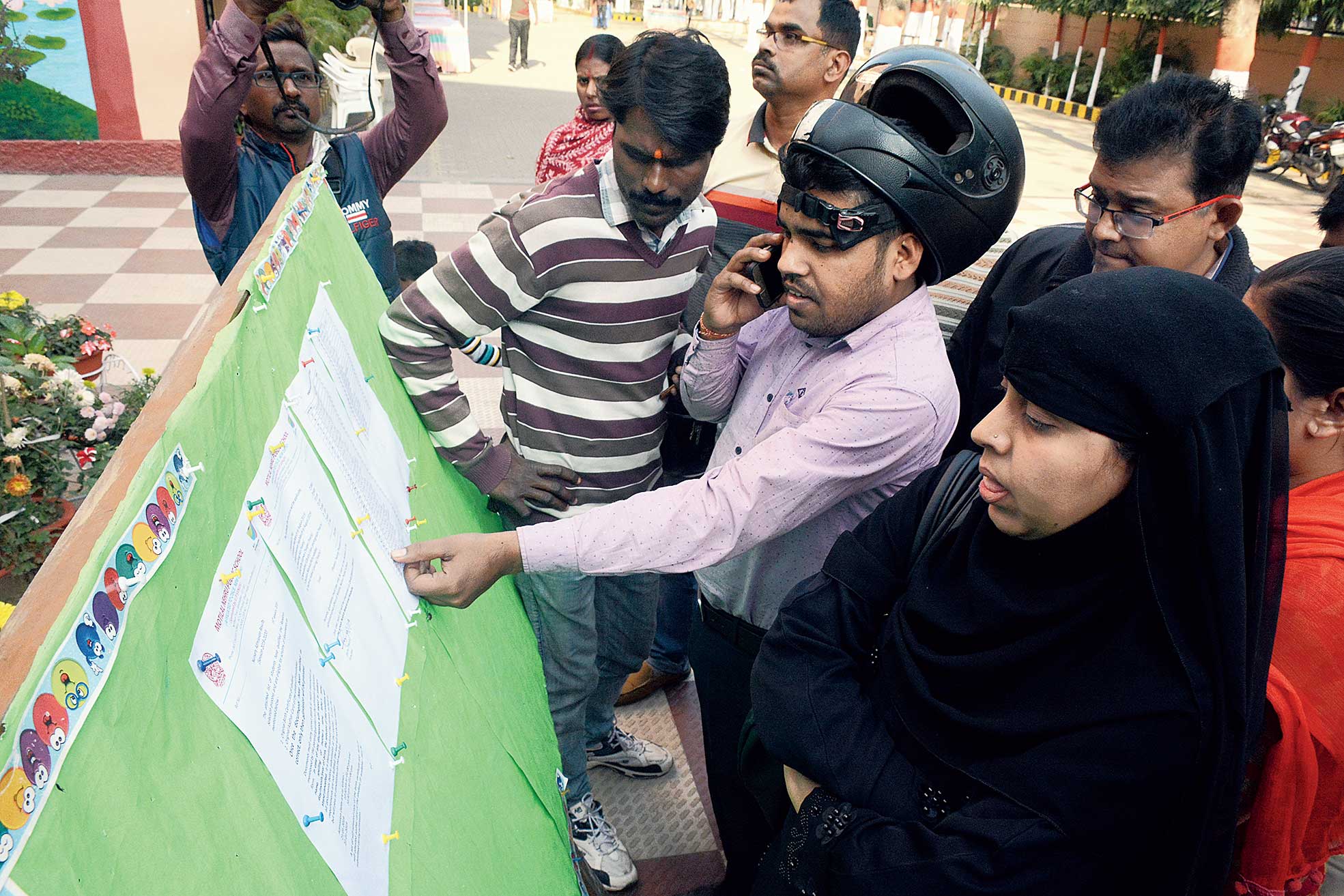 Parents check out the admission list at Rajendra Vidyalaya in Jamshedpur on Saturday.
Picture by Bhola Prasad
---
Jamshedpur
|
Published 20.01.19, 06:41 PM
|
---
When a parent buys entry-level admission forms from many schools and the child makes it nowhere in the draw of lots mandated by the Right to Education Act, it is no surprise if the whole family spends a sleepless night.
In Jamshedpur, after about 70 private English medium schools declared their admission results for 6,000 seats by lucky draw on Saturday, there were many glum faces too.
Reason: over 30,000 application forms had been filed by parents for the 6,000 seats. Though the number of actual children was less than 30,000, as each child applied in more than one school, it can be safely said that thousands of parents were disappointed and worried when names of their kids did not figure on any school list.
Now, disappointed parents are waiting for second lists in some schools, likely to come out between January 25 and the first week of February.
After schools finish the admission procedure related to lucky draw, likely to be over by coming Friday, they will assess how many general quota seats they have vacant. Then, schools would release names of more children who had applied for admission but did not make it in the lottery, as their second list.
Parent R.R. Raula, a resident of Kadma, knows this but is traumatised that his daughter's name did not figure in the lucky draw. Raula had bought admission forms from three Kadma schools, Kerala Public School; Jusco School and DBMS English School.
"I'd thought a school in Kadma will be better for my daughter but her name was missing at all three school lists," he said. "My daughter is too small to understand our worry. But it is a nightmare and the family is so upset. We will wait for the second list (to be released by the schools gradually) but what if her name doesn't appear then as well? I think I should have taken forms from more schools for better odds," Raula, who's even willing to go and personally speak to principals and the school administration for his daughter, said.
Rashmi Jagdev, a resident of Sidhgora, is as frantic. She wanted her daughter to be admitted to a CISCE-affiliated school as her son studies in Class VII of a CISCE school, but again, her child was not lucky enough.
"I took forms from three CISCE schools because I thought if both my children study under the same board, my son could help guide his sister and their exam schedules would match," said the mother.
What next? "Once this admission season is over, lesser known schools will open their gates but that would mean compromising her future," said the worried mother. "If she gets admitted to a CBSE school, their syllabi and exam schedules will be different."
A parent who refused to be named said he bought 12 forms for his child but even that "considerable investment" went in vain.
A school principal admitted applicants far outnumbered seats in the first phase. "Also, everyone wants a seat in the small clutch of elite schools. That's not possible. So when parents buy forms of only top-rated schools, they're taking a big risk. For parents, the priority should be to ensure admission to any school. Right now, they should keep calm and wait for the second list in schools," the principal said.
What's the worst thing about the lottery admission system? Tell ttkhand@abpmail.com