Forest officials concerned over carnivores' attempt to hunt sambhars
Sightings of leopards go up in tiger reserve; jackal and elephants pose threat to soft release centre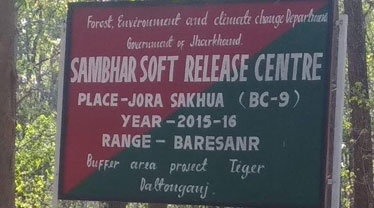 The Sambhar Soft Release Centre at Palamau tiger reserve
Telegraph picture
---
Daltonganj
|
Published 07.07.20, 07:22 PM
|
---
Forest officials at Palamau tiger reserve are worried over leopards, jackal and elephants invading the sambhar soft release centre at Jora Sakhua Baresanr in the Baresanr forest range, following sightings of leopards in the reserve.
At present, there are 18 sambhars in the soft release centre, along with a family of four-horned antelopes and a fawn.
The deputy director of the south division, Palamau,  Mukesh Kumar, said "Sightings of leopards have gone up in this tiger reserve. Our hidden cameras are recording their presence. The number of kills has gone up as well."
Kumar said, "We are worried because last year, an adult male leopard entered the sambhar soft release centre. It proceeded to create a huge pandemonium. Our team of three trackers raised a hue and cry and the leopard finally retreated without causing any harm to the animals.
Sources said the jackals that try to enter the centre through the entry and exit points of the water sources pose another threat.
"The jackals are more of a menace than the leopards, as they keep making frequent bids to enter," he added.
"We cannot afford to plug the exit water holes as it will cause stagnation of rainwater in this centre. We have made the exits smaller by putting in big stones and boulders to keep jackals at bay," he said.
The soft release centre, set up in 2015-16, is spread over 15 hectares.
It has an elephant-proof trench around it as well.
A few kilometers of barbed wire fencing have been erected, which the elephants damage very often.
Kumar said, "We have so far remained lucky that no elephants have stormed into this centre but their efforts are on."
The centre was the brainchild of three IFS officers M.P. Singh, the field director of the reserve, deputy director Mahaling K., and retired deputy director A.K. Mishra.
Sources said the idea behind the centre was to rear sambhar as prey for the tigers here.
The sambhars were translocated here from Birsa Zoo, Ranchi.
Among the 17, one died of snakebite by a Russel's viper.
Another sambhar died fighting for supremacy here.
Kumar said, "We were on high alert after the death of three bison in Betla National Park recently."
"It is Covid-19 time now. We are taking all precautions to keep our inmates here safe. The centre is sanitised and lime is sprinkled. The water source is being cleansed. The feed is proper and adequate for them," he added.