Noise is good if it turns street lights on
Khunti schoolgirls' idea among top 200 in Atal tinkering challenge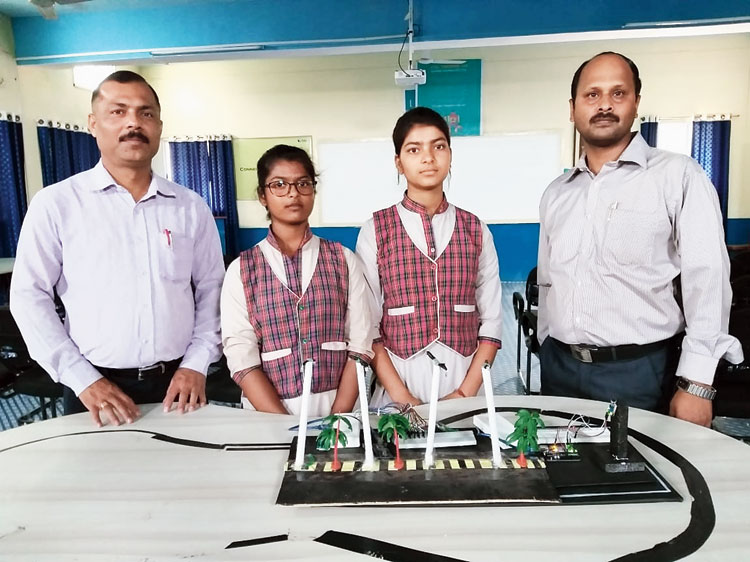 Akansha Kumari Saha (second from left) and Khushi Rani with their teachers in Ranchi.
A Telegraph picture
---
Ranchi
|
Published 15.03.19, 06:01 PM
|
---
Two girls from Khunti have made their school proud by working on an idea that can transform the cacophony on a busy street into light.
Khushi Rani and Akansha Kumari Saha — currently students of Class X at Swami Shradhanand DAV Centenary Public School — have built a prototype to show how noise can be used to illuminate dark roads.
The idea figured among the top 200 entries in Atal Tinkering Innovation Marathon, according to the list published on Thursday.
The marathon is open to all schools across the country that have an Atal tinkering lab.
Built under Atal Innovation Mission (AIM), these laboratories encourage students to think out of the box and help them translate their ideas with the help of 3D printers, robotics, Internet-enabled devices.
"We started thinking about ways to use noise for the benefit of the society. That's how the idea was conceived," Khushi said.
Akansha said they approached their teacher for guidance and the idea began taking shape.
The marathon was held in October last year when both the girls were in Class IX.
The prototype they built is a straight road with streetlights that are connected to a circuit. The lights can be turned on with a clap.
"This is based on the simple theory of conversion of sound energy into light by using Arduino Uno micro controller board and LDR (light dependent resistor) module," physics teacher and mentor Joy Basu Mallick said.
In a video message posted on their official website, AIM director R. Ramanan said an estimated 50,000 students took part in the tinkering marathon across its eight sectors and 1,500 innovative ideas were shortlisted.
The top 200 ideas were chosen on the basis of their innovation quotient and the impact they were expected to make. "The innovators will get another chance to refine their models till April 30," Ramanan said. The best 50 ideas will be selected after that.
"I'm really glad that these students not only justified having an Atal tinkering laboratory in the school, but also made their presence felt at the national level," principal T.P. Jha said.
Currently, there are 5,441 functional tinkering labs in the country. As many as 3,437 more schools have been selected for opening of laboratories.
The tinkering challenges are aimed at encouraging students to identify problems they face in daily life and come up with the solutions.