Nitish switch gives hope to Hemant Soren
Political developments in Bihar have exposed BJP's style of politics before the nation, says JMM official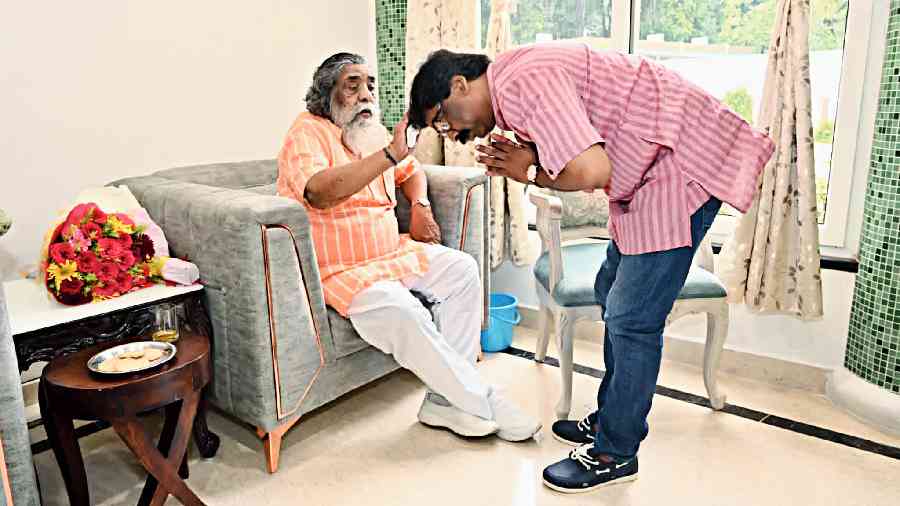 Hemant Soren takes blessing on his 47th birthday from his father Shibu Soren at Ranchi on Wednesday.
Manob Chowdhury
---
Jamshedpur
|
Published 11.08.22, 12:26 AM
|
---
Jharkhand chief minister Hemant Soren and his alliance partners find hope in the political development in neighbouring Bihar.
Soren, who is heading a JMM-Congress-RJD alliance government in Jharkhand, while celebrating his 47th birthday on Wednesday said: "I would like to congratulate Nitish Ji and Tejashwi Yadav for taking reigns of Bihar. It is a good coincidence that Nitish Ji has been sworn in on my birthday."
Taking a dig at the BJP-led Centre which has allegedly tried to engineer a split in Congress and topple his government several times, the JMM executive president said: "We are seeing how governments are formed and toppled by those in power as if plucking fruits from a tree. In such a scenario, the time has come for the electorates of the states and the country to use their discretion properly in electing leaders in view of the recent incidents for the betterment of the country and the states."
JMM central general secretary and spokesperson Supriyo Bhattacharya said that the Bihar political developments have exposed the BJP's style of politics before the nation.
"The manner in which they treat their alliance partners in states and the way they have formed government in Maharashtra has been exposed before the masses and it will only strengthen Opposition parties' resolve to be united to challenge the BJP in the next general election," said Bhattacharya.
JMM central general secretary Vinod Pandey, considered close to Soren, said that Opposition parties who are being harassed and humiliated by the ruling BJP should now come together.
"We started the exercise in 2019 in the form of an umbrella front of all Opposition parties and the Bihar development would further strengthen the Opposition parties' unity bid, especially at a time when the BJP has unleashed central agencies with a target of harassing, humiliating Opposition leaders one after another," said Pandey.
Jharkhand Congress president, Rajesh Thakur felt that Bihar's development should remind the BJP of the old proverb.
"It should remind the BJP leaders that one sows what one's reap, the manner in which they were disturbing and toppling non-BJP governments in states. The non-BJP parties including NDA alliance members are also realising that inflation and unemployment would be major issues in the next election and it is time for all to come under the UPA banner to form a bigger alliance to counter BJP's polarisation politics. We hope that this development would curb habits of BJP central leaders to disturb non-BJP-ruled states now," said Thakur.
RJD Jharkhand central spokesperson Manoj Kumar hoped that the script of Bihar would serve as a role model for other states too.
"The manner in which all Opposition parties have joined hands should serve as a model for the next general elections. We think that it should stop BJP at least temporarily from toppling governments in other non-BJP-ruled states," said Kumar while taking part in the celebration at the RJD office in Ranchi to mark swearing in of Nitish Kumar as chief minister and Tejashwi Yadav as deputy chief minister in Bihar.