Kashmiri shawl traders in Jamshedpur talk of fear & uncertainty
What a phone call means in the 'new' India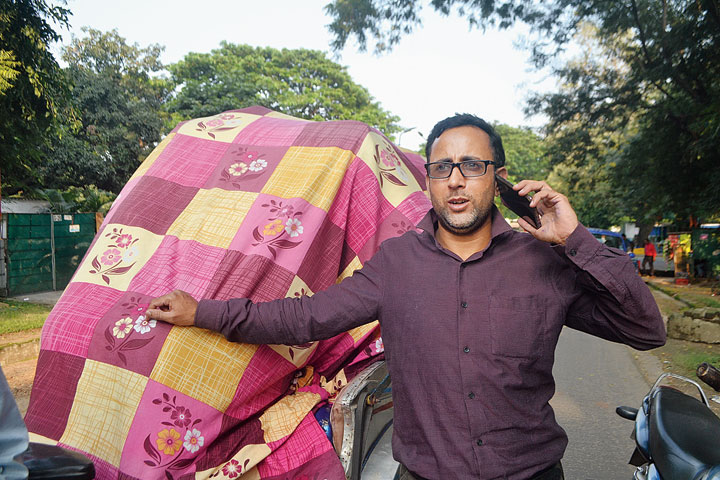 ---
---
Have the children gone to school? Is everyone alright at home? These are conversations that Indians, wherever in the world they may be away from their families, take for granted — except Kashmiris who are outside locked-down Jammu and Kashmir.
So, when post-paid cellular service was restored in the Valley on Monday for the first time since August 5 when the Narendra Modi government scrapped Jammu and Kashmir's special status, a wave of relief washed over shawl traders from the Valley who are in the steel city.
"I was anxiously trying to connect with my family in Srinagar from my post-paid Jio service since 1pm. Finally, my cellphone rang around 1.30pm with my wife at the other end. I was much relieved having talked to her for a few moments," said a smiling Abdul Rashid, 50, one of the more than 150 shawl sellers who are in the city for winter as usual.
Before Monday, Rashid could only speak to his family once a week.
"There is a landline phone at a neighbour's house in Srinagar where I used to call up once a week at a specific time. As the situation in the valley is yet to return to normality, I was always anxious about the day to day happenings at home. You can understand how difficult it is to have to wait for a complete week to get in touch with family members," said Rashid, , who has put up at Dhatkidih in Bistupur.
Another shawl trader, Zahoor Payer, was equally happy when he received a call from his brother in Kupwara district of Jammu and Kashmir on Monday afternoon.
"A call from my brother's cellphone was a pleasant surprise for me, though I was expecting it ever since I had heard that the post-paid mobile service will be restored from this afternoon," said Zahoor, 48.
He said he has a pre-paid cellphone and could not speak to his family in Kupwara.
"Calls from pre-paid phones are confined up to Lakhanpur on the Punjab-Jammu border. But there is a post-paid cellphone at home in Kupwara. My brother called me from that phone, informing me that he and other members of my family will from now keep me informed about happenings at home," said Zahoor.
What he said next flies in the face of the "all is well in Kashmir" claim of the Centre.
"My children — two daughters and a son — study in an army school in Kupwara. Initially, the school was closed by an administrative order. It reopened a month ago, but my children have not attended it yet due to fear.
But now I hope they will start going school as I will monitor their activities over the cellphone and will make them attend school," Zahoor said.