Jumbo herd plays hide-and-seek with Chandil foresters
Elephants attracted by scent of mahua liquor, damage crops with abandon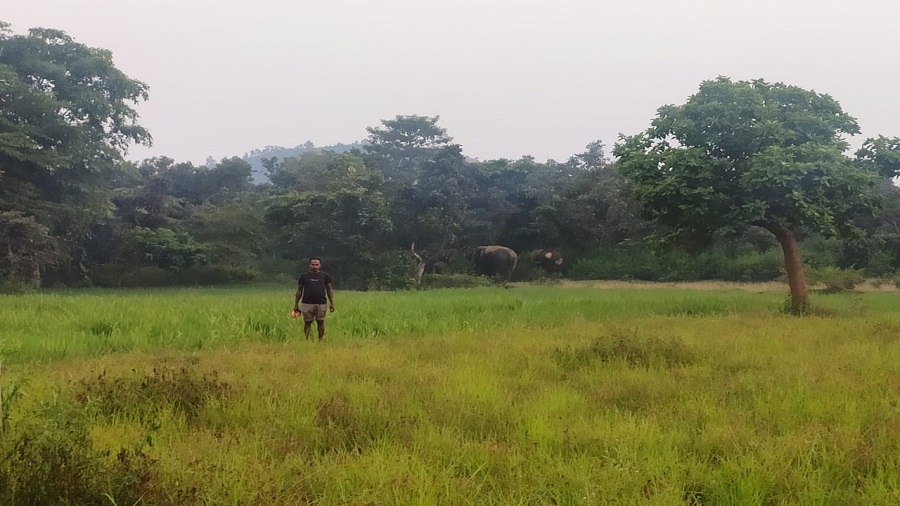 Elephants at a farm in Chandil forest range
Telegraph picture
---
Jamshedpur
|
Published 23.07.20, 05:46 PM
|
---
A herd of 23 elephants from Bengal is giving sleepless nights to foresters and villagers of the Chandil forest range in Seraikela-Kharsawan, playing hide-and-seek with them and damaging crops.
Sometimes the elephants sneak into the neighbouring state then amble back to Chandil.
The herd, which was last sighted in Bengal's Munibera jungles, was traceless on Thursday.
"Elephants are roving animals, but this herd is damaging maize crops and paddy. We are in a helpless situation," said Chandil forest range officer Ashok Kumar.
The range officer said the herd has three adult tuskers who remain anchored at Manikuri and Anda, in the Chandil forest range, adding that the situation is being monitored.
A forester said on condition of anonymity that the herd of 43 elephants remain in the dense jungles and venture into farmlands in late afternoons.
The herd has also destroyed a thatched hut and is wiping out standing crops with abandon.
"The villagers are living in fear and remain consigned to their homes in night", he added.
The Chandil forest range office has distributed crackers and mashals (torches) among the villagers.
Village youths are also helping the forest team to bring the jumbos back to Bengal. However, their efforts have so far come a cropper.
"We are lucky that the elephants have not caused any human casualties. But one cannot predict anything about the elephants, who usually attack humans when they are teased," another forester told The Telegraph Online.
Significantly, man-animal conflict had come down in the Chandil forest range during the Covid-induced nationwide lockdown.
The closure of units brewing the liquor mahua from the Madhuca longifolia trees had put an end to the menace.
Mahua brewing units have reopened, and its scent is attracting the elephants who not only wipe out the liquor but attack humans.
"The jumbos also wipe out mahua and lose their cool. They become very angry and adopt an attacking stance when they are teased," the forester explained.