Jharkhand's guide to coronavirus
The Telegraph puts together a guide on where the state stands as the COVID-19 pandemic rages through the world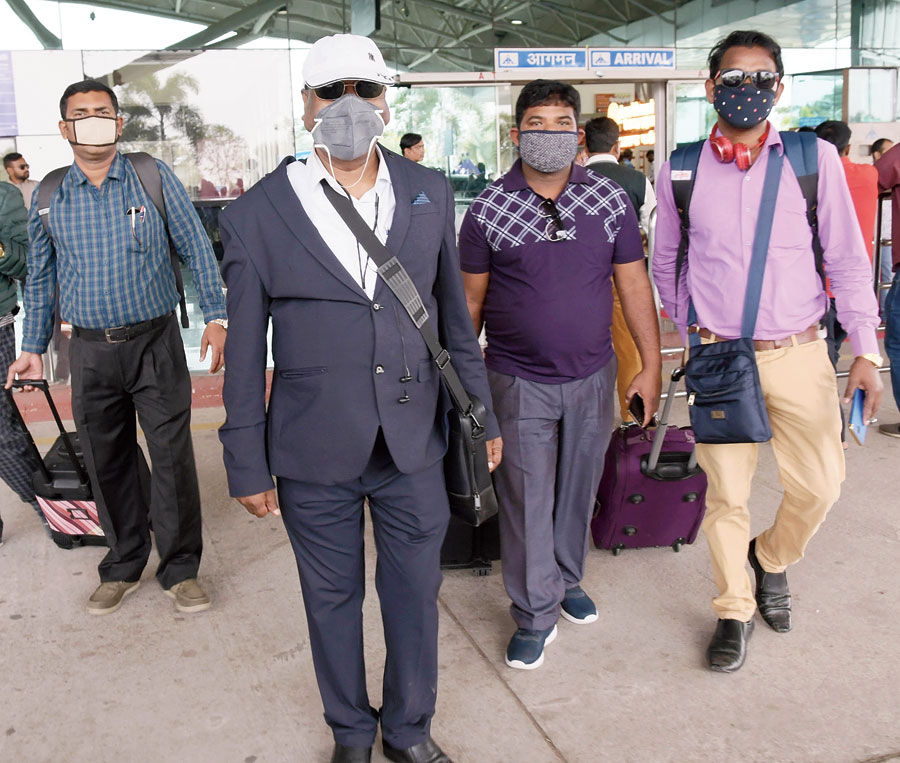 ---
Published 13.03.20, 07:12 PM
|
---
The threat
So far, 19 samples (nose and throat swabs) from Jharkhand have been sent for test, of which 17 have returned negative and two results are awaited. State epidemiologist Dr Praveen Kumar Karn said most of the 17 had travelled from Italy, Indonesia and the Middle East and all of them contacted the district hospital on their own. They will be kept under observation even if they were found fit.
"With the Union health ministry notifying yesterday (Thursday) the viral research and diagnostic laboratory of MGM Medical College, Jamshedpur, as testing centre we expect the results from any part of Jharkhand within 24 hours," Dr Karn said. "All persons with overseas travel history, specially countries affected by novel coronavirus, are kept under home quarantine at the places of their visit for 28 days after thermal screening at the international airports across the country," said Dr Karn. "If during the home quarantine period any persons show symptoms of the diseases then they are shifted to quarantine centre (isolation wards) and their samples are taken for testing. We are alerted by the Union home ministry and regional centres about persons with foreign travel history."
Symptoms
Common symptoms of novel coronavirus are runny nose, sore throat, dry cough, fever, tiredness, and difficulty in breathing. Some patients may have aches and pains, nasal congestion, sore throat and diarrhoea.
Isolation wards
Isolation wards have been set up in all the medical college hospitals at Ranchi, Jamshedpur, Dhanbad, Hazaribagh, Palamau and Dumka. There are a total of 68 beds at the isolation wards in different medical colleges. Isolation wards have also been set up in the district hospitals in 19 districts, and Jamshedpur Sadar Hospital also has a four-bed ward. "At Ranchi Sadar Hospital there is a six-bed isolation ward and the capacity is expected to be increased within a couple of days. At RIMS there is an 18-bed isolation ward," said Ranchi civil surgeon Dr Vijay Bihari Prasad.
Helpline Numbers
For Jharkhand, 104 is the 24x7 helpline number and so far 1,171 calls pertaining to coronavirus have been attended to. Other helpline numbers are 2261000 and 2261856 (landline) and 9955837428 (mobile). In Ranchi, the RIMS administration has a dedicated helpline number, 2542720 (landline). The state health department has set up an Integrated Disease Surveillance Programme (IDSP) and also publicised the email: idspjharkhand2@gmail.com
What you can do
Wash hands frequently with alcohol-based sanitizer or soap in running water for at least 20 seconds, scrubbing all parts of both hands properly. Dry hands using automatic blower or paper towels. Cover face while sneezing or coughing. Always throw tissue papers used while coughing or sneezing in a closed bin. Immediately seek medical advice if you have fever, cold and cough. Be in isolation if you have cough and fever. Don't spit in public places. Avoid contact with animals. Avoid consuming half-cooked non-vegetarian foods. Avoid visiting slaughterhouses. Avoid visiting crowded places. Avoid touching eyes, nose and face. "Regular hand wash is a must," said Dr Rajiv Bhushan of Ranchi Sadar Hospital. "One should use handkerchief while sneezing. We should regularly clean hand railing, desktop, switches, plastic items, reception counter, door knob and other surfaces with alcohol-based sanitizer."
Avoid panic
Dr Rakesh Dayal, state surveillance officer, said: "Seasonal flu (influenza) usually occurs between January and April in India and there is no reason to panic for those who don't have any travel history — overseas or domestic. In the case of travel history call the helpline numbers or contact the district hospitals."
As shortage of masks and hand sanitizers were reported, the state drugs control directorate a week back had directed all drug inspectors to furnish reports. "There is no shortage of medicines," said directorate director Ritu Sahay. "There is also not any acute crisis of masks and hand sanitizers. On Monday, I have called a meeting of members of chemist association, wholesale dealers, shopkeepers and suppliers so that there is no shortage."
The government has advised people not to hoard masks.
GovtSpeak
n "The government is well prepared and all government departments have been asked to undertake awareness session on the virus outbreak including at the school and panchayat level. We are also thinking of enforcing the Epidemic Diseases Act, 1897," said state health minister Banna Gupta. A National Disaster Response Force team on Thursday inspected the isolation ward at RIMS. Joint director, disaster management, Manish Tiwari said arrangements were satisfactory.
PeopleSpeak
"The virus has turned us into vegetarians," said Rintu Rajak, a Bistupur based State Bank of India employee. "We are also avoiding public transport and crowded places." Ishika Mishra, a Class IX student from Ranchi who attended a wedding in Delhi last month, said: "Before air travel I procured masks and sanitizers. When I returned I got my health check-up. We are avoiding gatherings." Kulvin Suri, chief, corporate communication, Tata Steel, said: "It has been decided to suspend with immediate effect all business travel including domestic travel on company business by air, train or road. The company has already announced the restrictions on overseas travel that will continue till further notice. We are also in the process of disabling biometric system-based attendance recording."