Jharkhand famished, says report
Not enough food for over half of population, 26 per cent families eat only twice a day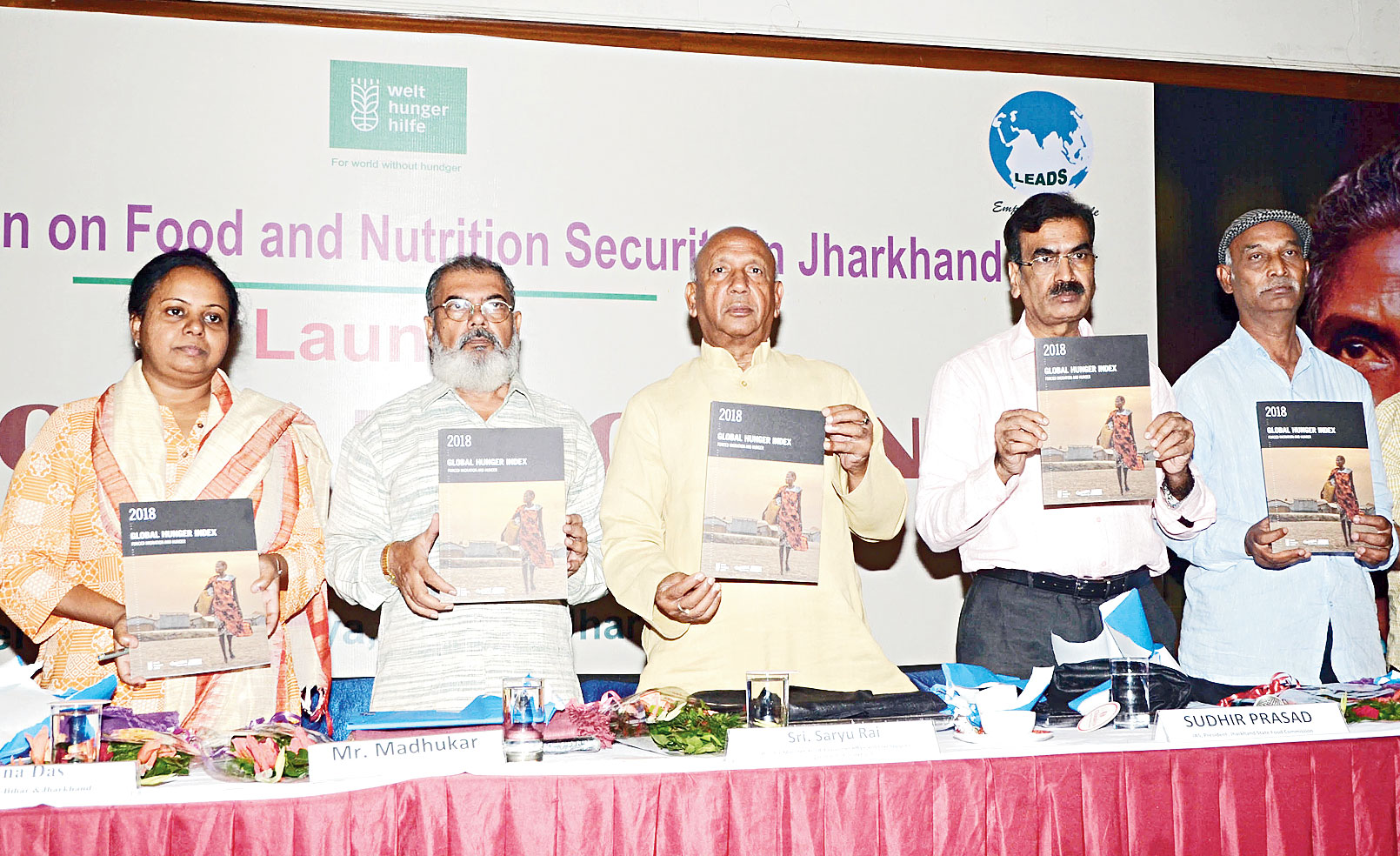 Food minister Saryu Roy (centre) and food commission president Sudhir Prasad (second from right) with the hunger report in Ranchi on Thursday.
Prashant Mitra
---
Ranchi
|
Published 11.10.18, 06:34 PM
|
---
Over half of Jharkhand's 3-crore-plus population do not have enough food and over one-fourth of the state's households — 26 per cent — can have only two meals in a day.
Shocking statistics like these about a state already tainted by 14 alleged starvation deaths in a year were revealed on Thursday by the Global Hunger Index 2018 report prepared jointly by global NGOs Concern Worldwide (Ireland) and Welthungerhilfe (Germany), in which India was ranked 103rd out of 119 countries.
The report, which state food minister Saryu Roy released on Thursday in Ranchi as a part of an event held by Welthungerhilfe to assess hunger in Jharkhand in Ranchi, pointed out acute asymmetry in access to food in the state based on a sample survey sample held in 15 out of 24 districts.
Welthungerhilfe senior project coordinator (Jharkhand) Sasmita Jena said seven civil society organisations had carried out the survey in 1,057 households in 15 districts between September 15 and 30 this year to understand the status of hunger, food consumption and dietary diversity. The districts are Bokaro, Deoghar, Dumka, Giridih, Godda, Gumla, Hazaribagh, Jamtara, Khunti, Latehar, Lohardaga, Pakur, Sahebganj, Seraikela-Kharsawan and West Singhbhum," she said.
According to the survey report, 50.3 per cent of Jharkhand's total population of 3.19 crore (2011 census) did not have enough food.
The survey pointed out that 59.3 per cent of households surveyed had three meals a day while another 26 per cent households could afford only two meals a day. Around 4 per cent had only one meal or less while around 10 per cent had four to five meals a day.
Also, food insecurity — the state of being without reliable access to sufficient food — was high among OBC, particularly vulnerable tribes and scheduled tribes.
"We concluded during the survey that food insecurity is strongly linked to people's dependency on monsoon. As per study, 49.5 per cent of families in September, 41.5 per cent in August and 24 per cent in July faced food crisis, which implies that intensity of food crisis increases from July to September," Jena said.
Who ate what was also different across socio-economic strata. Rice and wheat were commonly eaten by all. But, consumption of important locally available foodgrain such as bajra and kodo is gradually decreasing. Also, well-off people consume pulses, but one among three ST persons and one among five SC persons can't afford them.
Jena added that India with a global hunger index score of 31.1 currently falls under the 'serious' category, behind other South Asian countries such as Sri Lanka, Nepal and Bangladesh.
"Four key indicators are under-nutrition, child mortality, child wasting and child stunting. The level of child wasting, where weight is too low for height, is high at 21 per cent in India. But India has made significant strides in reducing child stunting from 60 per cent in 1990 to 38.4 per cent in 2018," Jena said.