Winners vs losers in post-poll first bite
The BJP, Congress and the JMM in the mix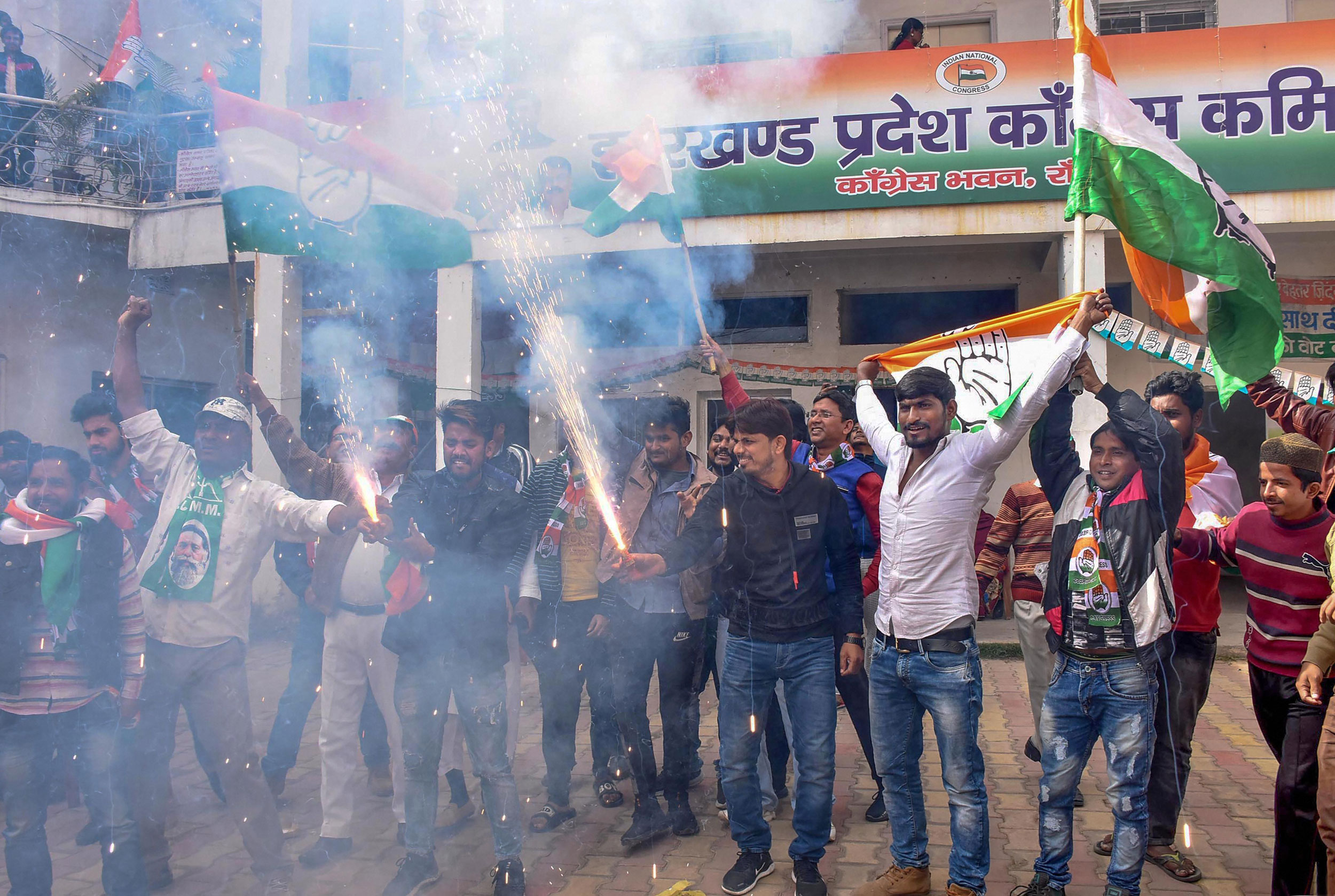 Jharkhand Mukti Morcha and Congress workers celebrate in Ranchi on Monday.
(PTI)
---
Published 23.12.19, 07:24 PM
|
---
 Amar Kumar Bauri
➼ BJP, Chandankyari, defeated Umakant Rajak of the Ajsu Party
Yahan jo prapanch racha gaya tha janta ne use darkinar kar diya (The conspiracy hatched here has been rejected by the people). People voted to defeat hypocrisy and narcissism. The people of Chandankyari have voted in favour of development and the pace of ongoing development work will be accelerated in the next five years.
⚫ Biranchi Narayan
➼ BJP, Bokaro, defeated Shweta Singh of the Congress
My ability to deliver on my claims helped me win the trust of common people and the biggest achievement in my tenure was giving Bokaro an airport, which is in a completion stage.
⚫ Mathura Prasad Mahto
➼ JMM, Tundi, defeated Vikram Pandey of the BJP
The people of the state as well as Tundi voted for change as they were frustrated with false promises and tall claims of the BJP government at the Centre and the state when they were grappling with basic issues such as unemployment. My priority after winning the election will be to generate employment for the people of Tundi by trying to bring in some industry investment in the constituency.
⚫ Purnima Singh
➼ Congress, Jharia, defeated Ragini Singh of the BJP
My husband (late Niraj Singh) had earned the love and affection of the people of Jharia through hard work and this is the main reason behind my win. Second, the pathetic situation of Jharia, which remained deprived of basic facilities such as water, power, roads is the reason why people wanted a change.
⚫ Raj Sinha
➼ BJP, Dhanbad, defeated Mannan Mallick of the Congress
My continuous presence in the joys and sorrows of common people of Dhanbad for the last five years helped me win their trust. I always remained among the people. Mannan Mallick never went to the common people. He remained confined in his home and only went among the people to seek votes.